King Hedley II, Theatre Royal Stratford East review - concentrated, enveloping drama |

reviews, news & interviews
King Hedley II, Theatre Royal Stratford East review - concentrated, enveloping drama
King Hedley II, Theatre Royal Stratford East review - concentrated, enveloping drama
Lenny Henry tops a strong cast in August Wilson's 1999 play of African American identity
Backyard barney: Lenny Henry, left, with Aaron Pierre
The huge achievement of the last two decades of August Wilson's life, right up to his death in 2005, was his "American Century Cycle", in which he charted the African American experience over that time frame decade by decade, its action set largely in the downtown Hill District of Pittsburgh where the playwright grew up.
Premiered in 1999, King Hedley II represents the Eighties – the front curtain makes much of it being the beginning of the Reagan years – though Wilson's concerns go far beyond standard documentary. History in this black neighbourhood extends back a long way, something that comes through in allusions to past generations – there are loop-backs to characters who feature in Wilson's Seven Guitars, set in the 1940s. To a timeless past, too, a more primal locus: we hear lamentations here for the death of Aunt Ester the "washer of souls", another recurring presence in the cycle, who seems to have passed away at the ripely mythic age of 366.
If that's an element from the realms of magic realism, the action of King Hedley II is more closely tied to the harsher realism of the everyday. Wilson's title character King, played with rippling tension by Aaron Pierre, is just out of prison – he's served seven years for killing a man – mulling plans for the future with best friend Mister (Dexter Flanders, delivering some nice loping comedy) in the backyard of the home he shares with his mother Ruby (Martina Laird) and wife Tonya (Cherrelle Skeete). Peter McKintosh's slatted wood set of the backs of houses catches the environment nicely, its decay palpable: it's a barren space – the symbolism of King's determination to plant seeds there is not lost – even if it it's periodically brought to life by apocalyptic ramblings from the "wise man and prophet" next door, Stool Pigeon (Leo Wringer).
There are issues aplenty, past commitments and desertions, to be chewed over
It's the appearance of Lenny Henry, some 40 minutes into this backyard barney, that sets the piece alight. Magnificent in a white three-piece, brimming with cool charisma, he plays Elmore, a hustler from the South and ex-boyfriend of Ruby's, whose past appearances here have left King and Mister in awe of his ability to turn a trick. Wilson endows his setting with a rare sense of foreboding, as if the quantity of guns being brandished around wasn't enough: we feel sure that before it's done, there will be blood, and that Elmore will be caught up in it. The weight of the past hangs heavily, its legacy of violence repeating over the years – the fact that it keeps the play so relevant today is a depressing detail indeed.
We may hear a lot about hopes and dreams, but the reality of life for Wilson's protagonists is more likely the sound of their being dashed. King and Mister have plans to go legit and open a video store, they even have a "pot" saved towards it, but in the short term have to rob a jewellery store to supplement it (it's done, off-stage, with almost casual nonchalance). There's forceful interaction between Ruby, an ex-chanteuse who enjoys life in all its variety, and Tonya, far more down-to-earth (and even holding down a job). The latter is equally strong in the scene with King in which she insists that she'll be having an abortion, her justification a chilling comment on this world: "I ain't raising no kid to have somebody shoot him."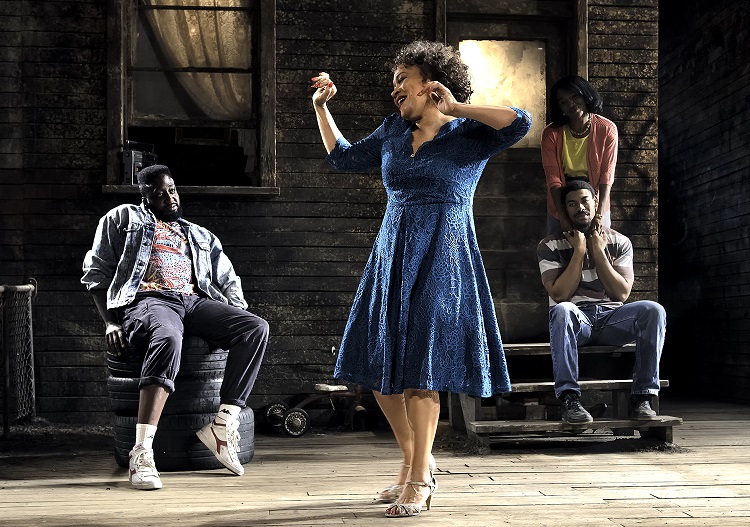 There are issues aplenty, past commitments and desertions, to be chewed over, painfully but with some buoyant comedy too, not to mention the big questions – past and present, God and fate. "I used to be worth $1,200 during slavery. Now I'm worth $3.30 an hour," King muses at one point, considering the reality of his prospects. Wilson's language flexes between street vernacular and the poetically inspired, crazily mixed up with Stool Pigeon's rich biblical lexicon. Monologue becomes a recurring fall-back in a text that can often seem crowded, its impact re-enforced by Howard Harrison's lighting, which brings our attention in and out of such stand-apart moments. (Pictured above, from left: Dexter Flanders, Martina Laird, Cherrelle Skeete, Aaron Pierre)
It's directed with real aplomb by Nadia Fall, who's rounding out her first season as artistic director at Stratford East on a high note. Not least among her achievements is to shape this fine cast into an entity that delivers King Hedley II's raw intensity with absolute confidence – with an almost statuesque conviction that would be right at home in Greek tragedy, in fact – over a demanding running time of three and a half hours. That's a long evening by any standards, but Fall's production convinces us that Wilson's concentrated, enveloping drama repays the effort.
Wilson endows his setting with a rare sense of foreboding, as if the quantity of guns being brandished around wasn't enough
rating
Explore topics
Share this article