theartsdesk in Svalbard: cultural excellence at the top of the world
theartsdesk in Svalbard: cultural excellence at the top of the world
At 78 degrees north, polar bears outnumber people - but Norway's musical flag flies high
Reflection of a cellist playing in Svendsen's Octet at the Svalbard Museum while a stuffed polar bear looks on
You should not die or be born on Svalbard, 1,985 kilometres above Norway's northernmost coast, and at 18 you work or leave for the mainland. Hunting is over, mining nearly so. Tourism, carefully managed, and Arctic research are the future; the Global Seed Vault is also here, and Syria has been the first country to take from it.
Excursions outside the biggest settlement, Longyearbyen, are advisable only with an armed guard; dangerous polar bears outnumber inhabitants and occasionally crash into town. A special Svalbardian variety of reindeer and arctic foxes seem comfortable ambling around within the town; I saw both, though only cellist Adrian Brendel sighted polar bears and beluga whales at the mouth of a glacier further north.
So what do they do in their leisure time here, those studying at the University Centre, engaged in polar research or working in mining or the service industry? Culture is the answer, and with substantial help from the Norwegian government it's not only self made, though clearly the exchanges between Longyearbyen (pictured below on a lively Sunday morning by David Nice) and Barentsburg, the Russian mining show town with its own state-of-the-art Soviet theatre/concert-hall, are vital to both communities. Some of the best musicians in the world come here, and the Arctic Philharmonic Chamber Festival enhanced four days already rich in nature and people with the liveliest events imaginable.
Even for the superb string players of the Arctic Philharmonic Chamber Orchestra based in Tromsø, already far north of the Arctic circle, Svalbard – or Spitsbergen, "pointed mountains", the name given by the Dutch explorer who put it on the map in 1596, Willem Barentsz – is another world (the Norwegian name with its mythic resonances will be familiar to readers of Philip Pullman). Flat-topped mountains with their furrowed cliffs coming down to the sea are like those in Iceland; glaciers shedding ice into the fjord waters have done so this year so far less rapidly than in trouble spots to the east and west (as I write this, two media images have highlighted respectively the plight of a husky team negotiating ice and melt in Greenland, and a starving polar bear loping around a Siberian town far from home).
It escapes none of us that to reflect on the festival theme of "Changes", we've all flown to get here, but we hope to be respectful visitors and to learn much about Svalbard's plans for a manageable future, which is not easy; the town itself has one of the fastest rising temperatures in the world. Clearly the coal mines have to go within a few years, along with the 1950s power station that fuels Longyearbyen (whenever it goes wrong, a technician has to come from Germany).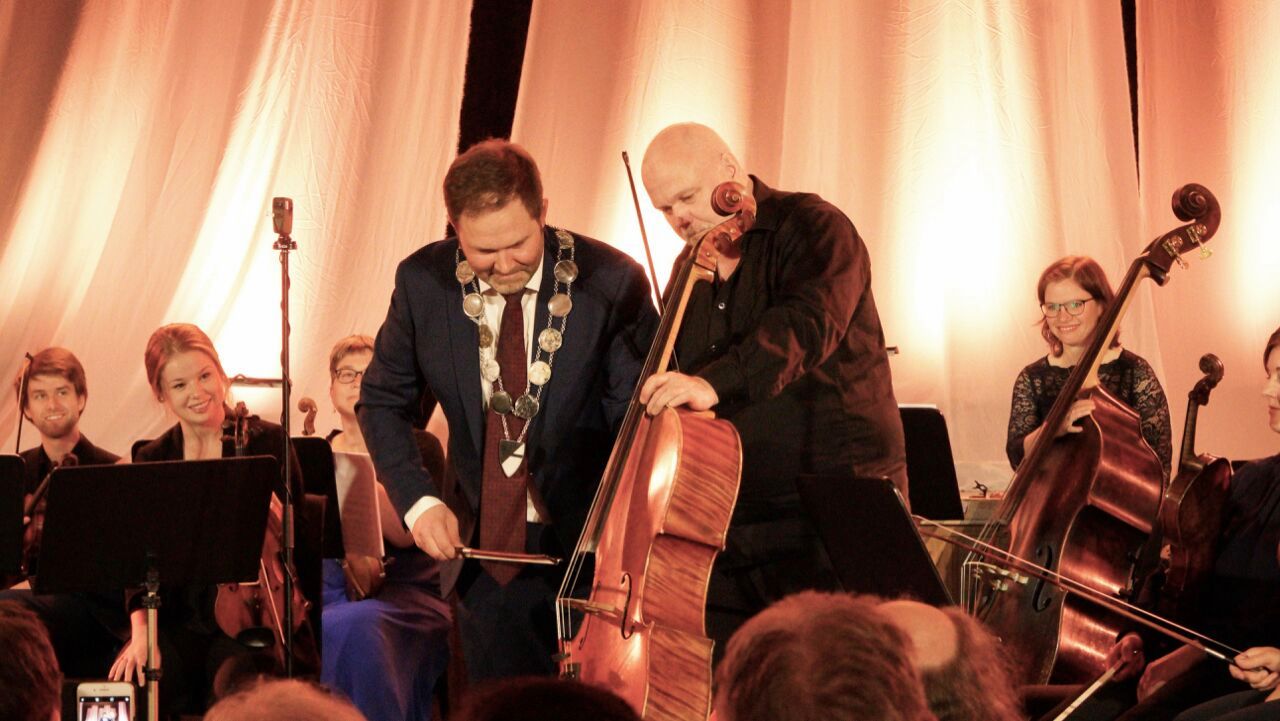 The interiors of Longyearbyen are Norway at its design-conscious best. Three-plus days of music-making kick off in Huset, the community centre some way up the valley (also built in the 1950s). Briefly an emergency hospital, the post office and airport terminal building, it now houses a cinema, a top-notch restaurant with 300,000 bottles in its cellar – not sure how often the locals can afford to eat here, though they certainly meet socially in the bar area – and the hall where our musical adventure began. In style, too, first with speech-giving Longyearbyen Mayor Arild Olsen declaring the festival open by sounding a note on a cello (pictured above), and then with a finely-nuanced spring through Grieg's Holberg Suite.
Henning Kraggerud, one of the most original and unusual of the world's best violinists, went demonic at the end in Vivaldi's "Summer" from The Four Seasons, turning the other players into devils too. Beside the pops, there were also rarities for a non-Scandinavian: Kraggerud's intensely cultured colleague Eldbjørg Hemsing moving between folk and romanticism in Ole Bull's Et Sæterbesøg (A Mountain Vision), and surprisingly deep melancholy in Swede Kurt Atterberg's Suite No. 3 for two violins - originally violin and viola - and strings. Impressive, too, that the cello quartet entertaining us intermittently at supper in the restaurant afterwards showed the same level of care - perfect intonation, seriousness of intent - in Joe Henderson's Isotope. That was a perpetuum mobile that could have gone on for a lot longr.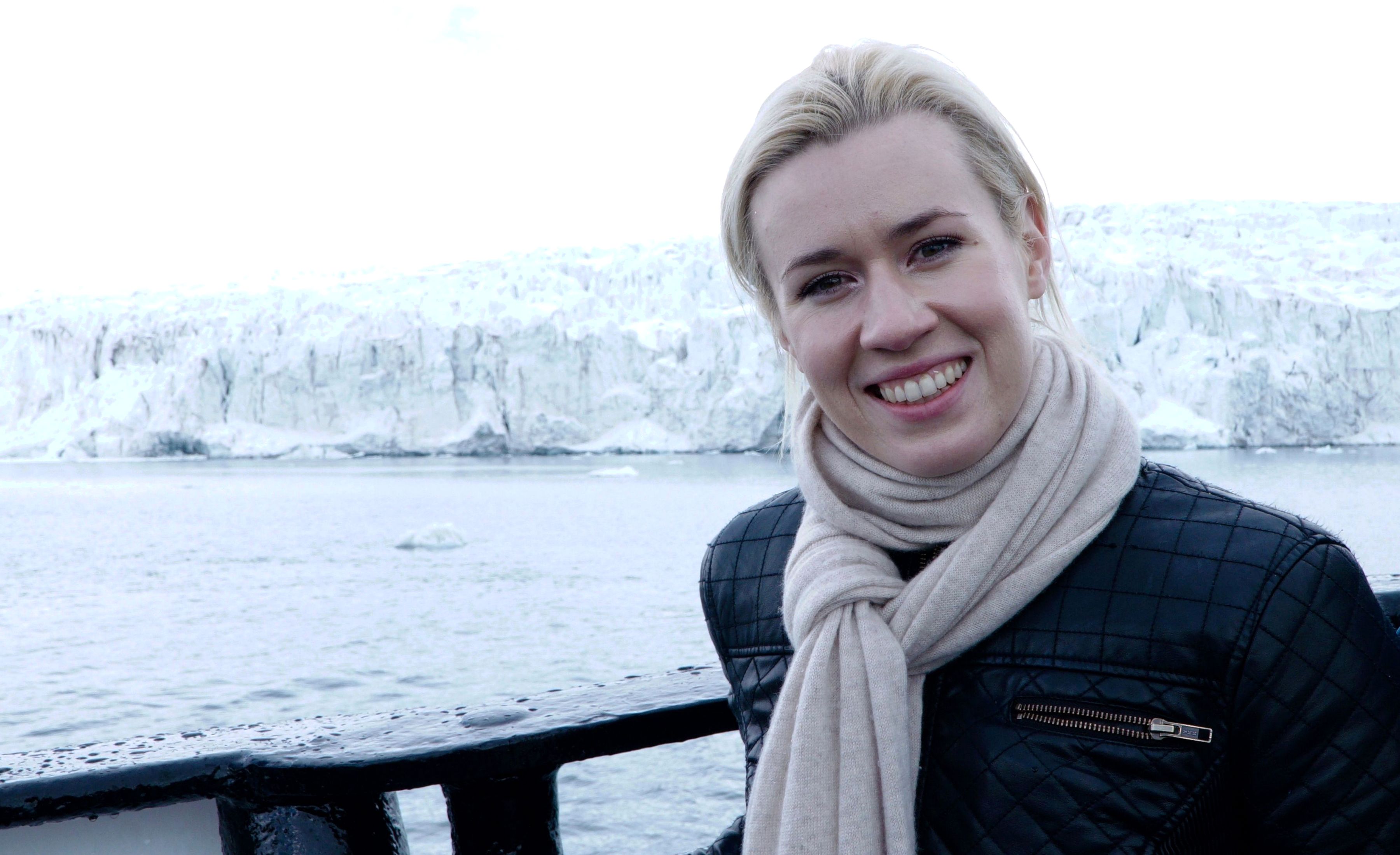 Hemsing's two-violin recital alongside full-toned Armenian violinist Oganes Girunyan from the APCO in the Barentsburg venue was our destination the next day (the violinist pictured above on the boat to the Esmark Glacier), but hard the way on rough seas; half the boat's occupants were violently sick, self included. But worth it for the glacier with its seabirds and solitary ringed seal, and by the time pills and dried biscuits supplied by a Russian good Samaritan from Arkhangelsk had kicked in and I'd slept for three quarters of an hour, I was ready to run around Barentsburg. It's a spruce showcase of Russian buildings from every era since settlement in 1920 – a Russian company bought it in 1932, including two hotels, a fancy post office, a craftwork centre and two hotels. But sight of the miners returning from a shift reminds the tourist that work is still the keynote in this 500-strong community, even if it's only a question of maintaining a Russian presence to align with the Norwegian miners in Longyearbyen (pictured below by Julia Seljeseth – a remnant from Soviet days – "Our Goal – Communism" – with coal belng delivered above).
Life must be tough here, with only one litre of alcohol permitted per miner per year (Soviet times were entirely alcohol free). A few miners came along with their children for the afternoon recital; one beribboned girl sat rapt. Hemsing included in her solo selection Øistein Sommerfeldt's Sonata Saxifraga, as tenacious as the plant which flourishes briefly on Svalbard, and Prokofiev would have been astonished to hear two movements from his deep and serious Sonata for Two Violins played this far north.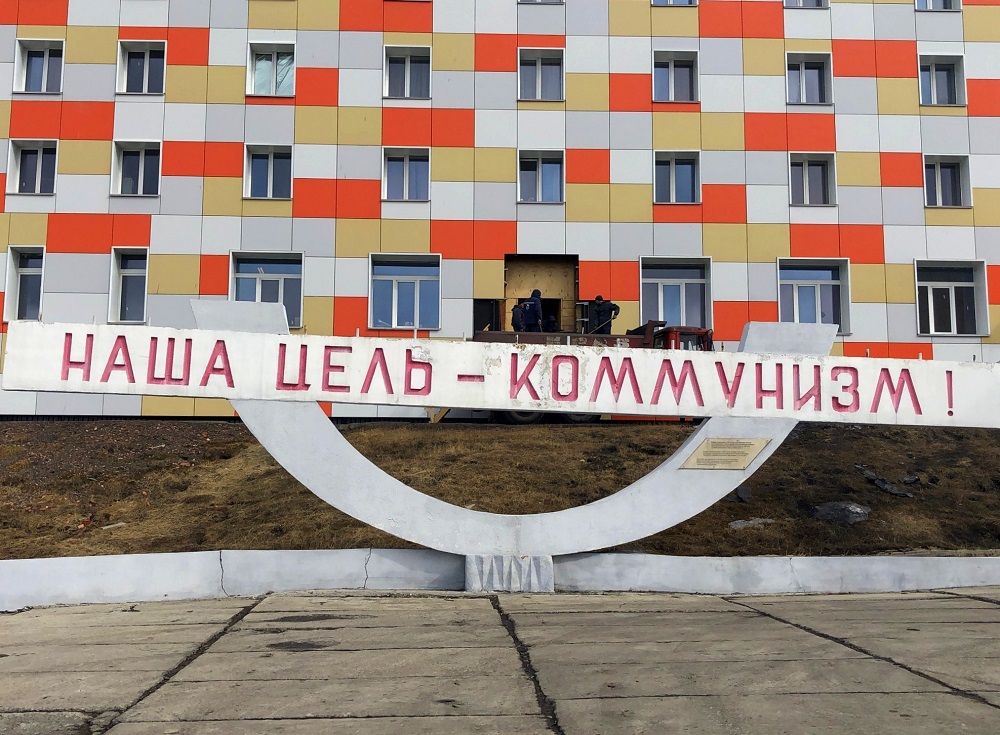 Any festival worth its salt must make meaningful connections with the local community. It was a great idea to bring in Longyearbyen's amateur choir at the end of the Huset concert for Mozart's "Ave verum corpus", the strings lending them support in doubling. And there was a knock-on effect: on the bus to the lavvo – (two) tent – "Midnight Sun" concert in the fast-thawing valley of Adventdalen, I met one of the choristers, who'd brought her partner and two friends living in Longyearbyen (one of them Slovakian; over 80 nationalities have settled here, freely under the terms of Norway's 1920 Svalbard Treaty). To a packed audience further warmed by optional bowls of reindeer stew, and the occasional counterpoint of a sandpiper outside the tent, the string players gave us an endlessly resourceful selection of Scandinavian folk dances in arrangements adapted from the pioneering work of the Danish String Quartet.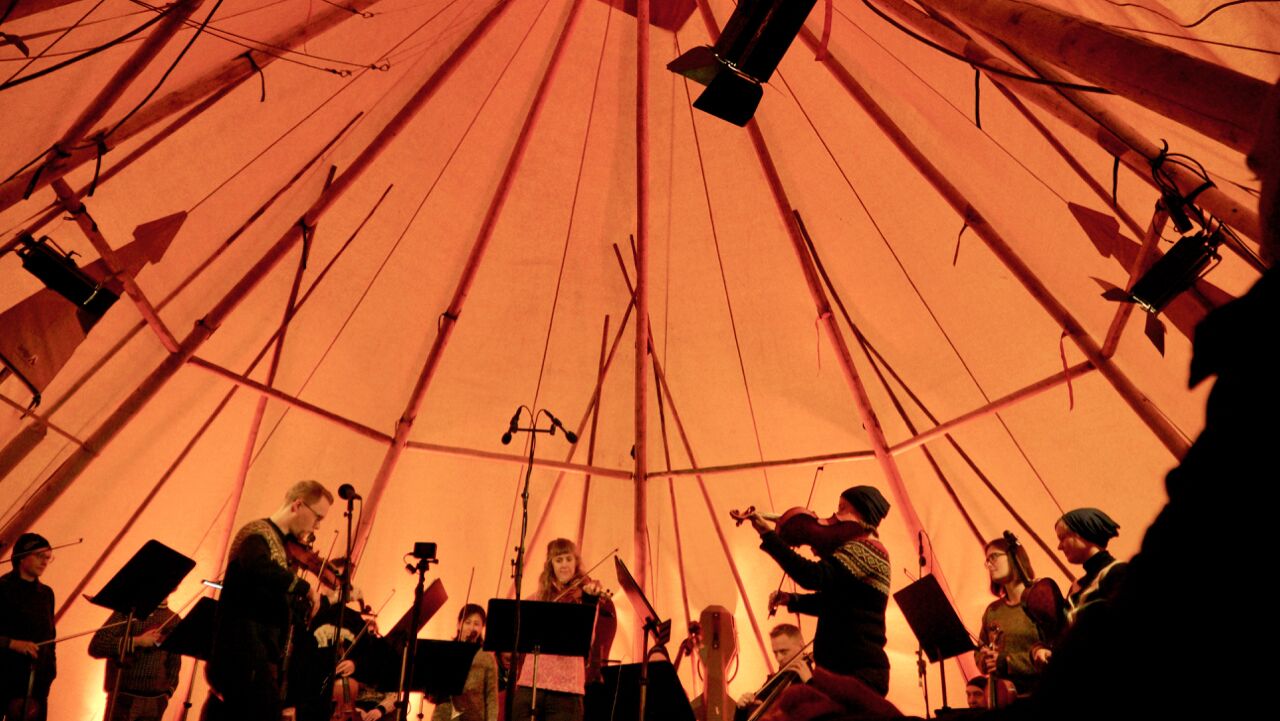 A star was born that evening, too: the usually shy and retiring second violin Anders Melhus (pictured above third from left) improvised brilliantly when he found that people were laughing uproariously at his spoken introductions (in English, like all the talk before and between works at the festival). As a result he amazed his fellow players and has a potential second career as a stand-up comedian. His shaggy-dog narration of the story of Ridder Stig was at least as good as the (brilliant) performance.
This was perfection; not quite so the big concert in the vestibule-shed of Gruve 7, Longyearbyen's only functioning mine on the top of a mountain above Adventdalen. There's none of the showcase packaging of Barentsburg here: outside is slagheap realness, and around an immediate landscape blighted by mining (pictured below by David Nice).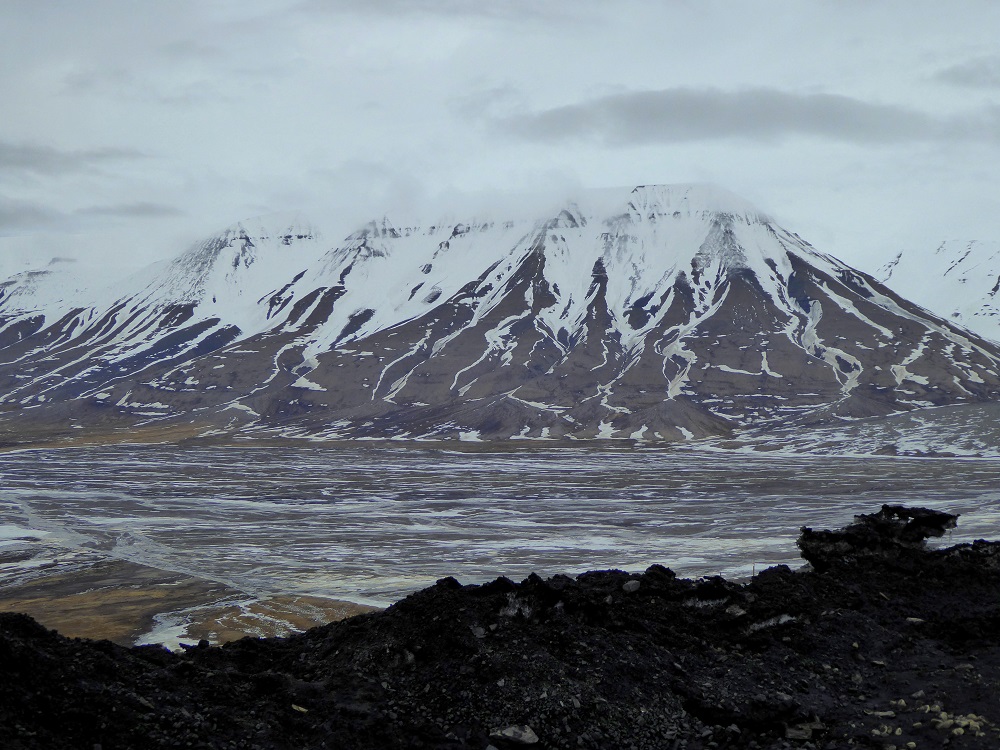 I was beguiled by Kraggerud's 24 pieces to complement Norwegian novelist-philosopher Jostein Gaarder's time-fantasy in Equinox when I reviewed it, very enthusiastically, for the BBC Music Magazine. Kraggerud will participate in a chamber version in Oxford later this year, with Simon Callow reading the narration. Hearing only a selection, beguilingly introduced by the violinist-composer, showcased the wonderful, often virtuosic writing for strings but inevitably brought comments that this was film music; listening to the whole, I'd been convinced it was more than that (Kraggerud introducing his music pictured below).
The prospect of hearing Strauss's lament for the ruination of the Second World War, Metamorphosen for 23 solo strings, wasn't quite borne out by the reality: with Kragerrud leading, and having so much hard work of his own to attend to, the rather breathless performance suggested that this is a work at the limits of the chamber repertoire which really does need a conductor.
Still, the playing was remarkably fine, and I was impressed that Adrian Brendel had slipped in as fifth cello, introducing the Montagnana cello of which he'd just taken possession to yet another unusual far-Northern venue. He was in Svalbard with his trio partners Kraggerud and Imogen Cooper (pictured below after their last concert) to give three programmes in the well-equipped if dry-sounding surroundings of Longyearbyen's Kulturhuset – an ace café with a handsome performance space attached. Those of us on the Barentsburg trip had to miss their Beethoven "Archduke" trio in the first concert; the second found Mozart's E flat Piano Quartet, beautifully as Cooper floated the transitions, overshadowed by Brahms's sensational masterpiece of a String Sextet, the earlier of the two, in B flat major (I was still feeling queasy the morning after the boat trip, but it lifted me out of indisposition rather miraculously). Pure well-being suffused the finale of this mini-series, Dvořák's A major Piano Quintet, right from the first ineffable duet of Brendel and Cooper.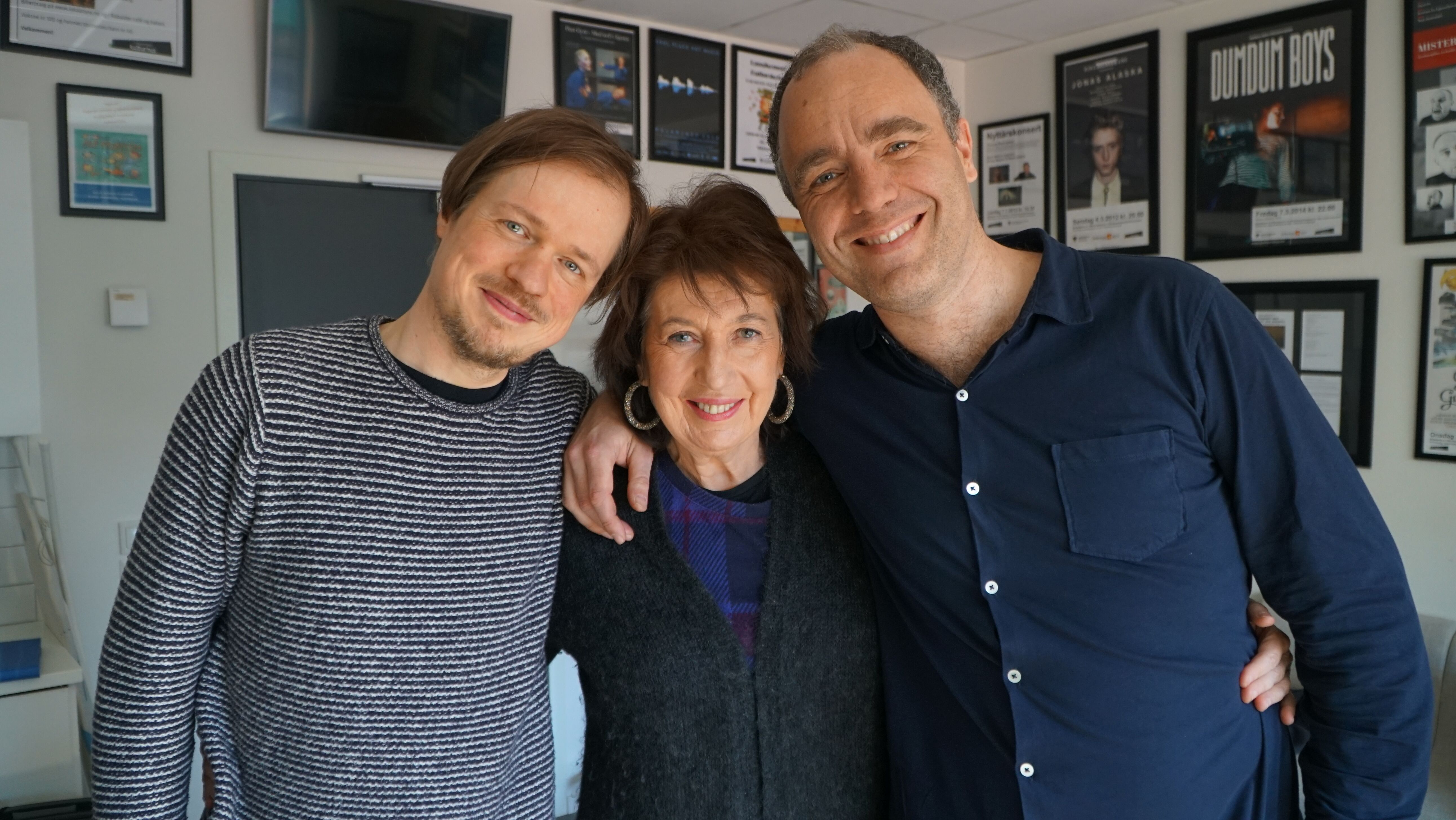 We were sorry to see Brendel, Kraggerud and most of the orchestra leave immediately after the concert. For the rest of us, there was free time in a now almost warm Longyearbyen – I took the opportunity to walk up the valley to the excellent main gallery, which has a stunning collection of Norwegian artist Kåre Tveter's increasingly more abstract Svalbard impressions – and a grand finale of nine courses with four string quartet movements in Huset. Culinary music only? Far from it. Time stopped, and so did our consumption, as viola-player Julia Neher – a stalwart of the Lucerne Festival Orchestra as well as of the APCO, she had played a key part in the chamber concerts – introduced Webern's early Langsamer satz and asked us to reflect upon the "Changes" theme. An Arctic fox ambled past; the sun still shone on the snowy mountains at 11pm; all seemed right with the world, though a double consciousness told us that it also wasn't.
Below: watch an imaginative film of Henning Kraggerud and the Arctic Philharmonic Chamber Orchestra in the third movement of 'Winter' from Vivaldi's The Four Seasons