Trouble in Tahiti/A Dinner Engagement, Royal College of Music review - slick, witty and warm
Trouble in Tahiti/A Dinner Engagement, Royal College of Music review - slick, witty and warm
Two 1950s one-acters come together in a stylish double-act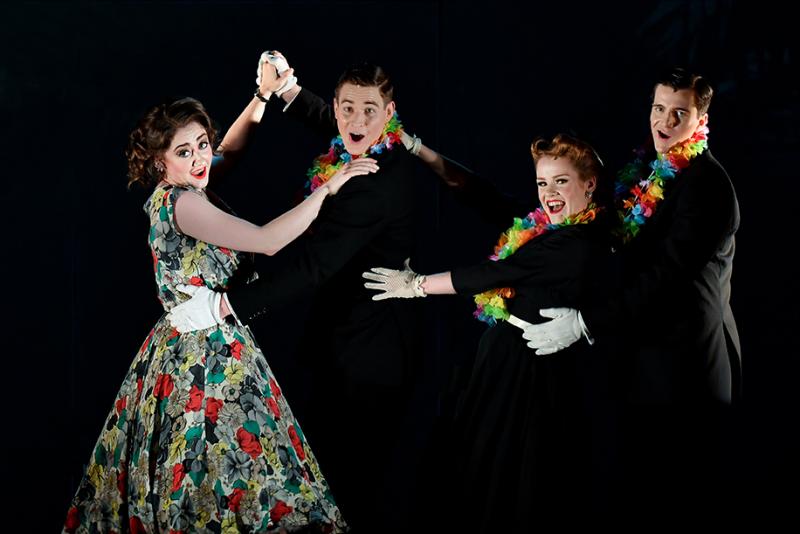 Trouble in Tahiti: Holly-Marie Bingham Will Diggle, Ffion Edwards and Samuel Jenkins live the American dream
It's a clever decision to pair Lennox Berkeley's A Dinner Engagement with Leonard Bernstein's Trouble in Tahiti. The first is all about happily-ever-after, while the second is all about what happens next. The optimistic grime and smog of 1950s London gives way to the shrink-wrapped brightness and professional happiness of the suburban American dream, smiles freeze into toothpaste-commercial grins and love curdles into quiet domestic despair.
A Dinner Engagement wrestles its happy ending to the ground by sheer persistence and determination. The parents are poor, the dinner is burnt, the daughter sulky and her pretty dress discarded, but still the prince falls madly in love and his mother waives the little matter of the dowry. There's an innocence to the opera's fairytale premise that could be cloying were it not for the wit and bathos of Paul Dehn's libretto. (Dehn, incidentally, who is better known as the screenwriter of Goldfinger and The Spy Who Came in From The Cold.)
Jessica Cale (Susan) and Guy Elliott (Prince Philippe) are a couple whose happily ever after you really can believe in
He and Berkeley paint the fallen grandeur of Lord Dunmow and his household with affectionate detail and plenty of gentle mockery. Berkeley's buzzy, playful score catches the rhapsodic yearnings of this impoverished former diplomat for his former days as a Minister Extraordinary and Plenipotentiary to the Grand Duchy of Monteblanco, pulling the rug out from under its lyricism with plenty of bracing banality and chatter. Colanders, pickled walnuts, tomatoes and toast all cut against the contrived sweetness of the set-up, as does a wonderful cameo for domestic "treasure", the voluble Mrs Kneebone.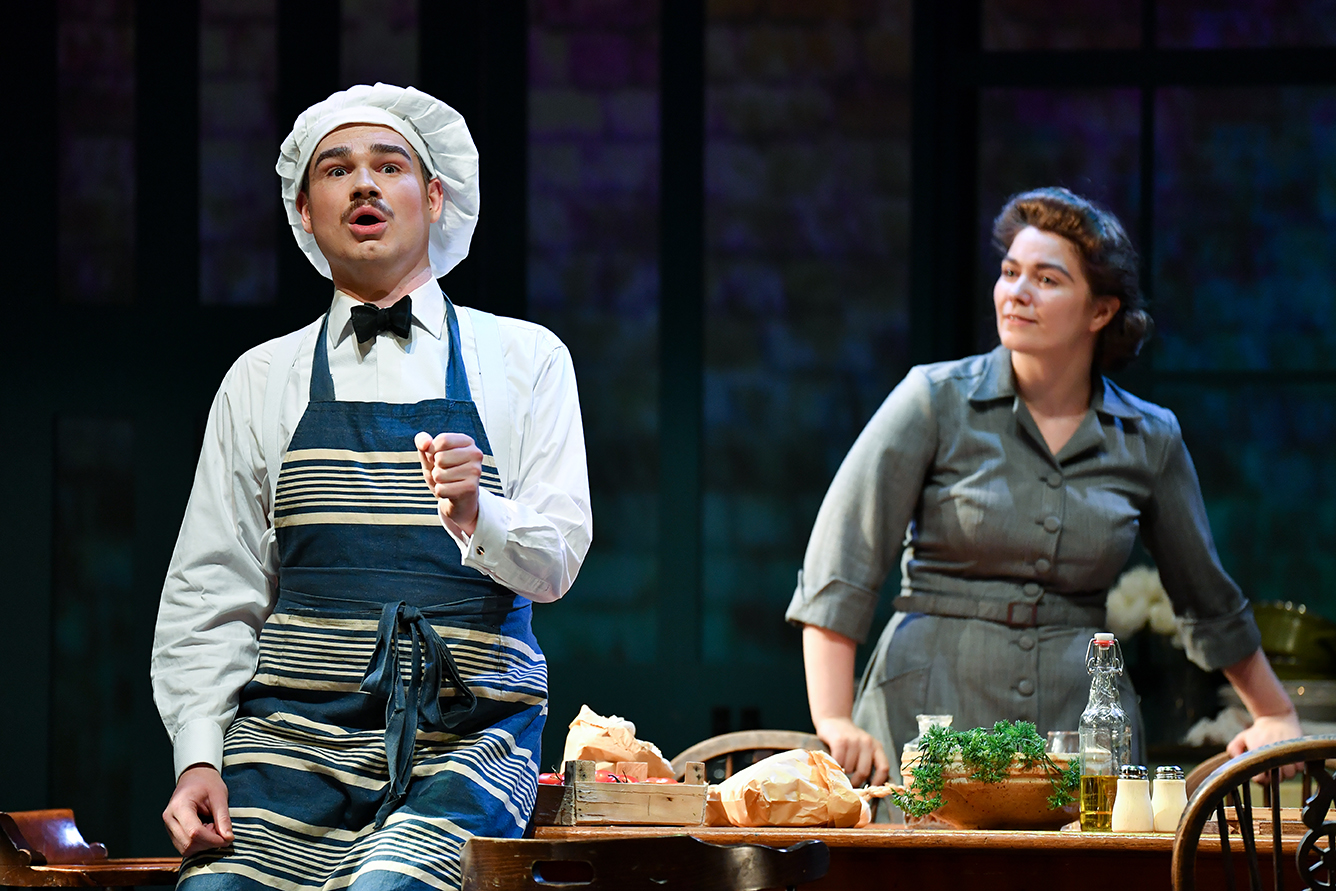 Director Stephen Unwin takes a non-interventionist approach to a work you can just wind up and let go. If neither he nor conductor Michael Rosewell always coax every twitch and scuttle of comedy from its encounters, it makes for a gentler romance rather than a full-frenzy chaotic farce. Nicky Shaw's designs lovingly recreate the Dunmow's Chelsea basement kitchen, full of props (including a working hob) for the young cast to play with.
Edward Jowle (pictured above with Laura Hocking as Mrs Kneebone) catches the wistful regret of Lord Dunmow, his warm, graceful baritone carving curves out of even Berkeley's most angular lines. He's ably partnered by soprano Katy Thomson – her practicality nicely coloured with just a hint of romantic regret. Jessica Cale (Susan) and Guy Elliott (Prince Philippe) are a couple whose happily ever after you really can believe in, charming without being arch or sending up this soufflé-light love story, and there's comic support from Rebekah Jones' batty Grand Duchess and Laura Hocking's cockney Mrs Kneebone.
All the detail is stripped away for Trouble in Tahiti. Walls are removed and only their frames remain, allowing us to see through to the video screen behind that projects black and white fantasies of suburban America – white picket fences and all. It's a slick setup for Bernstein's artful one-acter, a sequence of duets and monologues for husband and wife Sam and Dinah elegantly strung together on a glittering musical thread provided by a jazz trio.
Immaculately, stylishly sung and danced here by Ffion Edwards, Samuel Jenkins and Will Diggle (costumed as three anonymous factotums, whose white-gloved hands are always ready to proffer orange juice or take a handbag), they offer the "bright falsehood" – sanitised, censored, ever-smiling – against which Sam and Dinah's troubled lives are measured.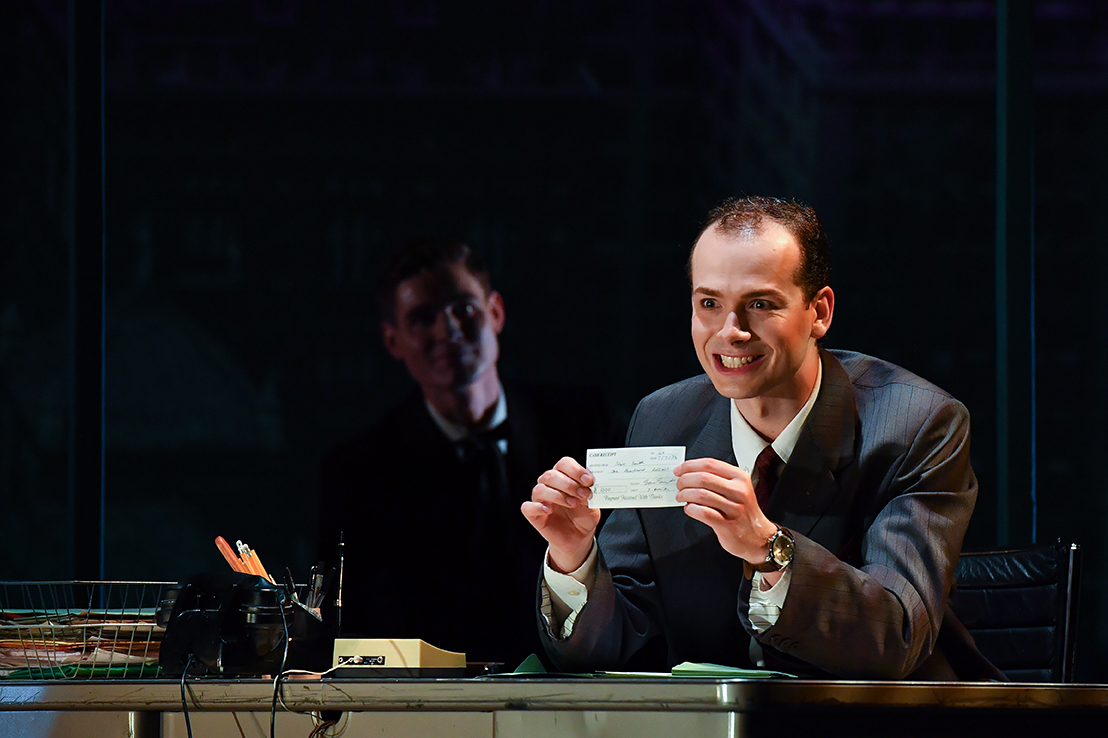 James Atkinson (picture above) and Holly-Marie Bingham mine plenty of quiet horror from their scenes. Atkinson seethes with toxic masculinity in his gym, his slightly rigid baritone bringing plenty of tension to Sam's self-conscious performance of a life, while Bingham bares her soul passionately on the therapist's couch. Dinah's illicit afternoon movie-going climaxes in a brilliant song-and-dance number – a moment of blissful fantasy before the opera's quiet, uncertain return to reality. Just as we give up, Bernstein opens the door to hope just a chink. We know it's futile but still cling on, fingers braced for the inevitable slam. It's devastating stuff, and handled here with a killer combination of slick efficiency and messy human detail.