The Secret Diary of Adrian Mole Aged 13-3/4, Ambassadors Theatre review - needs a chill pill |

reviews, news & interviews
The Secret Diary of Adrian Mole Aged 13-3/4, Ambassadors Theatre review - needs a chill pill
The Secret Diary of Adrian Mole Aged 13-3/4, Ambassadors Theatre review - needs a chill pill
2015 musical gets a belated, overly busy West End transfer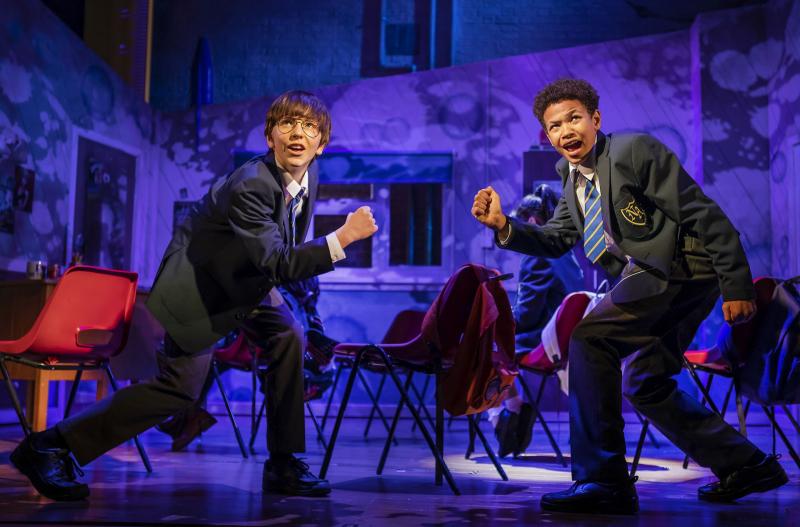 Boys' night: Michael Hawkins and Jeremiah Waysome as Adrian and Nigel
Time hasn't necessarily been kind to this slow-aborning West End transfer of a show first seen (and lauded) in its 2015 debut in Leicester and then again two years later for a summer run at the Menier Chocolate Factory.
The Secret Diary of Adrian Mole Aged 13 3/4
has now reached the West End, and the obvious question is who is this
musical
version
of the ever-popular Sue Townsend books for? It's difficult to imagine overly many of the Adrian Moles of today (or even their parents) latching on to jokes about
Dallas
or Elizabeth Taylor, and the retrograde sexual politics
–
"shut your legs" is, believe it or not, a laugh line
–
feel thankfully out of tune with the hipsters that the spotty adolescents of the here and now may well become.
What we get is a putative Matilda wannabe, directed, in fact, by an associate director on that eternally wonderful show, Luke Sheppard. Here, too, are "revolting" children in a school presided over by a headmaster, Mr Scruton (John Hopkins), of vaguely Trunchbullian despicability folded into a narrative of domestic distress that puts its rotating armies of young performers first. Adrian Mole makes much of a sexual candour inappropriate to the previous show: topics here range from penis envy among 14-year-old males to the hidden delights (or not) of discovering shopworn copies of "Big and Bouncy" magazine.
But what Adrian Mole crucially lacks is any real charm or room to breathe, not to mention a score to lift the audience beyond nostalgia, or not, for Charles and Diana's wedding or for Mrs Thatcher or for any of the other period-placing name checks that get trotted out along the way.
The first-act finale pays unexpected choreographic homage to Les Mis in the (deliberately) adolescent fervour of the revolutionary instincts on display, and one can't help but feel that here, as with Everybody's Talking About Jamie, an opportunity for a really great new British musical has been sacrificed on the altar of borrowings from what has gone before. (The genuinely funny play-within-a-play that lifts the second act reaches as far back as A Midsummer Night's Dream.)
Jake Brunger's book picks up Adrian's acne-plagued tale in 1981 Leicester. Instantly smitten by a student, Pandora, who hails from the unreachable realm of "toffland", he must confront marital disarray on a financially troubled and carnally complicated home front. Mum Pauline (a likable Amy Ellen Richardson, blessed with the cast's standout voice) is carrying on with a neighbour, Mr Lucas (the excellent Hopkins again, pictured above), who can flex his tummy muscles on cue. That leaves Adrian's dad George (Andrew Langtree) to find succour in an affair of his own with "dirty Doreen" (Lara Denning, doubling in that role and as the schoolteacher, Miss Elf). Doreen merits a description as "wanton – and not the Chinese type". (Pictured below: Amy Ellen Richardson, Andrew Langtree)
The year's events embrace holidays, squabbles, stolen kisses, and an elaborate Nativity pageant, alongside periodic visits from the ageing local scold, Bert, whom Ian Talbot plays with an unrepentant finger toward political correctness that would make Nigel Farage cheer. The score from Brunger and Pippa Cleary has a bouncy, bubble-gum pop amiability without lodging for keeps in the mind: one waits in vain for a number like "When I Grow Up" from Matilda to allow the parade of antics to deepen in some way.
Happily, an adroit cast for the most part keep the manic tendencies of the production intact, even if a few of the young actors might profit from striking fewer poses and just playing the characters. (You sense several of them having practised in front of a mirror.) Among the show's four Adrians (Equity regulations require the multiple casting), I saw Michael Hawkins, who brings a saucer-eyed eagerness to proceedings that does justice to the budding intellect of Adrian – no reading the News of the World for him! – and his galloping hormones, as well. Still, it's hard not to nod in agreement with Adrian's mum, when she acknowledges "a rare moment of quiet" in her life from which the musical that contains her would benefit, too.