L'Arlesiana, Opera Holland Park review - at last, a rare Italian gem |

reviews, news & interviews
L'Arlesiana, Opera Holland Park review - at last, a rare Italian gem
L'Arlesiana, Opera Holland Park review - at last, a rare Italian gem
Empathetic performances and conducting help Cilea's pastoral tragedy to soar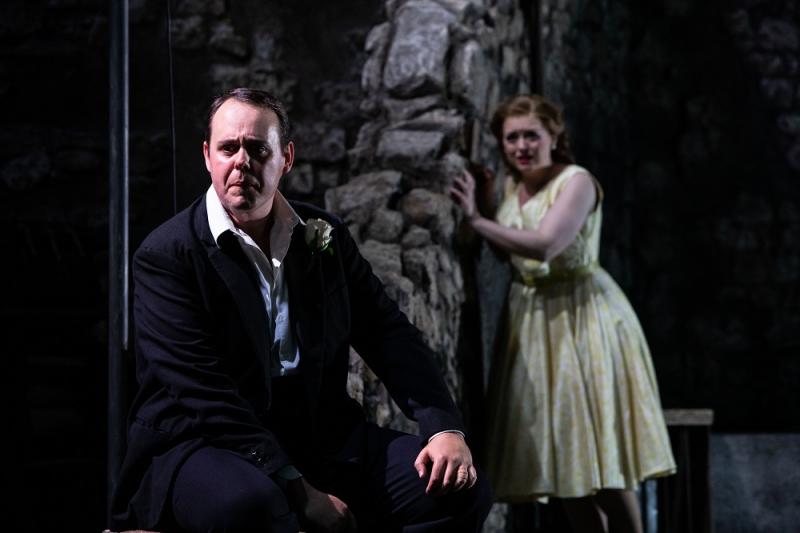 Samuel Sakker as obsessed Federico with Fflur Wyn as the village girl who tries to cure him
So many second-rate Italian operas with good bits have been served up by Opera Holland Park and glitzier UK companies; despite best intentions and fine execution, none of the works by Mascagni, Zandonai, Alfano, Leoni, Ponchielli or Giordano has really flown.
There are, at least, three composers close to grownups Verdi and Puccini: Leoncavallo, Wolf-Ferrari and Cilea, whose
Adriana Lecouvreur
now seems to have found its rightful place in the mainstream repertoire. Would his
L'Arlesiana
be equally worthy? Thanks to grateful vocal writing, exquisite orchestration and a rare sense of fluent music-drama, all of them extremely well handled at OHP, it is.
Of the opera, two arias may be familiar; otherwise, the known masterpiece is Bizet's incidental music to the original Daudet play, a study of the passion that poisons a Provençal village lad infatuated by the unnamed "girl from Arles"; she never appears on stage, and that she does so here briefly as a phantom, cigarette-smoking Carmen type in red, all conventional hip-wiggling, is perhaps the only false note in Oliver Platt's production; after all, a woman needn't be a harlot for being torn between two lovers.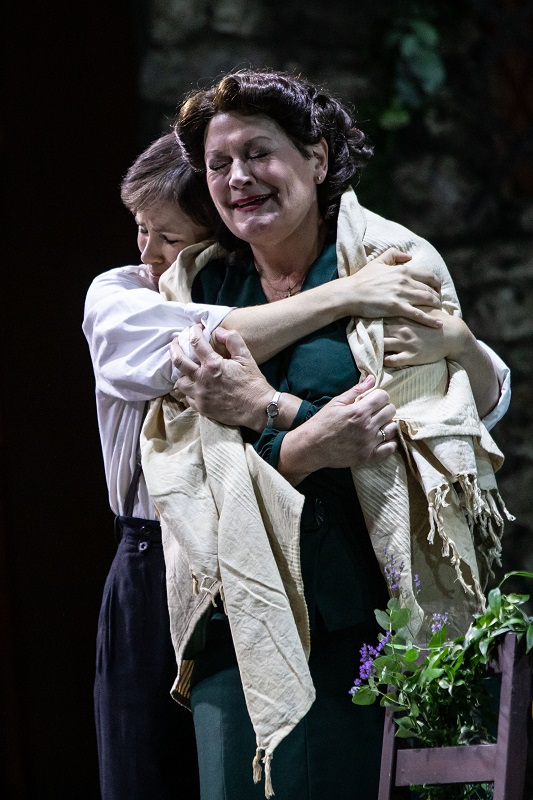 That still leaves three main roles for soprano, tenor and mezzo, but the lower-voiced woman is not a vamp but a passionate mother, Rosa Mamai. Yvonne Howard fires up the big number, "Esser madre è un inferno" ("It's hell to be a mother"), but she's also truthful. Platt encourages restraint and realism for the late scene (pictured right) in which Rosa hesitates to accept the transformation of her disadvantaged second son, L'Innocente (well characterised by Samantha Price, though a treble might be able to handle the part these days).
In village thinking, the sudden maturity of one son bodes ill, and so it transpires; though the suicide of the other, driven to madness by his passion for the Arles woman and the psychotic behaviour of her other lover, Metifio (Simon Wilding), is a foregone conclusion. Federico's self-absorption makes him hard to sympathise with, but former Royal Opera Jette Parker Young Artist Samuel Sakker keeps it real, and he has the authentic Italianate throb in the voice. Federico's famous solo, "È la solita storia del pastore" ("It's the usual story of the shepherd"), is all the more remarkable in context, taking up the dominating legend earlier narrated by old Baldassare (Keel Watson, a real presence as always, pictured below with Wilding) of a she-goat who battles all night with a wolf and gives up the ghost at dawn. In the drama, the wolf is of course the mental illness with which Federico struggles. The scoring of its repeated sunset music is Cilea at his most poetic, and the City of London Sinfonia woodwind, oboe especially, do it full justice.
There's a special liaison between Fflur Wyn as the besotted village girl who thinks she can cure Federico of his sickness and the beauty of the orchestral playing under Dane Lam, the revelation of the evening in his keen sense of movement and dramatic pace. Wyn's lyric soprano is developing real force at the top, and she's the most simpatica of singers; again, keeping it simple and true works wonders on the drama. Once you're past the village-institute look of the set, what happens on it, from the singing-acting of the principals down to the nimble pre-wedding chorus of Act Three, is a quietly remarkable wonder. And I want a recording of it right now.
Conductor Dane Lam is the revelation of the evening in his keen sense of movement and dramatic pace
rating
Explore topics
Share this article