Il Segreto di Susanna/Iolanta, Opera Holland Park review - superb singing, mixed staging |

reviews, news & interviews
Il Segreto di Susanna/Iolanta, Opera Holland Park review - superb singing, mixed staging
Il Segreto di Susanna/Iolanta, Opera Holland Park review - superb singing, mixed staging
A fine double-bill marred by its mismatched halves
Susanna (Clare Presland) and Gil (Richard Burkhard) work out their newly-wed differences
Secrets, and the voluptuous, sensory pleasures they conceal, may unite Wolf-Ferrari's Il segreto di Susanna and Tchaikovsky's Iolanta, but far more divides two works that make awkward bedfellows in Opera Holland Park's latest double-bill.
Wolf-Ferrari's 1909 intermezzo is an operatic puff of air – a single, playful thought worked out with exquisite comic elegance in precisely 45 minutes of delicious but disposable music. Tchaikovsky's fairytale, by contrast, sprawls and swells outside the bounds of its single act, charged with a philosophical and emotional weight that threatens to overbalance its slight story
Assigning the works to different directors and conductors, with only designer takis and lighting designer Mark Jonathan uniting the evening's halves, does little to foster a sense of dialogue or continuity. It's a shame as, taken individually, each has an awful lot going for it.
We open in a glossy, mid-century apartment of a couple with more money than taste. A troupe of domestics bustle and busy themselves before the owners – Count Gil (a middle-aged symphony in pastel pinks) and his lovely new bride Countess Susanna (Clare Presland, pictured below) – return.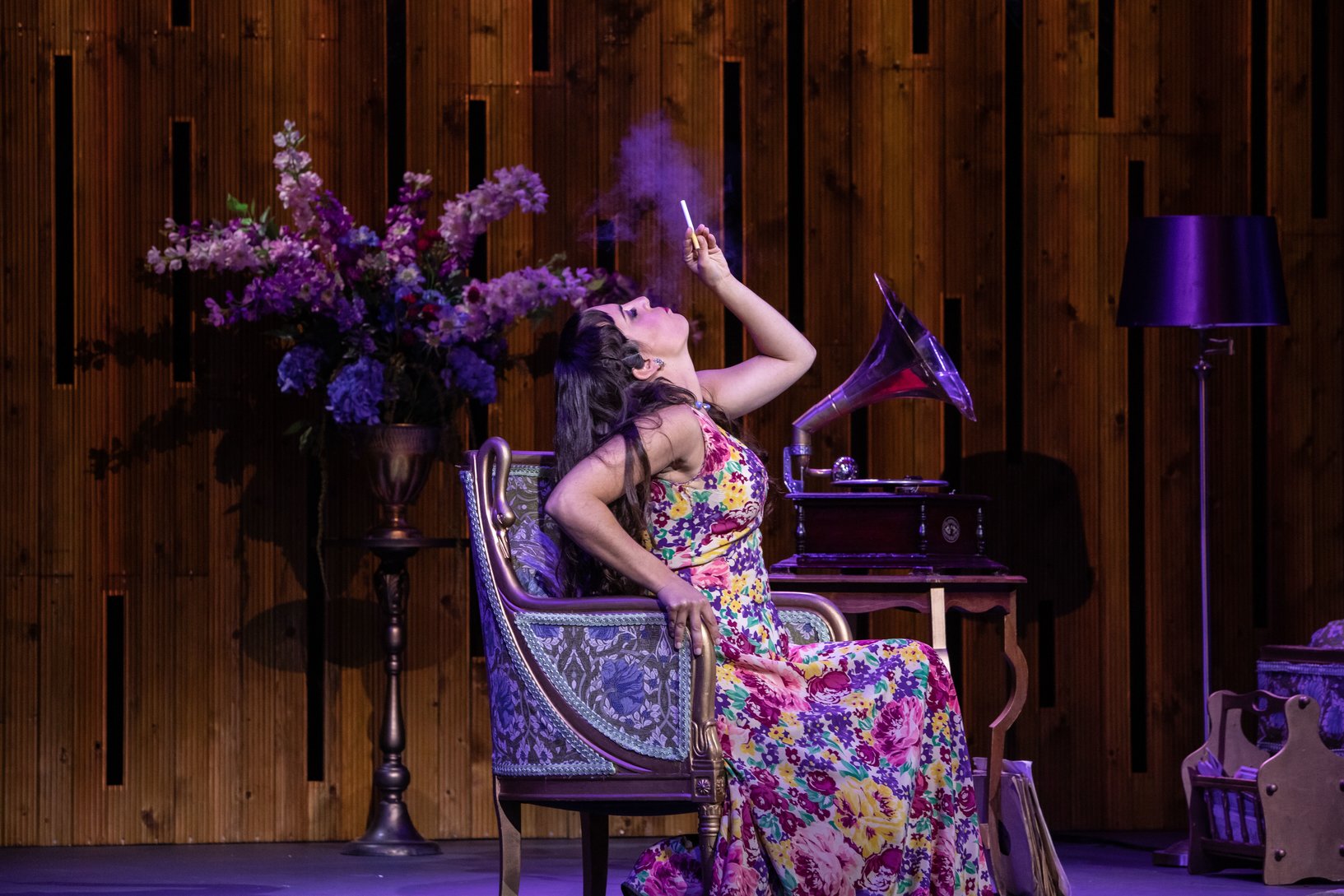 What follows is Othello-lite, a domestic intrigue that's tragedy-free but still has all those rich flavours of jealousy and self-deception. Smelling tobacco in the air, Gil immediately imagines infidelity and assignations, spinning suspicion into an elaborate and lurid tapestry. His wife, meanwhile, is indeed consumed by a new obsession – cigarettes. The conceit is a simple one, but beautifully handled, never outstaying its welcome in director John Wilkie's precise, witty production.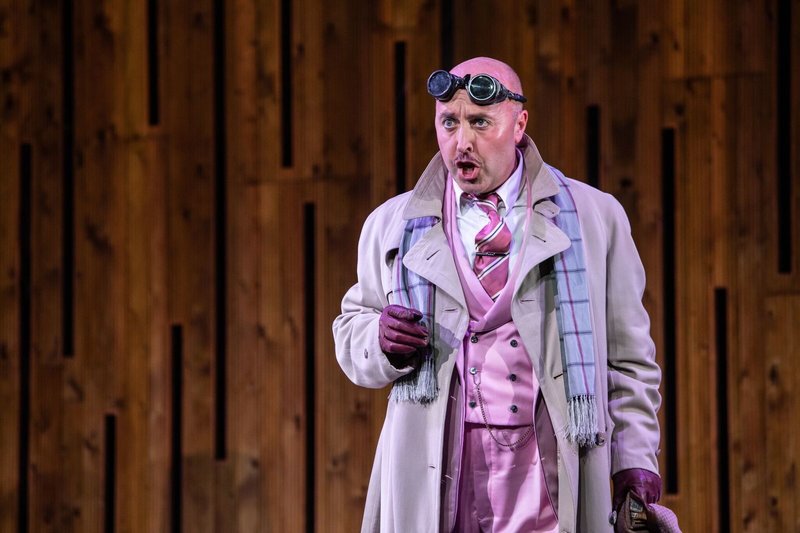 Clare Presland's Susanna flirts and schemes delightfully, conspiring with the audience in every glance and self-conscious gesture. Musically too, she holds the centre, matching John Andrews' orchestra for lush, Italianate warmth – the score's sunny good nature filling the air-pockets of French farce with generous, overflowing sweetness. Richard Burkhard makes a wonderfully neurotic Gil (pictured above), a lover with more than a touch of John Cleese about him. Moving silently among the action, now an accomplice, now a servant, now a disapproving parent, is John Savournin as butler Sante. Effortless comic timing and some inspired physical clowning is the final ingredient in a musical cocktail that slips down a treat.
It's all-change after the interval for Olivia Fuchs' Iolanta, which seems to go out of its way to look and feel ugly. It's deliberate, of course – a commentary on Tchaikovsky's fairytale-parable of a blind princess who finds true beauty with sightless eyes, innocent of the strange lies and deceptions that surround her – but that doesn't make it any more appealing, or bring the stern, angular visuals any closer to the richness of the composer's score.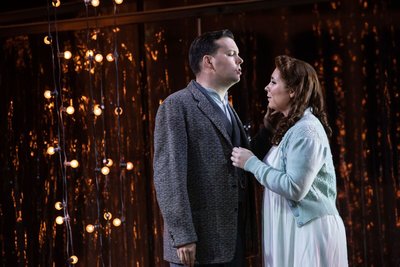 This 20th-century princess swaps a paradise garden for a plastic-shrouded hospital room. Her ladies-in-waiting become so many human shades of grey, silk scarves bound over their mouths to signify the secrets they cannot share. Mysterious injections are administered to Iolanta, who submits to all like a child.
Does it add to the pathos of her eventual enlightenment? Perhaps, but it also loads the moral dice in a tale not exactly lacking in ethical weight. Rather than wrestle with the sinister echoes of The Handmaid's Tale it's tempting to close your eyes and leave all to Sian Edwards' pit and the voices of the production's outstanding cast. Because in Natalya Romaniw;s Iolanta and David Butt Philip's Count Vaudemont (both pictured above) Opera Holland Park have a Tchaikovsky dream team. Lustrous and even, right up to the top of the voice, Butt Philip is an ardent, boyish hero. We believe in the awkward silence that forces Iolanta to question his feelings, and will him on in his pursuit of this strange, alien girl. Butt Philip's bright tone glints against the soft, minky blackness of Romaniw's soprano, a thick charcoal smear to his glittering line.
The quality continues right through the cast, from the bear-like vocal embrace of Mikhail Svetlov's bass (King Rene) through Grant Doyle's heroic Robert and Ashley Riches' inscrutable doctor, to the chorus, who irradiate the stage as Jonathan's lighting fails to do in the spectacular final ensemble.
Taken individually either of these halves would make a satisfying whole. I'm just not convinced that together they add to up to more.
In Natalya Romaniw and David Butt Philip Opera Holland Park have a Tchaikovsky dream team
rating
Explore topics
Share this article