Edinburgh Festival 2019 reviews: Enough / Spliced |

reviews, news & interviews
Edinburgh Festival 2019 reviews: Enough / Spliced
Edinburgh Festival 2019 reviews: Enough / Spliced
Two compelling examinations of femininity and masculinity at the Traverse Theatre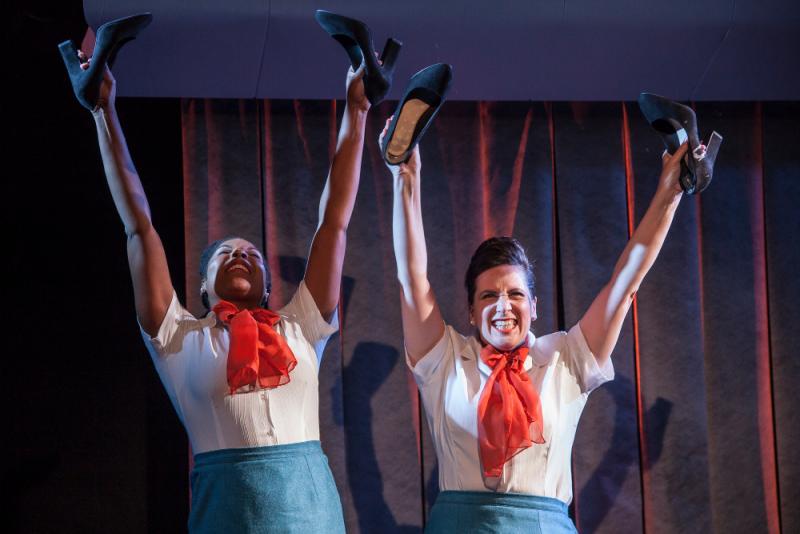 Louise Ludgate and Amanda Wright in Stef Smith's new Enough: supple, detailed and alive to its extreme humour
Immaculately turned out in winning smiles, navy and nylon, cabin crew Jane and Toni dispense comforting reassurance and flirty glances to passengers at 30,000 feet. Down on the ground, though, they're juggling kids, kitchen colour-schemes and semi-rapist boyfriends. And what's that age-old rumble coming from deep in the ground?
Stef Smith's quietly epic new two-hander at the Traverse might begin as a chucklesome comedy about staying calm, controlled and sexy a mile high in the air. But it ends as a guttural howl of fury and despair – at ancient grievances re-emerging, at a crisis in the natural world, at the fact that there's still a battle for women that needs fighting. The darkly funny journey Smith takes to get between those two extremes, though, is funnelled into a taut, tight and thoroughly convincing dramatic structure.
Smith's two air hostesses function as increasingly effective metaphors for women's continuing obligations as wives, mothers, all-encompassing organisers – and, of course, ready lovers. But they're more than just ciphers. They're defined and rounded, each dealing with her own problems. Louise Ludgate and Amanda Wright are supple and detailed in the roles, alive to Smith's sometimes extreme humour, yet conveying their predicaments, however trivial, with convincing urgency, and establishing a sense of genuine friendship.
Kai Fischer's deceptively simple set and lighting – especially a back wall of drapes that does something remarkable towards the end – capture a flawless world on the verge of collapse, and Bryony Shanahan's direction makes the most of Smith's poetic language in its abrupt jump-cuts and linguistic paradoxes. Enough balances the universal and the particular to compelling, sometimes unsettling effect, and it has plenty to say behind its fury and its pitch-black humour.
Enough at the Traverse Theatre until 25 August
Spliced ★★★★
If Stef Smith's Enough focuses on female roles and obligations, then Timmy Creed's solo show Spliced – being staged by the Traverse off-site at the Edinburgh Sports Club down by the Water of Leith – is very much its male counterpart.
Cork-born Creed (pictured above by Eamon Ward) is a GAA man (that's the Gaelic Athletic Association – no, me neither). He's been hurling-obsessed since childhood, and, though hardly a prodigy, was a determined player who worked his way steadily up into his local Bishopstown team. But for him, and for thousands more across Ireland, hurling is far more than just a game. It's a ritual, a means of bonding communities. It's also a free nightclub pass and an easy way to lure a girl to bed. Ultimately, Creed begins to question what it's all doing to him.
And that's aside from the numerous broken bones and torn muscles he catalogues in his engaging exposition. It's more fundamental than that: hurling seems to define his whole identity, and to be instilling a set of values he's not sure he agrees with.
Creed's squash court setting not only means that the audience has to negotiate appropriately sweaty, testosterone-filled facilities to reach his performing area. It also provides a cramped, claustrophobic setting for Creed's autobiographical reflections – and one in which he can literally bounce off the walls.
In the end, Creed's insights might not tell us much we don't already know. But it's his warm, unforced delivery and his athletic energy that really carry the show, as well as his clearly heartfelt plea for a broader, more inclusive conception of masculinity.
Spliced at the Traverse Theatre until 25 August
Enouigh begins as a chucklesome comedy, but ends as a howl of fury and despair
Share this article