Edinburgh International Festival 2019 review: La reprise |

reviews, news & interviews
Edinburgh International Festival 2019 review: La reprise
Edinburgh International Festival 2019 review: La reprise
Intellectual playfulness in Milo Rau's recreation of a gay hate crime
Wednesday, 07 August 2019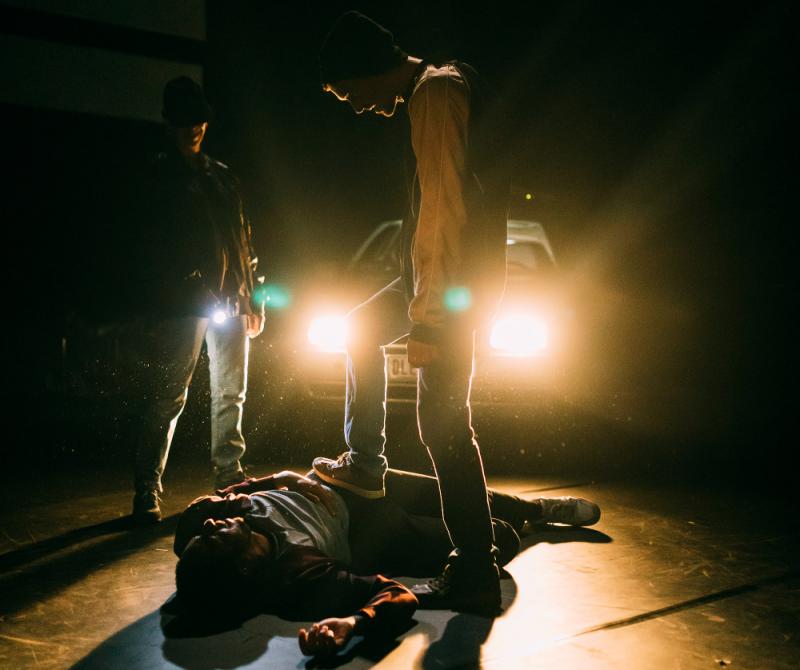 Banality of evil: La reprise re-stages the homophobic killing of Ihsane Jarfi
Who'd have thought a play about a homophobic hate crime could be so much fun? Well, maybe that's overstating things a little.
But there are certainly lighter moments in
La reprise
, provocative Swiss-born director Milo Rau's production with his International Institute of Political Murder at the International
Festival
, which investigates the torture and killing of 32-year-old Ihsane Jarfi in Liège in 2012.
In fact, it's Rau and his ensemble's careful judging and pacing of mood that make La reprise so effective, and so memorable too. From its disarmingly jokey opening – complete with barbed references to the Dardenne brothers and their borderline poverty-porn films exposing the deprivations of the post-industrial city – La reprise slides inexorably to its pitch-black heart: a recreation of the crime itself that, as Rau's ensemble has established by this stage, is almost mundane in its cruelty.
But this being Rau, general enfant terrible of European theatre, La reprise is also, naturally, theatre about theatre. Accordingly, casting processes get incorporated into the production, and there's a constant restless shifting between actor and role – and, indeed, telling parallels drawn between their backgrounds and experiences, uncannily so in the case of forklift-driving DJ Fabian Leenders and convicted killer Jeremy Wintgens.
It's also a show about itself: as much as he's investigating issues around the murder of Jarfi, Rau examines his own production, even at times questioning why they're tackling this horrific event on stage at all. He collides live and filmed versions of the same scenes, and even holds his own motives behind casting and staging decisions up for interrogation.
Does that sound insufferably meta-theatrical? It probably could be. But Rau handles his material – which is often admittedly pretty self-referential – with such buoyancy and elegance that La reprise feels witty rather than worthy, transparent instead of self-important.
So yes, despite its subject matter, La reprise is a lot of fun, with both gags and intellectual sleight-of-hand going on. Its final image, however, makes clear the audience's own complicity, and dares us to consider whether we're passive bystanders or active participants. It's an unsettling conclusion to a provocative but thoroughly entertaining work.
This being Milo Rau, general enfant terrible of European theatre, La reprise is also theatre about theatre
rating
Share this article