Reissue CDs Weekly: Tunnelvision - Watching the Hydroplanes |

reviews, news & interviews
Reissue CDs Weekly: Tunnelvision - Watching the Hydroplanes
Reissue CDs Weekly: Tunnelvision - Watching the Hydroplanes
Factory Records footnotes finally get the album they deserve
Sunday, 01 September 2019
Blackpool's Tunnelvision: formerly a shadowy presence in the Factory Records narrative
A ghostly voice pronounces "there's no need to make the sepulchre white." Following this declaration, what sounds like an ocarina wails mournfully over spindly guitar, a sonorous bass guitar and circular, heartbeat drumming. Tunnelvision's "Whitened Sepulchre" isn't a happy-go-lucky look at life.
This sombre outing was recorded on 1 March 1981 at Rochdale's Cargo Studios and engineered by John Brierley, who had done the same job in the same place in October and November 1979 for Joy Division. "Whitened Sepulchre" and three other tracks were then mixed by former JD and now New Order bassist Peter Hook for a potential Tunnelvision album to be issued by his label Factory Records. That was never completed but what did come out was one single, issued by Factory in June 1981 – it was also recorded at Cargo in September 1980 and mixed for release by JD/NO producer Martin Hannett.
Despite the ties to Factory's most celebrated band – they regularly supported New Order – Tunnelvision had closer links with another of the label's signees, Section 25. Playing with them and New Order (at their third live show) in their home town of Blackpool on 5 September 1980 brought them to the attention of Factory. The Tunnelvision single was mixed by Hannett at Pink Floyd's Britannia Row studio during the sessions for Section 25's first album Always Now.
While Factory clearly thought of Tunnelvision as more than a one-single band, that was all which was released (a DIY cassette tape of demos also surfaced in 1981). The "Watching the Hydroplanes" / "Morbid Fear" coupling unwittingly became the band's early epitaph. They played their first show under the name in February 1980, had regular line-up changes and bowed out after a London show February 1982. At the time, theirs' was a shadowy presence in the Factory narrative.
That changed in 1997, when a CD collecting the Cargo sessions, live tracks and home demos was issued. A similarly minded CD with some of the same tracks and others followed in 2005. Tunnelvision had been brought into the light.
Now, the vinyl-only album Watching the Hydroplanes brings together the two Cargo sessions and one live track in a sleeve modelled on the 1981 single. In effect, it's the album Tunnelvision never released.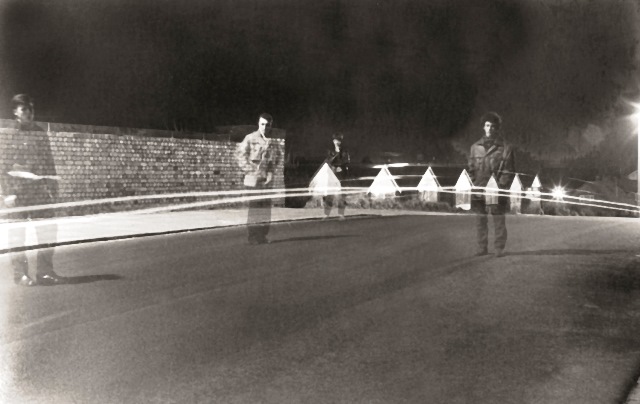 What's heard is in line with what would be expected considering Tunnelvision's context. However, despite the gloom imbuing the studio tracks they do not sound like Joy Division or New Order. Instead there is a kinship with Section 25, whose Paul Wiggin had mentored Tunnelvision's guitarist Andrew Leeming. In non-Factory terms, fellow musical travellers from the period include The Cure, Public Image Ltd, The Scars and The Visitors. Tunnelvision would not have sounded out of place on Pre Records.
"Morbid Fear", from the first session, is especially effective, passing a thread between Bauhaus and Killing Joke albeit without the latter's stamp, stomp and anger. It's on the second session, the one mixed by Hook, where they really sound as if they deserved to be heard; let alone heard more widely. "The Man Who Would be King" is a rhythmic post-punk gem pointing to what The Danse Society and Southern Death Cult would be doing: a goth-infused rock. Even better is "100 Men" a crawl-paced reflection on the waste of war-time death punctuated by gunshot guitar and syn-drums.
Inevitably, Tunnelvision were tarred as coat-tail riders. Of their single, Melody Maker offered "On dark, windy nights the ghost of Joy Division stalks the corridors of this column." NME said "At the New Order gig at Kentish Town's Forum the aptly named Tunnelvision tortured the entire audience with their stunningly inept imitations of the bill-toppers." As Watching the Hydroplanes amply demonstrates, these words were idiotic. Tunnelvision were indeed of their time but so were many bands – e.g. The Cure – which could have been slagged off in the same way. Pondered now, it's hard not to wonder whether their association with Factory Records acted against Tunnelvision.
Next week: Feel The Noize - Slade singles in a box

Tunnelvision's association with Factory Records acted against them
Explore topics
Share this article