The Sisters of Mercy, Roundhouse review - hits delivered from the darkness |

reviews, news & interviews
The Sisters of Mercy, Roundhouse review - hits delivered from the darkness
The Sisters of Mercy, Roundhouse review - hits delivered from the darkness
The men in black raise an energised storm of theatrically arch rock'n'roll
Monday, 23 September 2019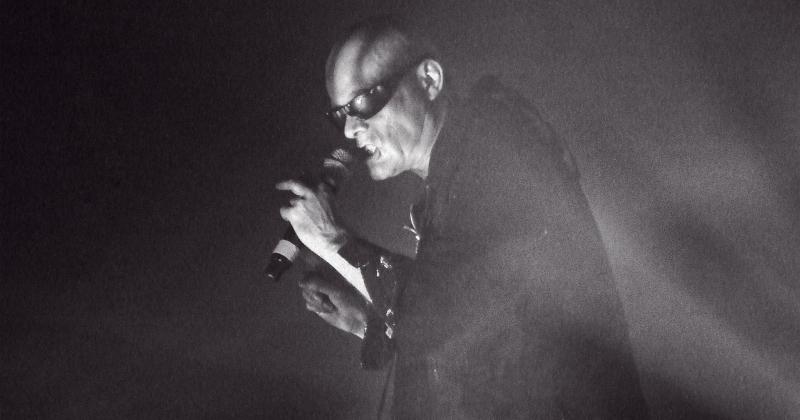 Andrew Eldritch in full swing
While bands such as The Birthday Party, Siouxsie and the Banshees and, especially, Bauhaus had a hand in inventing goth music at the start of the Eighties, it was The Sisters of Mercy who defined it. Their combination of black clad cowboy shtick, mirror shades and dry ice worked a treat.
In recent years, there have been rumours that the band's live shows are less than impressive, mentions of a tendency to focus on unreleased material while dressed in leisurewear. Happily, this was certainly not the case tonight.
The Sisters' output, especially their early records, has dated well; gritty, crunching drum machine rock with a sense of theatre. The band's central figure is Andrew Eldritch, an acerbically witty, strong-minded individual who last released music in 1993. He has stubbornly refused to engage with the music industry since, apparently regarding it as a corrupt joke. He does, however, tour regularly, and has a strong following, as this second night at the Roundhouse attests.
The band appear amid dry ice – of course! – the stage appropriately gloomy. Eldritch's long black tresses are long gone, but the shades are there and he's clad in black. Throughout the night he and his cohorts exist in a shadow-world, lit minimally by spots that occasionally catch Eldritch's shaven pate, his face ghost-like and stern. This is how it should be. They kick off with their 1990 hit "More", its dirgey riffage setting the mood amid the darkness.
There are cuts from their final Vision Thing album and new unreleased songs, but the night really gets into gear when they play "Alice", one of their finest songs, all bass-growled vocal desperation and industrial thump. The set becomes more enlivened and the crowd respond in kind. Even the preposterous Jim Steinman-produced epic "Dominion/Mother Russia" is delivered leaner and fiercer than its recorded form.
Songs such as "We Are the Same, Susanne" have never been officially released but have been in the Sisters' live set for decades so have a familiarity with fans, who can be seen mouthing along. The demographic here is goth-'til-I-die. Some here are undoubtedly grandparents but the crimped-back shocks of hair, thick eyeliner, and studded motorbike boots are still present and correct. Why not? Looks a damn sight more interesting than fleeces and tracky bottoms.
After just over an hour, the band disappear but we needn't have worried, the encore proves to be a juggernaut of hits. "Lucretia My Reflection" rides its muscular bassline and cinematic lyrics about "hot metal and methedrine" to an explosive finale before they hit us with the double punch of "Temple of Love" and "This Corrosion". The latter – back in 1987 Eldritch's great comeback hit after he'd parted ways with his entire band – is shorn of its opulent synth bombast, boasting a more metal-leaning guitar sound, as has been the case throughout the night. But it doesn't matter, the Sisters' songs are sturdy and this outfit do them justice. By the end, most of the audience, right back to the balcony seats, are singing the "Hey now, hey now now" chorus, reminding once again what a juicy, underheard back catalogue this lot have.
Below: watch the video for "Lucretia My Reflection" by The Sisters of Mercy
The demographic here is goth-'til-I-die
rating
Explore topics
Share this article