LFF 2019: The King review - head conquers heart in Shakespeare adaptation |

reviews, news & interviews
LFF 2019: The King review - head conquers heart in Shakespeare adaptation
LFF 2019: The King review - head conquers heart in Shakespeare adaptation
Joel Edgerton rewrites the Henriad, plus first looks at 'Bad Education' and 'The Report'
Saturday, 05 October 2019
Timothée Chalamet as Henry V
A labour of love for its co-writer, producer and star Joel Edgerton, The King (showing at London Film Festival) is derived from Shakespeare's Henry IV and Henry V plays, but isn't slavishly bound to them.
If it were, Edgerton would have lost a major chunk of his role as Falstaff, who, rather than having his death reported by Mistress Quickly in Eastcheap, accompanies Henry V on his expedition to France as his trusted confidant.
The screenplay, by Edgerton and director David Michôd, is determined not to be Shakespearean, though contrives to smuggle in some antique-sounding heft while not being altogether reliable in tone (having Sean Harris's character William talking of "regime change" strikes a jarring bum note, as if somebody just knocked over a cupboard full of saucepans). However, it succeeds in converting the Bard's fabled Henriad into a powerfully cinematic experience liberated from any vestiges of staginess, and finds room for some strong performances, not least Robert Pattinson's hilariously bitchy Dauphin.
A bit more of such impertinence would have been welcome. A bulked-up Edgerton has dialled down Falstaff's ribaldness and debauchery while adding practical wisdom, urging the dissolute Prince Hal to acknowledge his duty to his royal parent Henry IV, and later even becoming his battlefield tactician. Ben Mendelsohn's old Henry sports a suspiciously manufactured English accent, but conveys the disillusion of a man whose kingdom is wracked by internal conflict and has seen his elder son apparently lost to him.
As the young king's adviser and political tactician, Harris seizes the moment with a portrayal layered with subtle intonations. Indeed, it's not until the closing minutes that a smart turnaround in the narrative brilliantly illuminates the filigree quality of Harris's work. More problematic is Timothée Chalamet's Henry V, who initially seems far too wan and pretty for the job, more like a fledgling Hollywood starlet debauching himself on Sunset Strip than a young man grappling with a crushing dynastic burden. His eventual acceptance of a cynical kind of realpolitik won't send punters dancing ecstatically out of the multiplexes.
But battle scene connoisseurs won't be disappointed. Henry's invading army is rendered in splendid armour-glinting, horse-liveried detail. The siege of Harfleur features some breathtaking action from giant bomb-throwing catapults, while Agincourt is a crushing, grinding mud-bath of hacked bodies and stricken horses, like Chimes at Midnight meets Game of Thrones. It's an intelligent take on Shakespeare, but more from the head than the heart.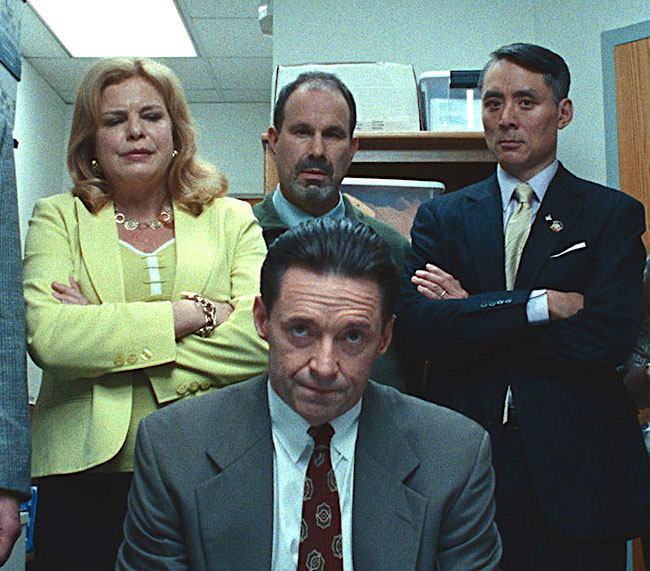 Bad Education
Having finally thrown off the lucrative but limiting Wolverine, Hugh Jackman (pictured right) is displaying the all-round skills of an actor of real stature. He was excellent as presidential candidate Gary Hart in The Front Runner, and he shows us a few more new moves here as Frank Tassone, the superintendent of Roslyn High School in Long Island, New York. Bad Education is the improbable true story of how Tassone, a popular educator feted for raising school standards and thereby boosting the prestige (and property values) of the local community, was arrested in 2004 after it was discovered he'd been embezzling millions of dollars of the school's money.
Jackman's twinkly charm works wonders as we see Tassone soothing indignant parents, always finding time for an encouraging word with his students (he punctiliously remembers the grades and subsequent careers of their older siblings too), and chairing meetings with smooth command. With hindsight though, he may have regretted encouraging the fledgling reporter from the school newspaper to always dig deeper and never take no for an answer.
Tassone's facade of probity and rectitude is so impeccably realised that the subsequent revelations are genuinely shocking, and as the flabbergasting extent of his secret life emerges (including, but not limited to, treating himself to flights on Concorde) so Jackman shifts his character subtly towards his darker side. There's excellent backup from Allison Janney as Tassone's deputy Pam Gluckin, seemingly the diligent powerhouse in the school administration but with secrets of her own. Screenwriter Mike Makowsky was a Roslyn student when the scandal broke. He insists that despite everything, he got a great education.
★★★★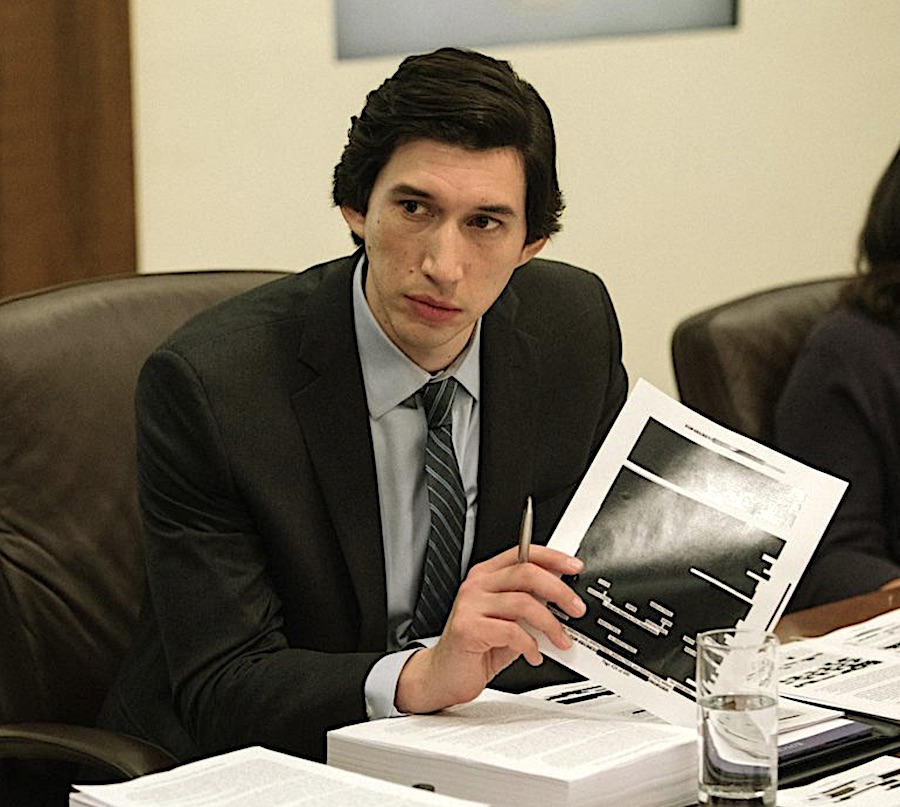 The Report
Real-life investigations of covert scandals have become a resilient Hollywood genre, and here writer/director Scott Z. Burns takes as his text the US Senate Intelligence Committee's investigation into the CIA's torture of prisoners during the "War on Terror", or what the Agency preferred to call "enhanced interrogation". Adam Driver (pictured left) plays Daniel Jones, the solitary, single-minded Senate staffer designated to head the investigation by his boss, Senator Dianne Feinstein (Annette Bening, supporting Jones while tiptoeing carefully through Washington's political minefield). The CIA's determination to hide (or destroy) the damning evidence and keep the committee at bay meant that the task went on for years, but in the end there was nowhere to hide. Driver and Bening excel in the lead roles, but while Burns's deliberately dry and analytical account of the affair lends some semi-documentary weight, the two-hour running time begins to drag. Scenes tend to take place in offices or the investigation's claustrophobic basement room, and the fact that most viewers will already know the ending doesn't help. However, scenes depicting waterboarding, sensory deprivation and mock burials are apt to shake the viewer out of complacency, while the two US Air Force psychologists (James Mitchell and Bruce Jessen) who sold their Enhanced Interrogation Techniques to the CIA are depicted as cynical charlatans. Their efforts, as recounted here, produced no usable intelligence whatsoever. Presidents and spooks alike emerge with their credibility, not to mention their morality, in tatters.
★★★