LFF 2018: The Favourite review - Queen Anne's bizarre love triangle |

reviews, news & interviews
LFF 2018: The Favourite review - Queen Anne's bizarre love triangle
LFF 2018: The Favourite review - Queen Anne's bizarre love triangle
History re-wired in 'The Favourite', plus 'Can You Ever Forgive Me?', 'Destroyer' and Peter Jackson's Great War
Saturday, 20 October 2018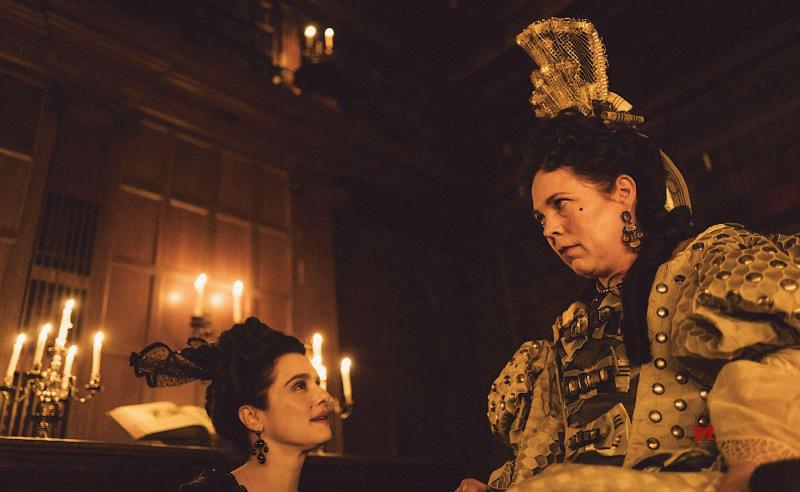 Power struggle: Lady Sarah (Rachel Weisz, left) and Queen Anne (Olivia Colman)
Olivia Colman will in due course be appearing as Elizabeth II in The Crown, surely a role of a very different hue to her portrayal of Queen Anne in Yorgos Lanthimos's The Favourite (shown at LFF).
It's the beginning of the 18th Century, and England is struggling with the increasing costs of war with the French. Colman's infirm, mentally erratic queen quails at the prospect of decision-making as preening politicians screech and chatter around her. She's also at the hub of a sex-and-power triangle as her close friend Lady Sarah Churchill (Rachel Weisz) and a newcomer to the court, Abigail Hill (Emma Stone), wage a discreet but merciless battle for the queen's affection and patronage.
Supercharged by zesty, pin-sharp dialogue by writers Deborah Davis and Tony McNamara, The Favourite is a brilliantly barbed character piece as well as a portrait of a historical period both methodically detailed yet ingeniously twisted. The Lord Treasurer walks around with his coveted racing duck on a lead, dancing in the royal ballroom disintegrates into a mix of Strictly and a riotous night at Cargo, and gentlemen of the court amuse themselves by pelting a naked fat man with oranges. Meanwhile, the palace chambers, gardens and corridors are photographed in breathtaking wide-angle detail by cinematographer Robbie Ryan, with nighttime scenes lit by natural candlelight.
None of this is allowed to overshadow the excellence of the performances. Colman was never better, deftly catching the queen's swiftly-changing moods from panic and petulance to sudden generosity, pathos or flashes of royal anger. Weisz is bossy and decisive, brusquely marshalling national policy while the queen succumbs to her latest attack of gout. However, her generous decision to employ her cousin Abigail – raised as a lady, but left destitute when her libertine father gave her away in a card game – lets the wrong one in, since the comely arriviste is a ruthless strategist who will stop at nothing. Fortuitously eavesdropping on a sapphic tryst between the queen and Lady Sarah, Abigail instantly makes a beeline for the royal bed. Marriage to a helplessly infatuated army officer puts the icing on her social-climbing cake. Brilliant.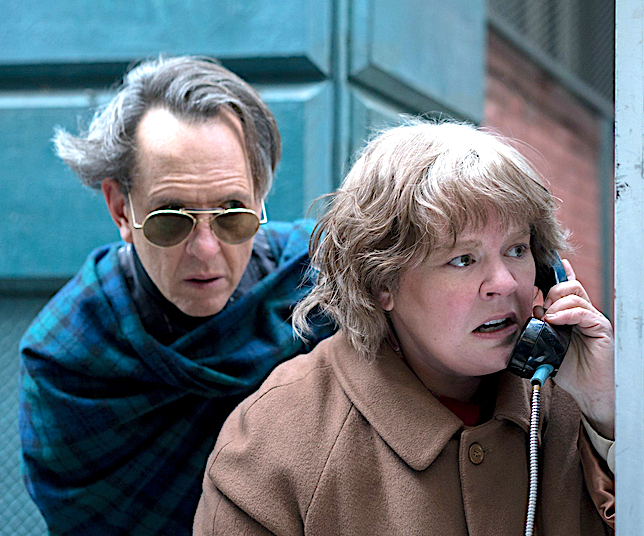 Can You Ever Forgive Me?
Julianne Moore was originally going to play writer and con-artist Lee Israel in this bittersweet filmic memoir, but it's difficult to imagine she'd have done a better job than Melissa McCarthy. After she'd enjoyed success as journalist and biographer in the Seventies and Eighties, Israel's career fizzled out and she hit upon the notion of selling counterfeit letters from famous authors and celebrities, in which she "married scholarship, fabrication, forgery and outright theft," as the New York Times put it. She excelled at mimicking Noël Coward and Ernest Hemingway, and as she says here, "I'm a better Dorothy Parker than Dorothy Parker."
Marielle Heller's film, with a smart screenplay by Nicole Holofcener, is a backhanded love letter to an old-fashioned New York of antique bookshops and Greenwich Village bars, and an era when caustic wit and the searing aphorism were treasured as badges of merit, epitomised by Israel's collection of vintage typewriters upon which she composed her bogus yet skilful missives. Israel's acidic reflections on the monstrous success of thriller writer Tom Clancy speak volumes about the changing face of the publishing industry.
McCarthy's portrayal of Israel as a slovenly, hard-drinking misanthrope who has only her ailing black and white cat for company is far more touching than it ought to be, considering the protagonist's hair-trigger setting of venomous hostility. Somehow she manages to make some space for Jack Hock, a very gay Englishman whose youthful bloom has emitted its last gasp (who better to play him than Richard E Grant?). He's a bungling klutz whose bright ideas invariably bring only disaster – though his scheme of stealing letters from libraries, replacing them with forgeries and selling the originals had undeniable criminal potential – but the pair form a grudgingly endearing odd-couple bond.
★★★★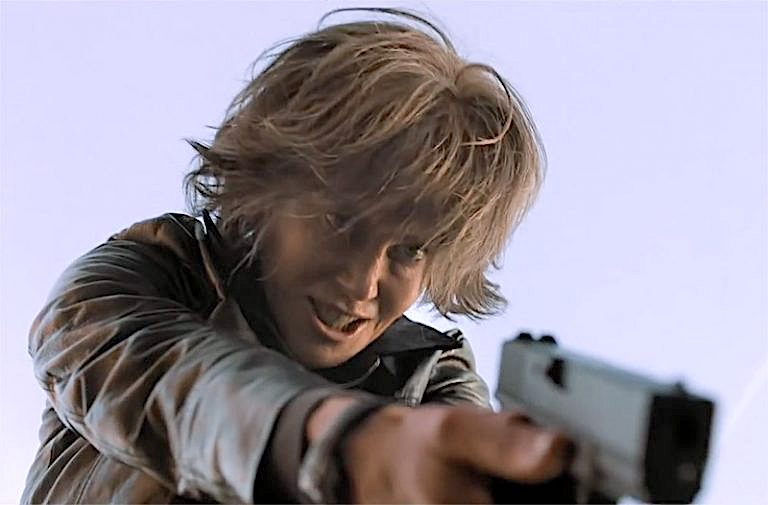 Destroyer
Hats off to Nicole Kidman (pictured left), now 35 years into her film career and making increasingly bold choices. In Destroyer, she plays LAPD detective Erin Bell, who we first encounter lurching unsteadily down the street to examine a bullet-riddled corpse in the gutter. With a complexion resembling week-old suet pudding, hair like a wig on backwards and a zombie stare, it's as if she's inadvertently staggered in from a Walking Dead shoot nearby. Nonetheless, she's conscious enough to mutter that she knows who did the killing.
Helmed by director Karyn Kusama, Destroyer is a slice of existential noir that flashes freely between time frames as the screenplay (by Phil Hay and Matt Manfredi) tracks Bell's progress from the eager young detective who wants it all to the tragic burn-out who died, metaphorically at any rate, in the course of an undercover operation that turned murderous 17 years earlier. It had meant becoming embroiled with the satanic Silas (Tony Kebble) and his lowlife crew, and also fatally lured her and her partner and lover Chris (Sebastian Stan) towards the dark side. Now Silas has reappeared, and Bell's looking for him.
It's only the dull pain she's been carrying around that keeps her alive, as well as a primitive urge to protect her lost and wayward daughter Shelby (Jade Pettyjohn). But Destroyer is sometimes undone by its determination to wallow in its own bleakness. Quite how the derelict and insanitary Bell has managed to keep her job all these years is not explained, especially since she never bothers to keep in touch with HQ or even speak to her supposed patrol partner. The way she barges into the midst of a bank robbery and starts spraying gunfire in all directions is simply idiotic. Nonetheless, Kidman's performance is haunting enough to stick in your mind.
★★★
They Shall Not Grow Old
Peter Lord of the Rings Jackson's grandfather fought with the South Wales Borderers during World War One, so his mission to create this remarkable document of the Great War was intensely personal. Drawing from BBC and Imperial War Museum film and sound archives, Jackson and his team have created a soldier's narrative, from the declaration of war to the fighting on the Western Front, the Armistice and its aftermath. Yet thanks to digital and 3D technology and hand-colouring of historic footage, this is like a trip into a previously unknown dimension. We've all seen the old black and white footage of the war, but suddenly its end-of-the-pier shakiness is transformed into film of remarkably high quality, rendering the trenches, tanks, shellholes, barbed wire and artillery with frightening intensity. The images are enhanced with a seamless audio track, complete with snippets of real-time dialogue recreated by lip-reading the soldiers on film. The voice-over is constructed from archive recordings of veterans, many of whom, incredibly, say that the war was hell but they'd go through it all over again if necessary. Snowflakes need not apply.
★★★★
It's as if Kidman has inadvertently staggered in from a 'Walking Dead' shoot nearby
rating
Explore topics
Share this article