Assassins, Watermill Theatre, Newbury, review - Sondheim musical in scalding form |

reviews, news & interviews
Assassins, Watermill Theatre, Newbury, review - Sondheim musical in scalding form
Assassins, Watermill Theatre, Newbury, review - Sondheim musical in scalding form
Sondheim's 1990 show gets more disturbingly pertinent with every revival
Thursday, 10 October 2019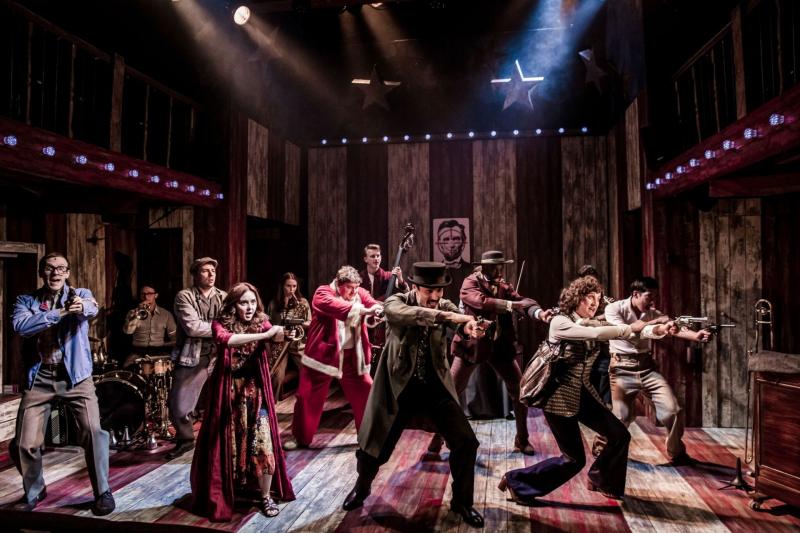 Eyes on the "prize": the cast of "Assassins"
"Every now and then the country goes a little wrong": so goes one of the many lyrics from the Stephen Sondheim-John Weidman musical Assassins that makes this 1990 Off Broadway musical (subsequently chosen to open Sam Mendes' Donmar Warehouse in 1992) a piece of theatre very much for our time.
Some shows need textual tweaking when they come around again but not this one. If anything, this musical's excavation of an abiding societal fury seems more pertinent than ever today.
Building in resonance every time I see it (at least if done well), Assassins has now been revived in a very smart co-venture between the Watermill Theatre in Newbury and Nottingham Playhouse from the director Bill Buckhurst, who previously had a Sondheim-related smash with the tiny Sweeney Todd rethink that began in a Tooting pie shop and went on to storm New York. Though not as ferociously powerful (or as collectively well-sung) as Jamie Lloyd's 2014 London scorcher at the Menier, Buckhurst's Assassins brings much that's fresh to the table, starting with a woman (the wonderful Lillie Flynn, sister of actor-singer Johnny and pictured below) in the hitherto-male role of the all-seeing Balladeer, who narrates this fractured guide to America's presidential murderers – until she is bundled away, perhaps for displaying too much awareness of the amoral climes around her.
This is an "actor-muso" production, meaning that the cast double as their own orchestra, though not every actor and not all the time. The result under Catherine Jayes's ever-expert musical supervision has an aptly rough-and-ready sound for a show that shines a sharp and often satiric spotlight on a line-up of presidential killers – some successful, others not – whom you can just imagine pooling their disaffection at a Trump rally. And although the women tend to outshine the men vocally – Sara Poyzer, a longtime veteran of Mamma Mia!, is a revelation as Sara Jane Moore, who kept a lethal eye set on Gerald Ford – I won't soon forget the wild-eyed intensity of Alexander Mugnaioni's Julius Caesar-quoting John Wilkes Booth. Or Steve Simmonds as the Nixon-hating Samuel Byck, who in 1974 attempted to crash a hijacked plane into the White House in an eerie harbinger of 9/11.
The production boasts an ethnic and racial inclusivity I've not seen with this show before, which has the effect of extending its reach far beyond attempted facsimiles, or not, of the real people on view. (That said, Evelyn Hoskins does bear an uncanny resemblance in performance to Lynette "Squeaky" Fromme, Moore's simultaneously daffy yet dangerous cohort: the two are pictured below.) Eddie Elliott brings a manic bonhomie, and busy jazz hands to match, to his Charles Guiteau, who famously danced up to the gallows following his assassination of James Garfield. Zheng Xi Yong's Giuseppe Zangara, FDR's would-be assassin, finds his view of an uncaring world folded in with a cluster of eyewitnesses in one of Sondheim's most fiendishly clever lyrics (the "left bereft of FDR " rhyme is vintage). And as regards this most robust and intricate of scores, it's always delightful to encounter the passage in which Byck references West Side Story, thereby allowing late-career Sondheim to pay homage (albeit in a demented context within the show) to his younger, lyricist-only self.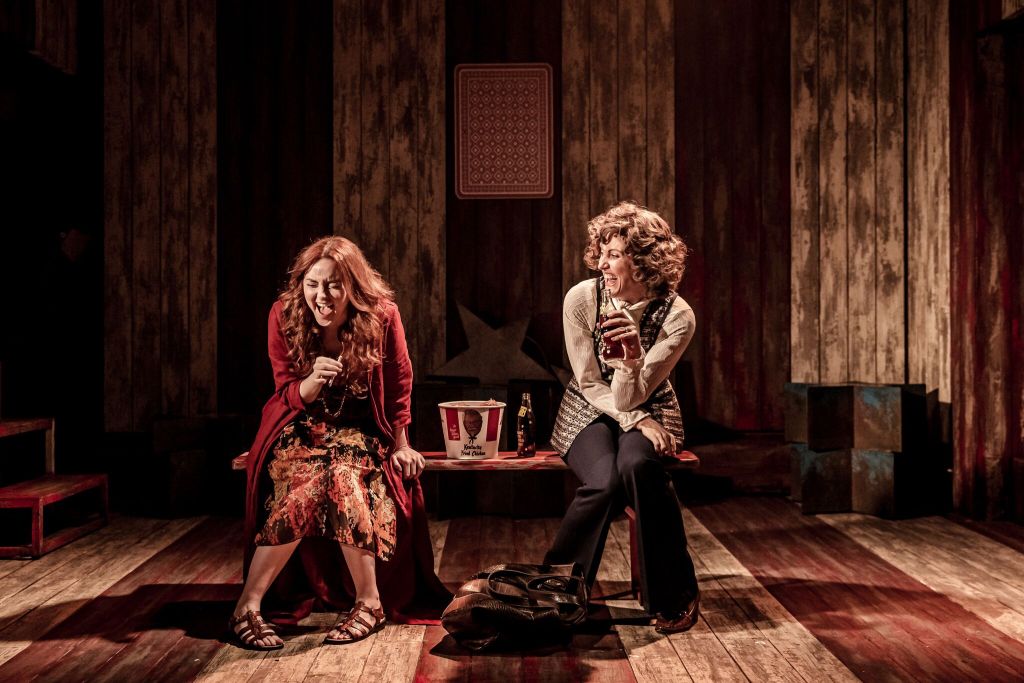 Simon Kenny's set offers the anticipated set of presidential portraits that exist to be pockmarked, alongside a vending machine centre-stage that speaks to a consumerist landscape of winning and prizes. And whereas the Balladeer often mutates into the roll of Lee Harvey Oswald, the so-called "big one" in assassins terms who dominates the final sequence, Buckhurst quite properly here keeps them separate. The result allows Ned Rudkins-Stow's innocent-looking Oswald to fall under the hortatory sway of Booth, who sees JFK's killer as his natural inheritor. Flynn's matchless Balladeer, meanwhile, is allowed to zigzag her way amongst characters who, whether you think of them as lost souls or (to co-opt recent American campaign rhetoric) "deplorables", turn out to have no time for an outsider's perspective. After all, as Leon Czolgosz (Peter Dukes) reminds us, "it takes a lot of men to make a gun", but only one to pull the trigger. On that point, and countless others, this Assassins takes commendably lethal aim.