Follies, National Theatre review - the Sondheim spectacular returns, better than ever |

reviews, news & interviews
Follies, National Theatre review - the Sondheim spectacular returns, better than ever
Follies, National Theatre review - the Sondheim spectacular returns, better than ever
New cast members beautifully complement this definitive production
Saturday, 23 February 2019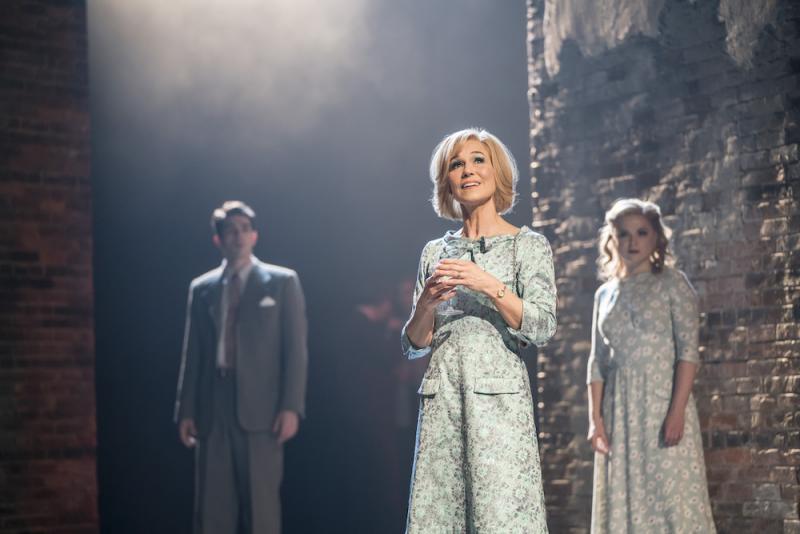 Fresh take: Joanna Riding (centre) contributes a fascinating reading of Sally
This is a golden age of London Sondheim revivals, with Marianne Elliott's thrilling Company still playing in the West End, and Dominic Cooke's Follies getting a hugely welcome second run at the National – both testament to a director's transformative vision.
A few key cast changes add extra incentive to this
Follies
encore, although the sheer level of detail in Cooke's production should be more than enough to tempt a second (or third, or fourth) visit.
Far more atmospheric than plot-driven, Sondheim and James Goldman's oft-revised 1971 work has flummoxed many. But Cooke's version, which returns to the show's roots, finds endless creative solutions. The Olivier's revolve shows off Vicki Mortimer's vividly abstracted version of the proscenium arch Weismann Theatre, which, from the start, is haunted by the between-the-wars Follies ghosts (pictured below) – they needing to investigate their future selves, as much as the latter return to the soon-to-be-demolished Weismann to gaze into the past.
The opening sequence is a masterclass of economical storytelling. At this fluidly transitioning reunion party, we immediately get a clear portrait of the Follies girls and their spouses: Sally (Joanna Riding) arrives too early, too invested; Buddy (Peter Forbes) chases after her, masking concern with boisterous bonhomie; Phyllis (Janie Dee) and Ben (Alexander Hanson) are the glamorous power couple, detached from one another; and Carlotta (Tracie Bennett) is the one who "made it" in showbiz, posing for pictures and discarding her wrap in diva-ish fashion.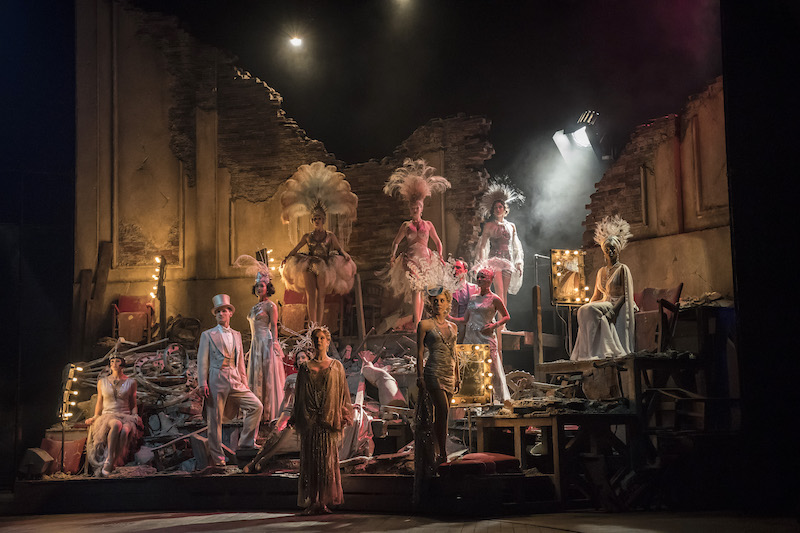 The sashes emblazoned with their Follies dates (some hidden in embarrassment, one swapped indignantly) immediately clue the audience in, while Cooke's use of the more expositional speeches as interviews with a documentary crew is inspired. Each choice adds to the prevailing theme of how we view ourselves, past and present, and how we tell the stories of our lives. Seeing the women lining the stairs as Weismann's "beautiful girls" is at once endearing, funny, triumphant, and achingly poignant.
Described by Sondheim as an "orgy of pastiche", his period Follies songs reference everyone from Irving Berlin, Cole Porter, Richard Rodgers and Jerome Kern to George Gershwin, Arthur Schwartz and Dorothy Fields – and there are spotlight numbers galore, gorgeously backed by the Nigel Lilley-conducted orchestra. Bennett once again tears the roof off with the roar of defiance that is "I'm Still Here"; Claire Moore gives her a run for her money with a gut-busting "Broadway Baby"; and Geraldine Fitzgerald is a deliciously naughty, self-aware Solange, who now flogs perfume but still takes her pick of chorus boys.
Dawn Hope leads the impeccable mirror number – one of many triumphant contributions from Bill Deamer – with both pizzazz and surprising dredged-up emotions, finishing with tears in her eyes. Gary Raymond brings a hint of nastiness to the formerly despotic Weismann ("I could have had them for a smile," he says of his "girls" to a creeped-out waitress). Meanwhile, Josephine Barstow, due to return to the show in May, stood in last night for an indisposed Felicity Lott, and her operatic duet with younger self Alison Langer was a shimmering showstopper.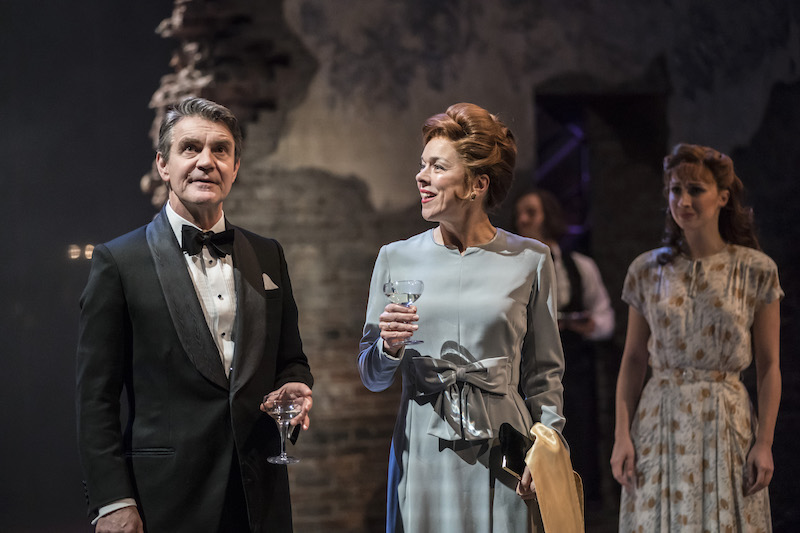 As Buddy, Forbes is a magnificent tragic clown – quite literally in his Follies number, which juxtaposes vaudevillian styling with evident heartbreak. And Janie Dee's Phyllis (pictured above with Hanson) is somehow even more impressive, from the ironic one-liners so brittle they almost snap (akin to Patti LuPone's Joanne, a role Dee should surely inherit), to the biting fury of "Could I Leave You?" and finally letting loose in her dynamically danced set-piece – a clear demonstration that Phyllis is still there under all that studied cynicism, and she hasn't yet given up on life.
New cast member Alexander Hanson emphasises Ben's (too) easy charm and weakness; from the start, he's clumsily self-medicating with booze and women, wearing his success like a straitjacket. He believably grapples with an existential crisis ("The Ben I'll never be,/Who remembers him?"), yet regresses to frightened boy. But Hanson's honeyed vocals also demonstrate Ben's appeal: "Too Many Mornings" has an irresistible yearning.
He's joined in the latter by Joanna Riding, succeeding Imelda Staunton as Sally. Riding contributes a very different reading of the character – initially sweetly gauche and coy, and, as a nimble mover, able to recall the flirtatious chorine. But "Losing My Mind" becomes a dark revelation of a torch song: the monster emerging from the glamour girl, mascara running, lip curling, venomously pill-popping, savage in her desolation. It's electrifying.
Playing the main quartet's younger selves, there's superb work from Harry Hepple, Christine Tucker, Ian McIntosh and Gemma Sutton – particularly in the intricate Loveland section, heralded by a witty and articulate visual cue from Cooke. Mortimer's costumes, impeccable throughout, reach their zenith here; Paule Constable's lighting, too, is crucial in conveying transitions and tone, and sometimes blurring reality and artifice. The Loveland section is the most heightened, yet also the most emotionally revealing, paving the way for a powerful climax. Collaborative art at its very finest: welcome back, Follies.
Follies at the National Theatre until 11 May
Each choice adds to the prevailing theme of how we view ourselves, past and present
rating
Share this article