Company, Gielgud Theatre review - here's to a sensational musical rebirth |

reviews, news & interviews
Company, Gielgud Theatre review - here's to a sensational musical rebirth
Company, Gielgud Theatre review - here's to a sensational musical rebirth
Marianne Elliott's gender-swapped Sondheim is a revelation
Thursday, 18 October 2018
With friends like these... Birthday girl Bobbie (Rosalie Craig, centre) endures her "company"
The most thrilling revivals interrogate a classic work, while revealing its fundamental soul anew. Marianne Elliott's female-led, 21st-century take on George Furth and Stephen Sondheim's 1970 musical comedy Company makes a bold, inventive statement, but somehow also suggests t
his is how the piece was always meant to be.
Ah, a weighted paradox – Company is full of them. Successful New Yorker Bobbie (Rosalie Craig, pictured below with Alex Gaumond and Jonathan Bailey) is celebrating/avoiding her 35th birthday, amidst the overbearing friends she both loves and longs to escape. As she's bombarded with questions about when she'll finally get married and have kids, she examines their lives as test cases – does she want their domestic bliss, or otherwise, or is she truly happy alone?
It immediately makes sense that Bobbie is female; the patriarchal social pressures on women to marry and have kids are far more prevalent, and the latter does have more biological urgency. Every element of Elliott's production works in harmony to get inside Bobbie's head – there's shades of her Curious Incident in its vivid immersion – and it lends cohesion to a fragmented work by making each number a clear part of Bobbie's psychological exploration. The fact that she's clutching bourbon throughout suggests this is one night's boozy interior journey.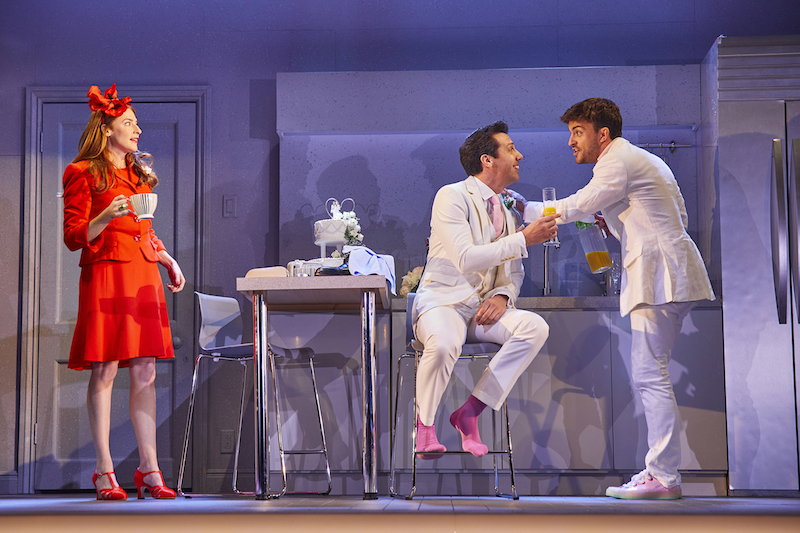 The gender swap reframes these gorgeously textured songs in fascinating ways (with minimal textual changes from Sondheim). Instead of girls railing against their commitment-phobic man-about-town in charming Andrews Sisters style, the male trio's tone is more threatening and entitled – highlighting a double standard. With the groom and panicking bride-to-be becoming gay couple Jamie and Paul, "Just because we can doesn't mean we should" reads more interestingly, and "People will think I'm pregnant" is a great new gag. Alex Gaumond is excellent as the annoyingly placid Paul, while Jonathan Bailey magnificently conquers "Getting Married Today" in a show-stopping freakout set-piece.
Bake Off's Mel Giedroyc stays on brand with the brownie-fancying Sarah, and forms a very funny partnership with Gavin Spokes's Harry – sublimating their desires through marital jujutsu. David and Jenny (Richard Henders and Jennifer Saayeng, both strong) swap roles, with Jenny now the careerist who has made a particular compromise with her square but reliable husband. This, in fact, becomes a recurring idea: less the old-fashioned notion of men losing their freedom to marriage, instead both partners surrendering something in hopes of gaining overall.
Of the boyfriends, Richard Fleeshman gleefully subverts the dumb, sexy stewardess trope, and plays wonderfully off Craig's wily Bobbie, while Matthew Seadon-Young provides an aching loss at their possible missed connection, and George Blagden a laughably pretentious Brit who nevertheless touches on something important in "Another Hundred People": melancholy meets adrenaline rush in this unforgiving city – a constantly updating community of strangers. That, too, feels pertinent in the anxious digital age.
Throughout, Elliott keeps the tone heightened, almost dreamlike, with Bunny Christie's neon-lit interlocking boxes allowing people to wander into one another's lives. Sometimes the framing grows or shrinks alarmingly, Alice in Wonderland style, and sometimes Craig's Bobbie steps out entirely to watch from a distance. Thematically, that works with someone trying on lives that don't quite fit, wondering if it's she or her friends who are mad, and tumbling deeper into confusion, horror, conflict, and finally awakening.
Bobbie isn't the easiest protagonist, so often just observing, yet the endlessly articulate Craig finds a meaty dramatic arc for her – interrogating her position as third wheel, crutch, voyeur or adventurer, and then the root of her ambivalence. "I'm ready" hangs between question and statement, and in an electrifying "Being Alive", both "alone" and "alive" cry out – as, through tears, she confronts that most terrifying paradox: that sometimes the truest test of strength is vulnerability.
And then, of course, there is the legendary Patti LuPone (pictured above) – who gets applause just for her pre-show message about turning off mobile phones. Revisiting Bobbie's knowing friend Joanne, she exhibits the most extraordinary vocal control in order to fire off one-liners like bullets, and also do the equivalent in song during "The Ladies Who Lunch" – scalpel-sharp definition of every inflection, every underlying emotion. "Divorce: one word means all of that," drawls Joanne, and LuPone shows how even an "Uh huh" can contain multitudes.
Christie ensures Bobbie is always the odd one out by styling her in red, against blue, green and black, Joel Fram's orchestra provides sensitive accompaniment, and there's clever movement via Liam Steel – from a contemporary subway dance to a Fosse-esque nightmare. Chris Fisher's illusions contribute to some of the finest sight gags currently in the West End, including what can best be described as "cunnilingus interruptus". The renaissance of an American classic by one of Britain's most visionary directors: I'll drink to that!
Company at the Gielgud Theatre until 30 March, 2019
The gender swap reframes these gorgeously textured songs in fascinating ways
rating
Explore topics
Share this article