Follies, National Theatre review - Imelda Staunton equal first in stunning company |

reviews, news & interviews
Follies, National Theatre review - Imelda Staunton equal first in stunning company
Follies, National Theatre review - Imelda Staunton equal first in stunning company
Glitter and be sad as Sondheim's former showgirls gather for a momentous reunion
Thursday, 07 September 2017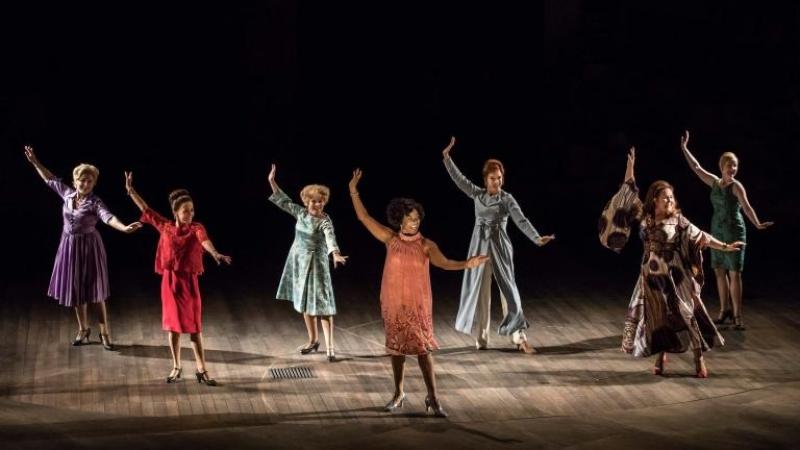 Dawn Hope's Stella leads fellow former hoofers including Sally (Imelda Staunton) and Phyllis (Janie Dee)
Of Sondheim's half-dozen masterpieces, Follies is the one which sets the bar impossibly high, both for its four principals and in its typically unorthodox dramatic structure. The one-hit showstoppers from within a glittering ensemble come thick and fast in the first half – stop the show they certainly did last night – and it's hard not to miss all that when the camera zooms in exclusively on the quarrelling quartet. Dominic Cooke's less-is-more National Theatre production, full of subtle touches, finds a better solution than any to the nominally climactic "Loveland" sequence and wisely removes the usual interval, while the dedicated, focused performances are note-perfect.
The introductory set-up will have a compelling strangeness for anyone new to Follies, and gets the lump in the throat going for those who know they're going to tear up rather often. Ghosts of the "beautiful girls" from the Weismann Follies, 1918 to 1941, haunt a dilipated, soon-to-be-demolished theatre, while their present (1971) selves arrive for a reunion to take up the sashes with the respective years printed on them. The score in those peerless arrangements by Jonathan Tunick, with additional work by Josh Clayton, quickly but unobtrusively works its haunting power both in the main events and in the underscoring (dance music for the reunion, including numbers cut from the original score like "Can That Boy Foxtrot" – think of what Bob Fosse did with the discards from the stage musical Cabaret). Music supervisor Nicholas Skilbeck and conductor Nigel Lilley have elicited the best possible work; there are stunning contributions from some of the best wind and brass in the business, jabbing away with the acid "wrong" notes or gracefully adding the bittersweet edge of Sondheim's beloved Ravel.
Who's going to be the standout – with whom will we most identify? It looks from her endearing first appearance as if it will be Imelda Staunton's Sally Durant, now plain Mrs Plummer from Phoenix. Buddy Plummer (Peter Forbes) seems impossibly boisterous, Sally's old flame Benjamin Stone (Philip Quast) too smooth, her old friend Phyllis Rogers (Janie Dee, pictured above with Staunton), now Mrs Stone, fashion-plate cool as an iceberg. But you never find terra firma in the Sondheim world, where cynicism and romantic love alike are not quite what they seem; James Goldman's book, too, is finer than I remembered. This quartet of peerless singer actors all win their laurels, and Staunton doesn't steal the show other than when she's supposed to – with the dreamy tenderness of "In Buddy's Eyes", spine-tingling evocation of the late Barbara Cook, and the torch-song twist on "The Man I Love", "Losing My Mind", which rises to lacerating anguish from a painful stillness.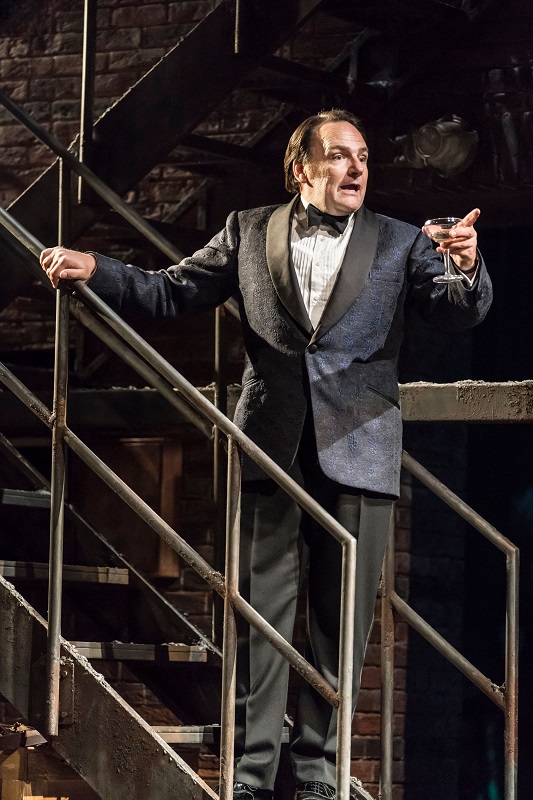 Dee, though, is equally powerful with the stillness, somehow held through much of the furious irony in "Could I Leave You?", and she even saves one of the weakest numbers, "The Story of Lucy and Jessie" – "Ah, but Underneath!", the original London replacement, is far better, though maybe less plot-related – with a Rita Hayworth transformation and sassy execution of Bill Deamer's always spot-on choreography. Quast we knew as the perfect baritone of the musicals, and he doesn't disappoint, but the great show voice of that wonderful actor Peter Forbes (pictured left) came as a revelation. He strips away the usual overkill of "Buddy's Blues" and like the other three always keeps it real.
It takes all that to set aside, temporarily at least, our earlier wonderment at the blazing execution of torch songs from other Follies "girls". The hits are indecently high, something more than the good tunes that pour out in, say, Oklahoma! Sondheim proves that the only worthwhile pastiche is that which loves what it's homaging. The towering showbiz of the evening comes from Tracie Bennett (pictured below with Emily Langham as Young Carlotta), the powerhouse who managed to give more than just a spot-on Judy Garland impersonation in End of the Rainbow. Fair enough, her character is the one who made it in films, so all eyes should be on her Carlotta – and they are. "I'm Still Here" has had so many great interpreters that it feels odd to call this the best I've seen, but so it felt. The Cole Porterish list unfolds, touchingly, to a group of listeners, Carlotta's contemporaries and the younger generation, who then melt away discreetly when it turns confessional - a typical sensitivity on Cooke's part. So the final belt, triumph from adversity, is all the more worthy of the audience's delirium.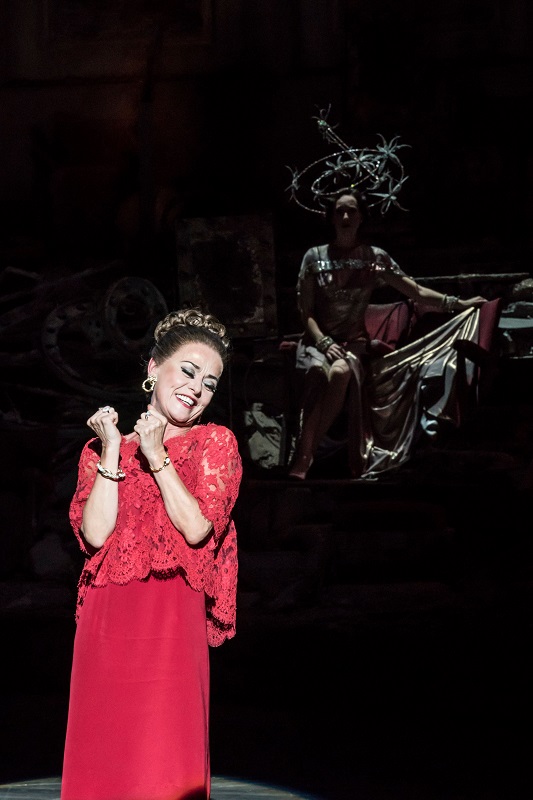 So, too, is the surprise of the voice that comes from Di Botcher's very down-to-earth Hattie in "Broadway Baby". Josephine Barstow, music-theatre diva, was never the sweet operetta soprano that made her Heidi Schiller the toast of Vienna – we hear it blossom in her younger self, Alison Langer – but she, too, commands attention whenever she's on stage. And now I get the point of her "One More Kiss" in context - Lehar to the Mahlerian irony of Phyllis's waltz song, the next number.
The big group number, "Who's That Woman?", should be foolproof. Sassily led by Dawn Hope's Stella, it evokes the usual pleasure and goosebumps as young glamour-tappers join their older selves. An aged hoofer duo, Theodore (Billy Boyle) and Emily (Norma Atallah) Whitman enchant, and Cooke keeps the "ghosts" more often in play than even Sondheim might have envisaged. Youth has its day in the earlier versions of Phyllis, Sally, Ben and Buddy – the truthful standout in a fine quartet is Alex Young.
Maybe there's still room for a radical reinvention of Follies – visionary director Richard Jones, of unforgettable Into the Woods status, has said it's the one he's most interested in - but you can only go so far with a drama fixed between 1918 and 1971, and in West End terms this delivers on every front. Never forget the enormous resources and expense that go in to one of the biggest company shows in the repertoire, with Vicki Mortimer's designs, evocatively lit by Paule Constable, achieving a genuinely lovely transformation as gauzy wings drop down for "Loveland", a vision in green wryly evocative of The Sleeping Beauty's Act Three. And of course the Olivier's revolve does its stuff, but always pertinently. You leave giddy with the richness and complexity of it all. One of the great classics of the musical theatre is magnificently vindicated.
Subscribe to theartsdesk.com
Thank you for continuing to read our work on theartsdesk.com. For unlimited access to every article in its entirety, including our archive of more than 10,000 pieces, we're asking for £3.95 per month or £30 per year. We feel it's a very good deal, and hope you do too.
To take an annual subscription now simply click here.
And if you're looking for that extra gift for a friend or family member, why not treat them to a theartsdesk.com gift subscription?