LFF 2019: The Irishman review - masterful, unsentimental gangster epic |

reviews, news & interviews
LFF 2019: The Irishman review - masterful, unsentimental gangster epic
LFF 2019: The Irishman review - masterful, unsentimental gangster epic
The whole story of a mobster's life in Scorsese and De Niro's autumnal reunion, plus 'A Hidden Life'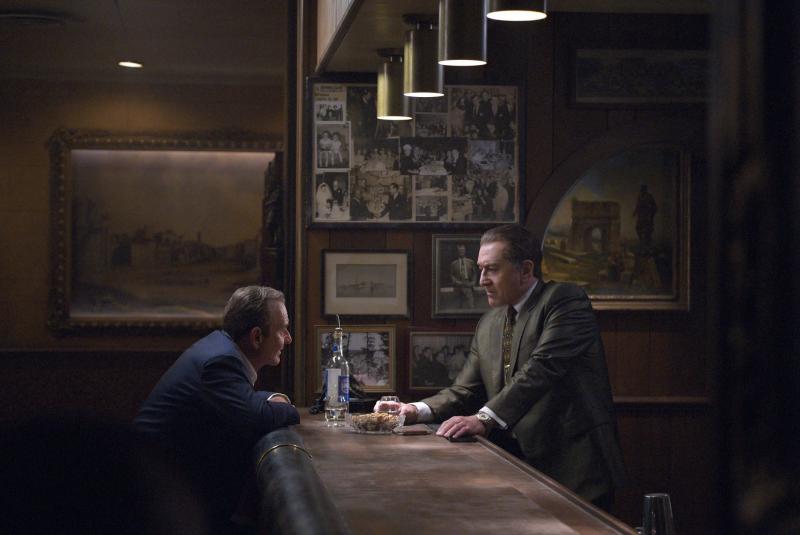 Set 'em up, Joe: Russ Bufalino (Joe Pesci) discusses business with Frank Sheeran (Robert De Niro)
Time passes slowly and remorselessly in The Irishman. Though its much remarked de-ageing technology lets us glimpse Frank Sheeran (Robert De Niro) executing German POWs aged 24, none of the gangsters here ever seem young. Everyone is heavy with experience, bloated with spilt blood.
The
Scorsese
gang's all here for what is surely his last stand in the genre - the returning De Niro, Joe Pesci and Harvey Keitel, and a great Scorsese debut for Pacino. They're assembled for the story of a gangster's working life, from first killing to casket.
Like Leone's elegiac, De Niro-starring Once Upon a Time in America (1984), most of the film is memories, as Sheeran and his boss Russ Bufalino (Pesci) take a drive across America with their wives in 1975, destination ambiguous. There's none of Leone's nostalgia and sentiment, though, or the heady glamour of Goodfellas, where Ray Liotta's Henry Hill could understandably say: "I always wanted to be a gangster." We're introduced to killers at their height of their powers with their tawdry fates – murdered in their homes, mostly – already stamped on the screen. Still, Sheeran drifts, thinking of how he came to know his old friends Bufalino, and Jimmy Hoffa (Pacino, pictured below centre with De Niro).
He rises through the ranks from crimes of opportunity as a trucker to contract hits, with working-class ambition from a man hardened by war. Truckers union boss Hoffa, whose pension fund is an open Mob chequebook, becomes a loyal mentor, even as his headstrong nature brings him into conflict with gangster and Teamster rival Tony Pro (Stephen Graham). The familiar mid-century beats are all hit: Cuba, the Kennedys, assassination. But they're mostly left offstage. Scorsese and screenwriter Steven Zaillian prefer the mundane textures of Mob life. Conversations are long, murders short. And those conversations equal another LFF highlight, Marriage Story, for gripping combustibility. The gangsters keep their cool longer than Noah Baumbach's divorcing couple, but listening to points of no return being verbally crossed and graves unwittingly dug is nerve-shredding. They help a marvel of pacing. Though this three-and-a-half hour film is among Scorsese's slowest, complete with silent, ruminative pauses, it feels steadily sure-footed, never flagging.
The meat and blood, meanwhile, is this cast. As "Quiet Don" Bufalino, Pesci, pictured below centre, internalises his trademark explosive threat. His measured, conciliatory voice has an audible undercurrent of violent power, rising an incremental notch when deaths are decided, as diabolic shadows and light collect around him. This is wizened, businesslike evil. Pacino's apparent grandstanding as the showman Hoffa is equally precise. His gruff bullheadedness is leavened by a childlike openness, primarily in his relationship with Frank. "Oh, I can breathe," he sighs, settling onto his bed, his combative life's cost momentarily clear.
The best way to deal with these septuagenarians' de-ageing is to ignore it (the effects are good enough to do so). But in De Niro's case, judging where his fine performance ends and technology starts is pertinent. In his 24-year Scorsese sabbatical, we've become used to clenched, hard-working DiCaprio in his place. De Niro is instead reactive, even bashful. Frank mildly stutters when rattled. A phone-call's inarticulate half-words and heavy, snatched breaths are a scat symphony of nerves. As with many performers, the hitman's only calm when he's working.
De Niro no longer possesses the mystery of his roles up to Once Upon a Time in America, a film in which he seems to do almost nothing till a final scene of unspectacular magic. Instead he's more oaken, his movements ponderous. Weakness and unhappiness are his discoveries in a killer disowned by his disgusted daughter (Anna Paquin), who can't find remorse in his calcified heart even in confession. The human fall of such ruthless men as their bodies and souls fail is The Irishman's addition to its genre.
Of Scorsese's four previous gangster films, it most resembles Casino's sociological account of the Mob in Vegas. Most of his work since then, like regular star DiCaprio, has run on energy, superficially simulating his old electrifying spark, but with little emotional residue. Silence, his sombrely ascetic account of 16th century priests' persecution in Japan, is one of his great films in that disappointing quarter-century. The Irishman is the other.
A Hidden Life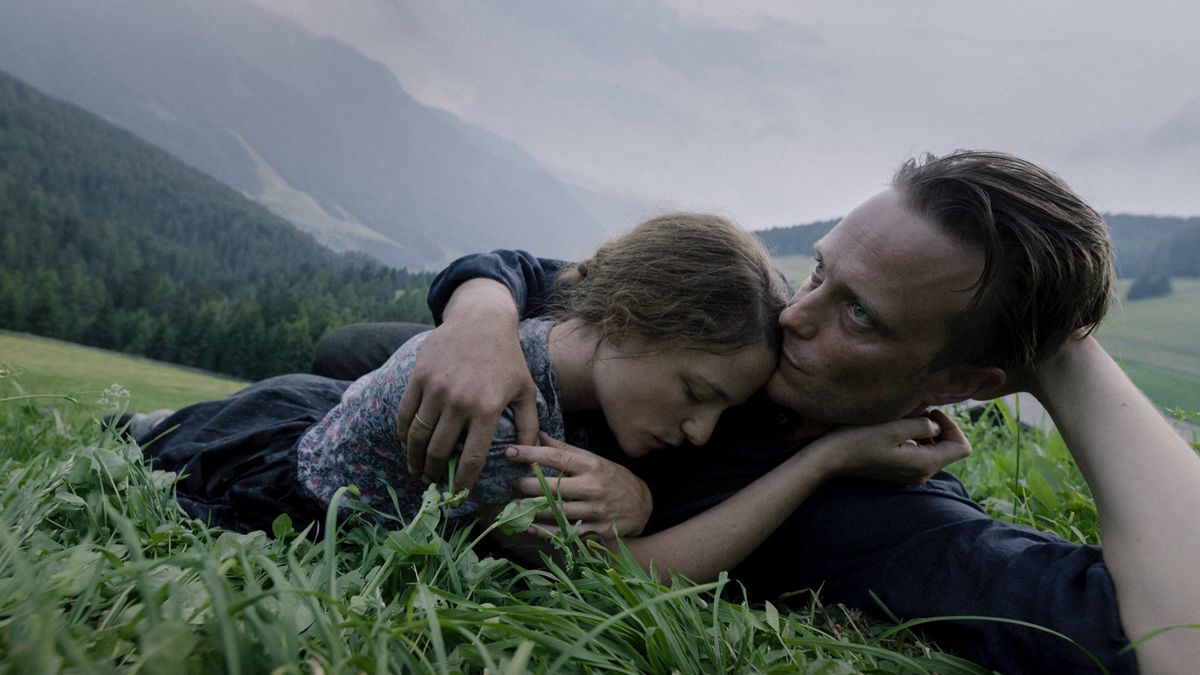 Scorsese's contemporary Terrence Malick returns to narrative form following three features of unscripted, all-star poesy, with this biopic of sainted Austrian conscientious objector Franz Jägerstätter (August Diehl). A farmer who refused to swear the Hitler Oath when called up, Franz remains beatifically strong in Nazi jails, rejecting the compromises that could save him. His wife Franziska (Valerie Pachner) who, as the film only faintly alludes to, was the initial source of his profound Christian faith, is meanwhile ostracised alongside their daughters, suffering sullen mob cruelty worse than his physical torture.
Malick's inveterate eye for rapture finds satisfaction in the Jägerstätters' idyllic Alpine village, where Hitler's ranting radio voice echoes at night like a goblin king. Nature's beauty stays indifferent to human folly, as it did in The Thin Red Line's Guadalcanal killing fields. But Malick also shows an unusually prosaic Reich, an unexceptional home for evil where surprisingly lengthy legal procedure is required to condemn Franz, with Matthias Schoenaerts and Bruno Ganz's Pilate-like judge among those wrestling with this implacable farmer's conscience.
The taciturn Franz unfashionably lacks psychology, with little character beyond stoicism, and his iron argument. "Don't they know evil when they see it?" he asks as he sees his church cowed and neighbours become ferally pro-Nazi. His deliberate Christian sacrifice in the lonely service of simple morality of course differs from the unavoidable genocide of Jews regardless of their actions. Scorsese's much more raw and ambiguous Silence is the only recent major American film to deal with such themes. Dreyer's much greater The Passion of Joan of Arc (1928) is a closer comparison.
Malick adopts a meditative rhythm, and if he finally elevates Franz too far from regular humanity, risking saintly cliché, he lets us contemplate a rare hero. ★★★

Scorsese prefers the mundane textures of Mob life. Conversations are long, murders short
rating
Explore topics
Share this article