Kiefer Sutherland, Shepherd's Bush Empire review - actor totally convinces as country rocker |

reviews, news & interviews
Kiefer Sutherland, Shepherd's Bush Empire review - actor totally convinces as country rocker
Kiefer Sutherland, Shepherd's Bush Empire review - actor totally convinces as country rocker
Star of 24, Designated Survivor and The Lost Boys rocks up to serenade London
Wednesday, 23 October 2019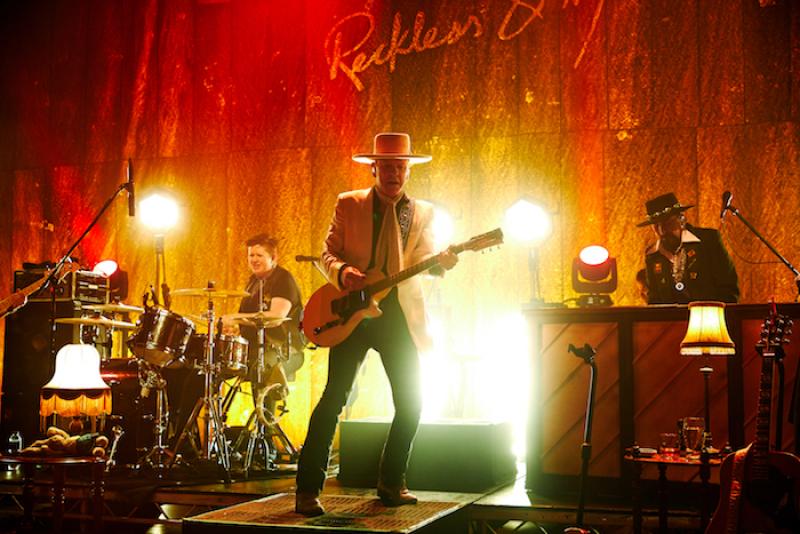 Rocking role: Kiefer Sutherland's other life
There's no getting around it – it's very surreal indeed to be in the Shepherd's Bush Empire and see an eye-wateringly famous movie and TV star rocking out on stage.
But it's a testament to Kiefer Sutherland's commitment to his musical side-project that this never overwhelms what turns out to be an entertaining, enjoyable evening of
bluesy
, rootsy
country
shenanigans.
Tonight's gig rounds off the latest leg of this tour, which was recently disrupted due to a Sutherland vs tourbus steps mishap that saw the singer, actor (and, as we learn, former professional rodeo cowboy) forced to postpone a few dates. Fortunately he's in fine fettle this evening, energetically bounding onto the stage in a white tux jacket, massive white hat and black skinny jeans and immediately throwing some fairly acrobatic rock'n'roll shapes. Backed by an excellent five-piece band on an impressive array of instruments, from accordion and mandolin to steel guitar and organ, Sutherland belts out "Rebel Wind" before ditching the hat to get on with the rest of the show.
"Life is too short not to do something you love," Sutherland declares, introducing, well, "Something You Love". That's a mantra he clearly lives by: it's already obvious that this music lark is no cheesy vanity project. While some of the lyrics lapse into cliché (life on the road, whiskey, this old town and the like), and the energy occasionally drops, there's no mistaking Sutherland's passion and heart. "This is a dream come true for me," he admits, thanking the audience again and again as if he can't believe it's actually happened. This venue is more than twice the size of the one he played last time he was in London – Islington Assembly Hall – but he and his band are easily at home in the Empire.
A particular highlight is "Shirley Jean", from Sutherland's second and current album Reckless & Me. The hat goes back on for this one – it's a pedal steel-twanged tribute to the outlaw country era of Johnny Cash, Merle Haggard and the rest, with Sutherland's warm, rich baritone taking the voice of a condemned criminal writing a farewell letter to his one true love. "Going Home" gets a chucklesome introduction, with Sutherland ruefully revealing how it was inspired by his misspent youth. But the best story of the night – and there are lots, happily – has to be the rambling introduction to a cover of "Knocking on Heaven's Door", a tribute to the period he and his sister spent as small children in the charge of the bearded, leather-jacketed, Bob Dylan-loving cool dad (a Kelly's Heroes-era Donald Sutherland) who drove them to school in a Ferrari he'd won in a poker game.
"Down in a Hole" (not an Alice in Chains cover – although that would have been pretty awesome), the title track of Sutherland's 2016 debut album, is another corker, as is the rowdy "This Is How It's Done". But it's not all stomping bar-room blues: a lovely duet of "Calling Out Your Name" with Twinnie, the York-born rising country star and musicals veteran on tour with Sutherland, provides a shimmering, atmospheric moment in the encore – then, with an ode to tequila to round off the night, Kiefer Sutherland and his massive hat are gone.
It's obvious that this music lark is no cheesy vanity project
rating
Share this article