Tutankhamun with Dan Snow, Channel 5 review - too many presenters spoil Egyptian boy-king doc |

reviews, news & interviews
Tutankhamun with Dan Snow, Channel 5 review - too many presenters spoil Egyptian boy-king doc
Tutankhamun with Dan Snow, Channel 5 review - too many presenters spoil Egyptian boy-king doc
Is this really the farewell tour for the pharaoh's priceless treasures?
Wednesday, 27 November 2019
Antiquing: Dan Snow does the pyramids
It's claimed that the current world tour of Tutankhamun's extraordinary treasures will be the last, but they said that about Frank Sinatra too. Whatever, the boy-pharaoh's life and legend will retain their unprecedented mystique, but no thanks to this first of three programmes fronted by pop-historian Dan Snow.
Obviously Channel 5 doesn't want to vanish down a black hole of academic obscurity, but cluttering up the scenery with three ill-matched presenters treading on each other's feet while burbling inanities was not the perfect solution. Snow always has an invisible bubble over his head saying "hello, I'm extremely self-confident and I come from an important broadcasting family," and it's hard to imagine he wanted help from archaeologist Raksha Dave or a befuddled-looking John Sergeant. While Sergeant was bundled off to sample ancient Egyptian bread-making techniques, Ms Dave kept making strident announcements: "Coming up! I discover how Howard Carter finally managed to locate Tutankhamun's long-lost tomb!" Anybody who's read Howard Carter's diaries of his 1922 excavation has known that for ages, you silly person (pictured below, Sergeant, Snow and Dave).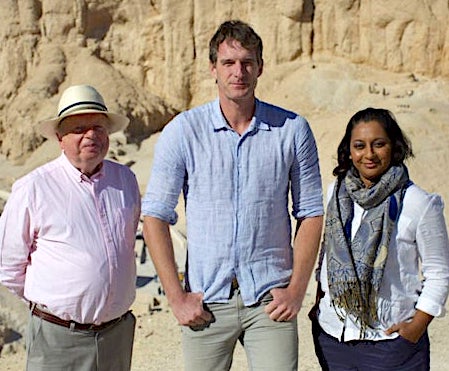 She hadn't finished, though. "Coming up! I discover scientific evidence that this [malaria] was only one of his many health problems." It's true that poor Tut had a funny-shaped head, a pronounced overbite and a club foot, and the beautiful idealised images of him, such as the celebrated Head of Nefertem, were clearly several dimensions removed from the actuality. Dynastic inbreeding had taken its toll. But this is old news in the Egyptology community, though sophisticated CT scans of Tut's body have added huge amounts of extra detail about his physical condition. As palaeopathologist Professor Frank Rühli commented, of Tut's bone necrosis and deformed foot, "that makes you a bit moving in a strange way."
Some of the more off-beat details were more intriguing than the big headline stuff, like the fact that Tutankhamun's mother was also his aunt, or that the family seat of Carter's patron Lord Carnarvon was Highclere House, alias Downton Abbey. The comparatively luxurious lifestyles of the original tomb builders also torpedoes earlier assumptions that the Egyptian antiquities were built by slave labourers, since it seems more likely that a huge chunk of Egyptian society was geared to the colossal building programme. Maybe episodes two and three (on Wednesday and Thursday this week) will shed more light.
John Sergeant was bundled off to sample ancient Egyptian bread-making techniques
rating
Explore topics
Share this article