Best of 2019: Theatre |

reviews, news & interviews
Best of 2019: Theatre
Best of 2019: Theatre
The classics got a shake-up, while provocative new writing came mostly from America
Saturday, 28 December 2019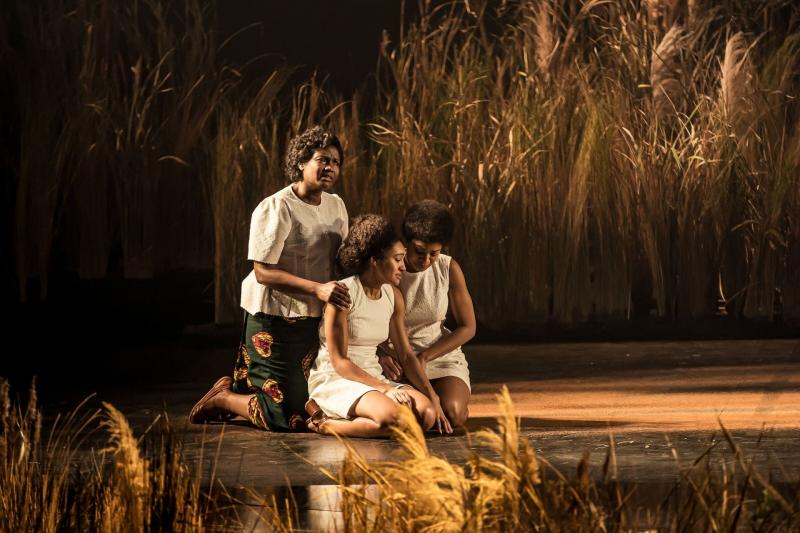 Haunting hybrid: Inua Ellams' 'Three Sisters'
Political dysfunction and societal distress led many amongst us to the brink this year, so where better than the theatre to find succour if not always solace in the abundantly thoughtful offerings of a creative community as often as not working at full tilt?
Even as a misplaced nostalgia seemed to be pulling Brexit-era Britain backwards, a contemporary light was shone on a community living tremulously on the edge in Alexander Zeldin's
Faith, Hope and Charity
and on the racial divide in Jackie Sibblies Drury's Pulitzer-winning
Fairview
, the latter one of a cluster of top-rank American plays that lifted the London theatre scene across the year. (Nadia Latif's production is the first I can remember to dispense with a curtain call since Neil LaBute premiered his self-directed play
The Shape of Things
for the Almeida in 2001.)
If great new British plays seemed few and far between, Caryl Churchill reappeared in the autumn to remind us that age need by no means suggest a diminution of talent, and Rufus Norris's National Theatre production of Small Island offered the sort of complete theatrical experience of which Helen Edmundson's narrative-heavy script was just one of many potent component parts. Lindsay Duncan and Alex Jennings (pictured below by Catherine Ashmore) deserved credit for lending real star lustre to a play, Hansard, from an authorial newbie, the actor Simon Woods, who clearly knows his Edward Albee, and the Almeida, to name just one London venue amongst many, sustained a notably high standard across the year, if one casts a polite veil across the misfire that was Vassa.
Indeed, if one genre seemed to be marking time during 2019, it was musicals, however well both Come from Away and Dear Evan Hansen crossed the Atlantic, which they both did in style. (We can lower a further veil on the likes of 9 to 5.) But Joanna Riding transformed Dominic Cooke's already-exalted revival of Follies into something greater still, and she and Janie Dee returned unforgettably 27 years on from early-career triumphs in this very title to appear alongside Hadley Fraser, Lucy Schaufer, and an indefatigable Patricia Routledge in a concert performance of Carousel at Cadogan Hall at which June was bustin' out all over and the audience's hearts were, as well. For more thoughts on the theatre year just gone, read on:

The Antipodes, National Theatre / Dorfman

Annie Baker and the National are beginning to constitute their own special relationship, an alliance confirmed by the inevitably-divisive UK premiere of arguably Baker's strangest play – which, in the context of her remarkable career, is saying something. Set at a writers' gathering that swiftly spirals towards realms surreal, her interval-less story about storytelling had barely begun before it breathed a sexual candour that had playgoers scooting towards the exit. Such a reaction was their loss, frankly, given the wonderfully compelling weirdness of a play (its apparently irrelevant title included) co-directed by Baker with the designer Chloe Lamford that brought together an astonishing A-list cast for a limited Dorfman Theatre run: kudos to Conleth Hill, Arthur Darvill, Fisayo Akinade and all their colleagues for committing their inestimable talents to such a maverick, singularly unclassifiable endeavour.

Baby Reindeer, Bush Theatre

Acclaimed in Edinburgh, the Scottish comedian Richard Gadd's self-penned play transferred to the Bush Theatre to announce itself as the stealth bomb of the autumn: an explosive excavation of a kind gesture that goes awry when a random act of generosity finds Gadd stalked to the point of near-meltdown by a real-life psycho whom the actor-author identifies only as "Martha". As if that weren't case study enough, Gadd weaves into the writing a gruelling self-examination that further layers a play kept kinetically alive by Jon Brittain's perfectly attuned direction. The producer, Francesca Moody, some years back helped birth a little-known solo piece called Fleabag (itself revived for a welcome late-summer West End run) and look what happened there: Baby Reindeer may be too inherently disturbing to reach as broad an audience but its trajectory, one has a feeling, is far from over.

Betrayal, Harold Pinter Theatre

I haven't quite seen every major production of Betrayal over time (my first exposure to Harold Pinter's 1978 play was its subsequent Broadway premiere, featuring a peerless Blythe Danner as Emma). But I've never seen this triangular drama as hauntingly rendered as it was by the protean Jamie Lloyd, who had a fine and furious year of it between this revival and both Evita in Regent's Park (returning next summer to the Barbican) and the punkishly sinuous James McAvoy's normal-nosed Cyrano de Bergerac, both of which followed soon after and, like Betrayal, refused to play by the rules. Now that this production has concluded its Broadway transfer, one can point to such innovations as the inclusion onstage of the child who is spoken of but not seen in the text, not to mention Lloyd's brilliant conceit of having the third, unspoken party in any scene nonetheless visible to the audience up until the play's end, which in chronological terms is of course its beginning. The stars were Zawe Ashton, a commandingly mournful Tom Hiddleston, and, making something resonant out of the play's hardest, most slippery part, the expert Charlie Cox: to them, and Lloyd's longstanding creative team, huzzahs all round.
Downstate, National Theatre / Dorfman

A strong year for the National's smallest venue was at its mightiest with this remarkable play (pictured above by Michael Brosilow) from Bruce Norris, the Pulizer prize-winning author of Clybourne Park, itself due for a Park Theatre revival during 2020. But it's hard to imagine this collaboration between the National and Chicago's Steppenwolf Theatre ever being better served than it was by the director Pam MacKinnon and her Anglo-American cast, the two nationalities, for what it's worth, divided among gender lines. The great Cecilia Noble was at her most quietly persuasive as a probation officer keeping a watchful eye over a suburban home in downstate Illinois (hence the title) that is shared by four sex offenders whose situations exist in stark contrast both to one another and to whatever judgments society may want to make about them. Look and listen, don't judge, or so seemed to be Norris's wise commendation to the audience, an invitation to see his troubled and troubling characters in the round. The play built to a dual exchange between Steppenwolf regulars K. Todd Freeman and Francis Guinan that really was as good as American acting gets. No, let's scrap the American qualifier: their double-act was as good as acting anywhere gets.

Equus, Theatre Royal Stratford East + Trafalgar Studios

Was Peter Shaffer's 1973 play a product of its time that has passed its sell-by date? I had begun to think so following Thea Sharrock's lame West End and Broadway revival of this very title, starring an immediately post-Harry Potter Daniel Radcliffe. Leave it, then, to the fearless young director Ned Bennett (An Octoroon) to kickstart this psychodrama into life, abetted no end by Zubin Varla as the emotionally desiccated psychiatrist Martin Dysart and a blazing Ethan Kai as the disturbed teen whom Dysart takes under his (homoerotically charged) care. Dispensing with the "horsewear", so to speak, which has been part of the design concept for this show over the years, Bennett and his brilliant movement director Shelley Maxwell required their shape-shifting ensemble to locate their equine selves from within. The result gave new resonance to what in this iteration of the play felt like a veiled love story of sorts between doctor and patient, all the while granting Shaffer's ever-theatrical impulses their full due, albeit refreshed and refashioned to suit our more psychologically self-aware age.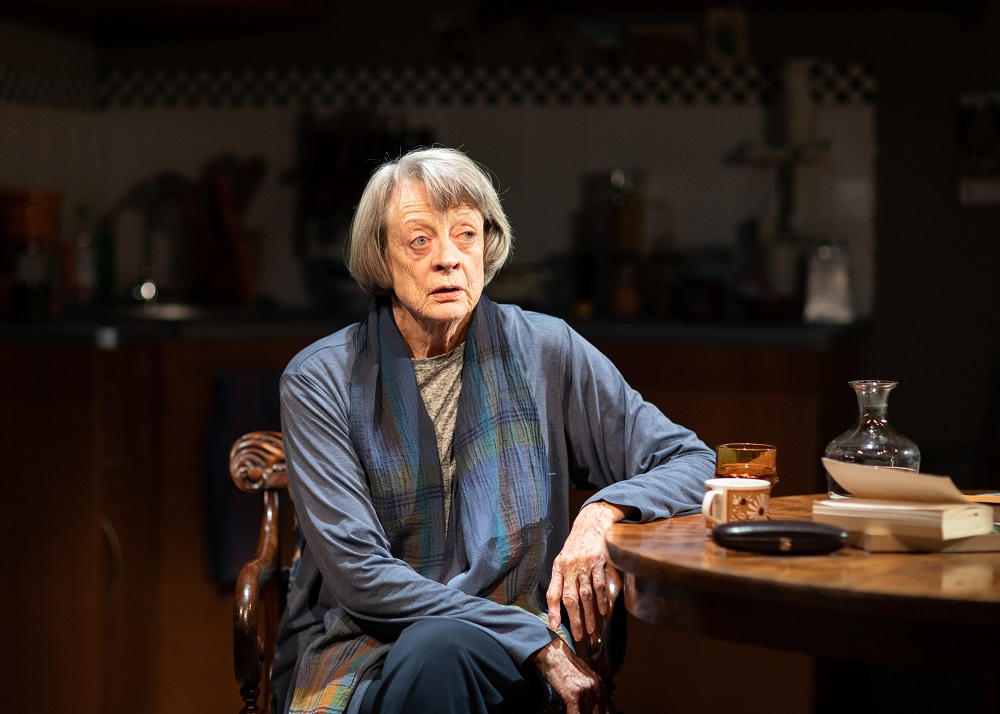 A German Life, Bridge Theatre

At 84 (and since turned 85), Dame Maggie Smith (pictured above by Helen Maybanks) hadn't been thought likely to return to the stage after a dozen years away, especially not playing someone older than herself and in a Christopher Hampton play that presented the actress alone, seated in a chair for 100 unbroken minutes. But there she was, laying claim yet again to familiar cries of greatness not to mention an ever-deepening commitment to her art to which I can attest, having managed to catch Jonathan Kent's mesmerising production three times, including closing night. The Downton Abbey-feted Dame played Brunhilde Pomsel, onetime stenographer to Joseph Goebbels in Hampton's astute adaptation of material familiar to some from a 2017 screen documentary of the same name filmed when Pomsel was more than a century old. (She later died age 106.) Banishing any of the signature inflections that can be catnip to her public, Smith gave renewed definition to notions of the banality of evil even as the platform upon which she was seated slid imperceptibly forward before swallowing her in darkness: a visual metaphor for a play set on the precipice of human behaviour and understanding and given clarity and light at every turn by its inimitable star.

Glass. Kill. Bluebeard. Imp, Royal Court Jerwood Theatre Downstairs

The octogenarians rocked, or so it seemed across a year that included both Smith and Ian McKellen going it alone onstage and, avoiding any personal limelight as is her norm, the dramatist Caryl Churchill at age 81 renewing her decades-old affiliation with the Royal Court. This latest offering was in fact four plays: a characteristically cryptic and brilliant quartet from a writer whose influences were there to be clocked in younger writers from Annie Baker [see above] to Alice Birch with her hugely ambitious Donmar premiere, [Blank]. As it was, James Macdonald's ever-empathic direction located both the humour and the deep, abiding sense of hurt that underpinned a sequence of short one-acts – I shan't soon forget Tom Mothersdale proffering caustic judgments from atop a cloud in Kill - that built to the superb Imp. This longest of the four plays brought Toby Jones and Deborah Findlay together as ageing cousins given to Alan Bennett-esque flights of fancy on topics ranging from jogging to sex, while Churchill's own inquiry into the life of the mind remains one of the British theatre's true wonders.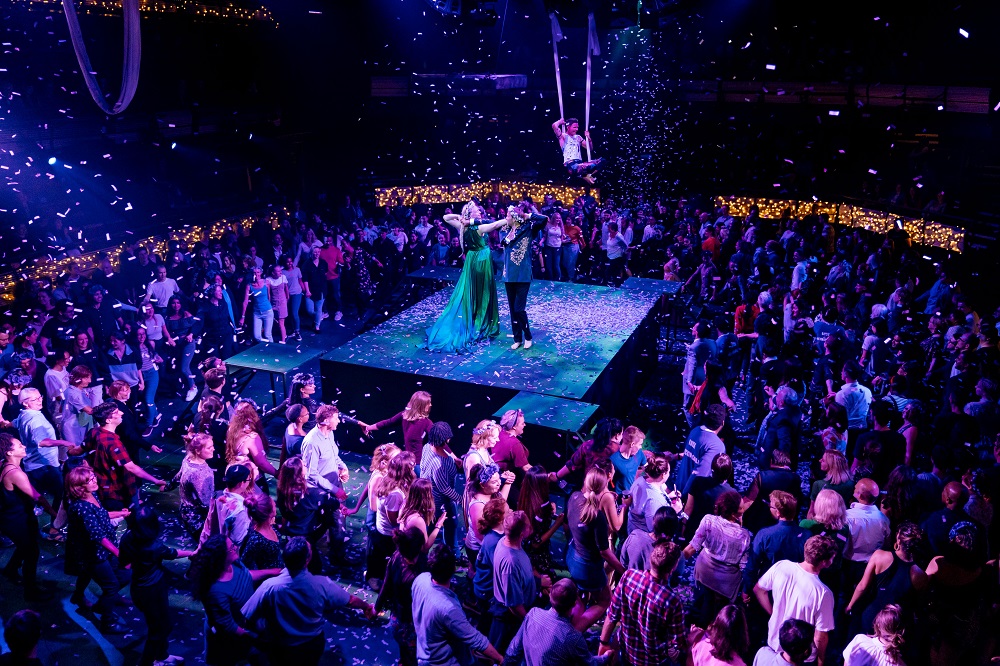 A Midsummer Night's Dream, Bridge Theatre

Shakespeare wasn't quite the omnipresent force during 2019 that he can often be, and it was interesting to note his absence from venues (the Almeida, the National) that usually includes the Bard somewhere in their seasons. (That said, one eagerly awaits the National's forthcoming Romeo and Juliet, starring Josh O'Connor and Jessie Buckley.) But of the six (yes, six) Midsummer Night's Dreams, large and small, that proliferated across the capital (mostly during midsummer), Nicholas Hytner's promenade production for his own Bridge Theatre asserted itself as a defining reappraisal of an overfamiliar play that here put one in mind of The Handmaid's Tale and a Vauxhall rave and numerous reference points in between, Cirque du Soleil for one. Swapping lines and shifting sexual orientations, the royals in this Dream shared pride of place with a genuinely funny (for a change) set of Mechanicals led by the ever-delightful Hammed Animashaun and a superlative Puck from David Moorst who was at once tormentor and tease, extending a contorted hand at the end by way of conciliation in one of those swift stage moments that in themselves speak volumes.

Three Sisters, National Theatre / Lyttelton

The recipient of three major productions across the year, Chekhov's bleakest play may not have been as ubiquitous as Shakespeare's Dream, but it proved itself scarcely less elastic. Neither Rebecca Frecknall's stripped-back Almeida approach nor a visiting Russian company performing as might be expected their favourite son quite prepared for the separate achievements of Inua Ellams's bold and bracing appropriation of a play here relocated to late-1960s Nigeria during the time of the Biafran War. Society was therefore no less fractured and fractious than Chekhov's orphaned sisters, who here traversed the formidable scrub of Katrina Lindsay's set as if looking for some sort of identity and sense of belonging, wherever it might be found. Nadia Fall – a dab hand at this tricky National auditorium if her track record there is any gauge – allowed for the sense of eternal regret that courses through Chekhov alongside an abrupt anger and ferocity appropriate to a country in tumult. The uniformly superb cast gave special pride of place to the sisters' lone brother, Dimgba, here played by Tobi Bamtefa not as the usual indrawn also-ran but as a man refusing to be written off either by history – or by his family.

And the rest ....

The final slot as always could go to any of a further list of titles, each of which satisfied in various ways. How to choose, for instance, between Lucian Msamati making something springy and unself-conscious of the moral centre of gravity that is the waiter, Sam, in Athol Fugard's "Master Harold" ... and the Boys, which received an emotionally capacious revival at the National Theatre. Or the expert Donmar ensemble of Branden Jacobs-Jenkins's bruising Appropriate, a racially-charged play about the refusal of the past to lie dormant, however much we may try to ignore it. That production's leading lady, Monica Dolan, fully earned the Olivier Award that came her way earlier in the year for the mixed blessing that was Ivo van Hove's West End adaptation of All About Eve, just as Juliet Stevenson came honestly by the bravos (yes, that exact encomium was actually heard) following her opening night performance in writer-director Rob Icke's thematically challenging if overstuffed Almeida swan song, The Doctor. The tiny Hampstead Downstairs hit it big with Ruby Thomas's enticing debut play, Either (terrifically well-served by its director, Guy Jones), while the Royal Court's studio-sized Theatre Upstairs deftly fielded the multiple provocations of both Jasmine Lee-Jones's seven methods of killing kylie jenner (lower case the apparent new normal at this address) and Eve Leigh's dizzyingly smart Midnight Movie. Society, we heard (and saw) over and over again is breaking apart but in the spirit of a new year, and indeed a new decade, can't one respond to this list with something resembling hope?