Best of 2019: Dance |

reviews, news & interviews
Best of 2019: Dance
Best of 2019: Dance
In a year dominated by big names and big companies, delights were found off-piste
Baby love: Natalia Osipova in 'The Mother', a new dance drama by Arthur Pita
For dance lovers, it was a year of heavy hitters. There were visits from two of America's biggest and best, both the Alvin Ailey company and San Francisco Ballet bringing generous programmes of new work. The mighty Bolshoi's summer programme at Covent Garden brought us Spartacus, that Soviet-era mega-fest of militarism and machismo.
More intimate but just as heavily hyped was the new Matthew Bourne,
Romeo + Juliet
, which toured the country before settling into the August holiday slot at Sadler's Wells. There was Christopher Wheeldon's vast new in-the-round
Cinderella
for English National Ballet at the Royal Albert Hall. And at the Coliseum the Russians brokered a love-in between Wayne McGregor and the fashion guru formerly known as Thierry Mugler. Yet for all their novelty and scale, none of these projects made anything like the lasting impact as the five described below. These are the dance events of 2019 that still burn in the minds of our critics. These are the five productions they would go out of their way to see again.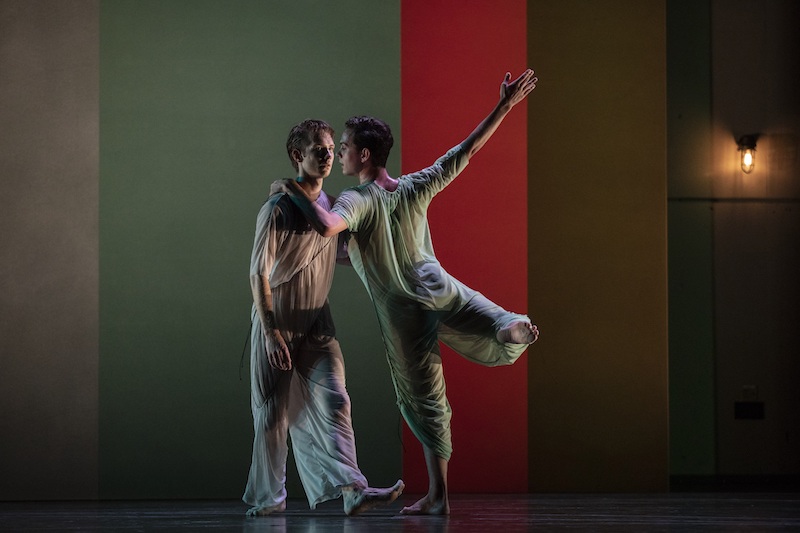 Four Quartets by Pam Tanowitz
"At the still point of the turning world … there the dance is," wrote TS Eliot, and this detailed search for the synergies between words, music and movement – co-produced by the Barbican Theatre – would surely have had his approval. The first surprise was that it hadn't been done before. The poems that comprise TS Eliot's Four Quartets are so embedded with references to dance that a kinetic response feels inevitable. This was the first authorised production on a theatre stage of that great meditation on time and timelessness, and rarely has abstract contemporary dance – almost 90 minutes of it, without a break – been so varied, compelling or downright beautiful. The second surprise was that the choreographer, Pam Tanowitz, is so little known this side of the Atlantic. An American whose work builds on the barefoot legacies of Merce Cunningham and Trisha Brown, hers is a fully mature talent that demands to be on our radar. Jenny Gilbert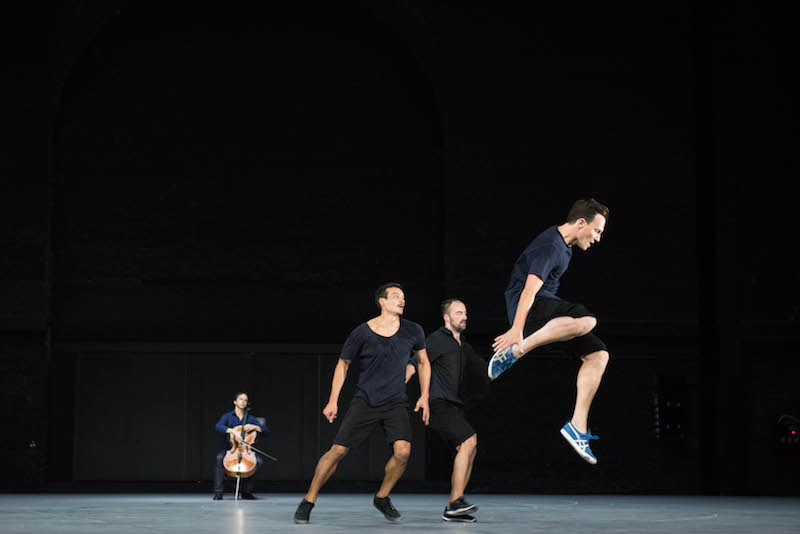 Mitten Wir im Leben Sind by Anne Teresa De Keersmaeker
All Bach may be dance, but find a choreographer equal to his genius when it comes to elusive works like the six suites for solo cello. That choreographer, it turns out, is the Belgian avant-gardiste Anne Teresa De Keersmaeker. The journey of Mitten wir im Leben Sind with supreme cellist Jean-Guihen Queyras (pictured above with the dancers) was constantly resourceful, steps echoing repeated forms like the runs in the Courantes and the lying-downs of the Sarabandes until fissures opened up in the C minor Fifth Suite. So no, it wasn't a complete performance, musically speaking, in the interval-less sequence, but the choreographer only intensified the poetry in what she omitted or implied. Then came the joyous counterpoint of all six dancers with cellist in the finale. Ineffable, sublime. Rumours are that Keersmaeker is about to embark on another collaboration with a great instrumentalist, but to say more would be premature. David Nice
by Alexei Ratmansky
Why is Alexei Ratmansky one of the greatest living choreographers of classical ballet? Partly because he can do comedy. Ashton could do it, Robbins could do it, and The Bright Stream puts Ratmansky in their distinguished company. Originally a Soviet ballet premiered in 1935, it depicts happy agricultural workers in a way that may have seemed politically correct under Stalin, but is out of whack with the real experiences of those caught up in collectivisation. In another recreation, of the Soviet ballet The Flames of Paris, Ratmansky twisted a pro-revolutionary plot into a poignant human tragedy that questioned the role of art in supporting state power. You might well expect The Bright Stream to share that critical, questioning spirit, but instead it is pure pastoral comedy, with as many happy peasants as La fille mal gardée, as many disguised and confused lovers as The Dream and a synopsis that makes you go cross-eyed trying to follow its twists. Fortunately, on stage the storytelling was as clear as day, a tribute both to Ratmansky's gift for characterisation and the tremendous acting of the Bolshoi dancers, who dialled up the charm to 100 and looked like they were having an absolute ball.
Hanna Weibye
The Mother by Arthur Pita
With its tally of dead and dying babies, this dance-drama vehicle for the phenomenal Natalia Osipova (pictured top), loosely based on a story by Hans Christian Andersen and premiered at the Queen Elizabeth Hall, gave HBO's Chernobyl a run for its money. Russian folk memory seeped from every blood-smeared pore of this grisly tale with its cast of grim reapers, witches, hags and homunculi, each of them superbly embodied by co-star Jonathan Goddard. The original story followed a young mother on a wild outdoor quest to find her baby, snatched from its cot by Death. In Pita's version, she paces her apartment in various states of derangement, prey to a stream of malevolent visions. Pita had worked with Osipova before, and knew exactly how to exploit her strength and pliancy as a dancer, her fearlessness as a dance-actor. Every reach of her arm or stretch of her foot is imbued with sense, as if part of a conversation. And however wretched the character's ordeals – sacrificing her eyes to a blind man was an especial horror – you couldn't not watch. With its tiny cast and big impact, The Mother is a sure-fire hit for international touring. We can only hope that it will return for a longer UK run before too long. JG

Coppélia by Ninette de Valois after Lev Ivanov
For featuring ordinary people rather than sylphs or avenging ghosts, Coppélia stands apart among 19th-century ballets. The only mystery about this vintage 1954 production is why the Royal Ballet hadn't programmed it for more than a decade. Not only does it make a joyous alternative to the end-of-year Nutcracker but arguably a better first-ballet experience with its spunky heroine, generous peppering of comedy and screeds of deliciously intricate steps. The story may be slight, but it's fun. Piqued to find her boyfriend falling for a life-size dummy posed in the window of Dr Coppelius, a lonely and eccentric inventor, Swanilda and her girl-gang break into his house setting off a chain of chaotic events. Ballet isn't famous for interval cliffhangers, but as the heroine tiptoes up the stairs to the lab unaware that Franz is mounting a ladder to enter via the window, Délibes' fun-filled score milks the tension for all its worth. I defy anyone not to whisper to their neighbour at some point in the evening: "So this is where that tune comes from!" Pure joy. And there is still the odd ticket to be had before the run ends on 7 Jan. JG
Why is Alexei Ratmansky one of the greatest living choreographers of classical ballet? Partly because he can do comedy
Explore topics
Share this article