Bluebeard, Tanztheater Wuppertal Pina Bausch, Sadler's Wells review - bleak but ground-breaking |

reviews, news & interviews
Bluebeard, Tanztheater Wuppertal Pina Bausch, Sadler's Wells review - bleak but ground-breaking
Bluebeard, Tanztheater Wuppertal Pina Bausch, Sadler's Wells review - bleak but ground-breaking
This 1977 take on Bartok's murderous opera was a watershed for European theatre
Love, love me do: the Pina Bausch company in Bluebeard, in which the music from Bartok's opera is manipulated from an onstage tape machine
When Pina Bausch died at the height of her creative powers in 2009, no one knew if her work or her company would survive. A decade later, to judge by the scramble for tickets for this early, highly experimental piece, both seem to be doing just fine.
Bluebeard, from 1977, is a test of loyalty for even the most ardent Bausch fan. A response to Bartok's opera about a serial wife-murderer and his last victim, it has none of the humour, nostalgia or scenic extravagance of her later pieces. Unremittingly dark, it's a tough watch. It's a tough listen too as Bartok's richly textured music, relayed by an onstage reel-to-reel tape machine, is constantly disrupted by the central character who becomes obsessed with replaying certain passages. With his finger on the button he can attempt to efface his wretched history and rewrite his fate, but for the listener the stop-start-rewind routine is ennervating to say the least. Little wonder the Bartok estate withdrew its permission for use of the music. It came out of copyright only last month, hence this first revival in 29 years.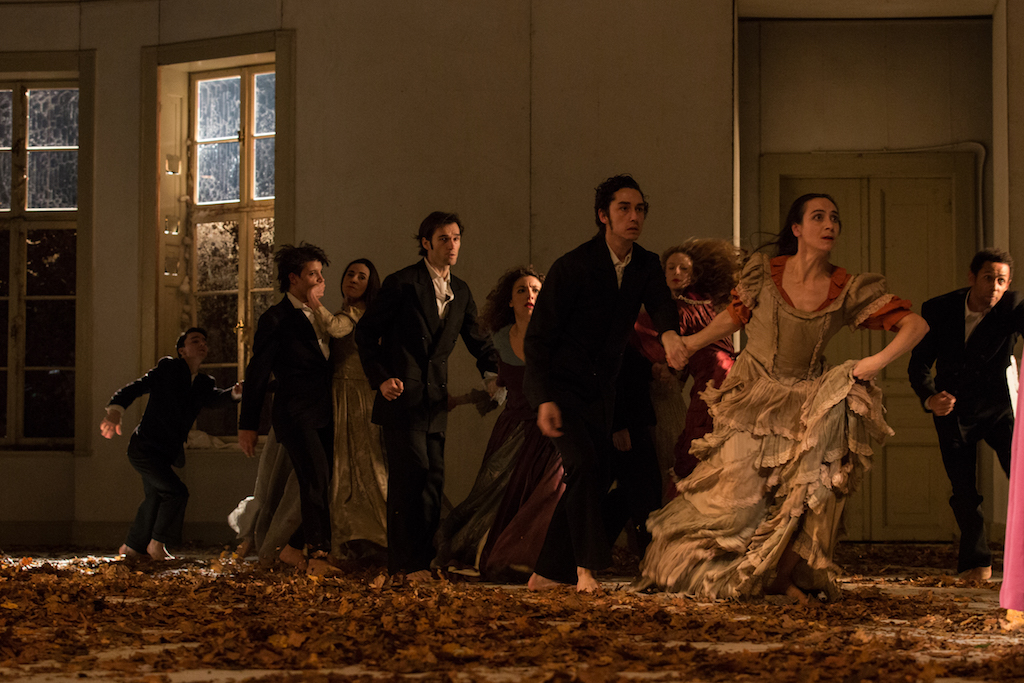 Bausch also rides roughshod over the original libretto. In the opera, Duke Bluebeard brings his new wife Judith home to his castle, where she grows curious about what lies behind seven locked doors which she is forbidden to open. Designer Rolf Borzik swaps the fairytale setting for a dilapidated apartment, its floor littered with dead leaves. Gone are the seven doors. Instead, Bausch creates seven scenes in which aspects of the dysfunction of Bluebeard and Judith's relationship are refracted in the actions of six other couples (pictured above). Repetition is key to the choreographer's manic, massed effects as the couples' fevered embraces and cries of "Lieb mich!" are intercut with sequences of bruising masochism, the dancers crashing into walls or falling to the floor a mind-numbing number of times.
Visual motifs sear into the memory – the women halfway up the walls, motionless, like fliesExploring what she saw as perennial misunderstandings between men and women, Bausch was reluctant to apportion blame. Second-wave feminism may have been kicking off around the time she made this piece but Bluebeard's women, with their vanity, their fawning, and their indulgence of the men's posturing, are shown to be fully complicit in their fate. In one harrowing motif, three women in turn perform a brief, hopeless, butterfly-like solo only to be bound and gagged and dumped in a heap of bedsheets. Yet it is the women who invite this humiliation, handing each man the means of tying them up.
While the violence on stage is at times almost intolerable, Bausch's mastery of the stage picture makes it impossible to look away. Certain motifs become seared in the memory: a shadowy line of men and women, heads bowed, hands linked, creeping along the back wall like the ghosts of past lovers; the sudden appearance of the women halfway up the walls, motionless, like flies; the grisly mechanical couplings of Bluebeard and Judith, leaving a shuffling trail through the dead leaves. The performances of the young cast are remarkable for their fearless intensity.
Ultimately, though, the piece has dated. Bausch's treatment of domestic violence is no longer breaking a taboo, and her satirising of macho behaviour less pointed in a world where men can now aspire to other things. The major value of this revival is historical. It shows Pina Bausch on the cusp of becoming Bauschian, her dawning understanding of the body as material. In short, it marks the birth of a new kind of theatre whose influence would be felt for decades.
The violence on stage is almost intolerable, but Bausch's mastery of the stage picture makes it impossible to look away
rating
Explore topics
Share this article