Reissue CDs Weekly: Matt Monro - Stranger In Paradise |

reviews, news & interviews
Reissue CDs Weekly: Matt Monro - Stranger In Paradise
Reissue CDs Weekly: Matt Monro - Stranger In Paradise
The golden-voiced crooner's 'Invitation To Broadway' album is finally heard as originally intended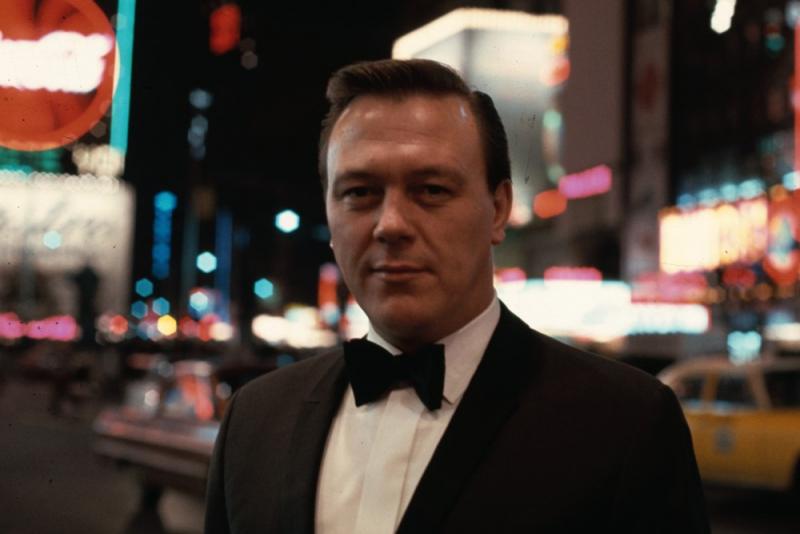 At home amongst the neon lights. Matt Monro on Broadway in November 1966
Two years before he took on The Beatles, George Martin was working with another artiste who would go on to have success in America. Martin first encountered Matt Monro in 1960 when he signed him to the label he ran, Parlophone. The "Portrait of my Love" single charted later in the year. In summer 1961, "My Kind of Girl" hit America's single's charts. His 1965 version of "Yesterday" had a Martin arrangement.
The same year, Monro – born Terry Parsons – moved to America after he had been picked up by Capitol Records, which also had The Beatles on its books. Also relevant to Monro, Capitol had lost Frank Sinatra in 1961 and still wanted to plug the gap. Matt Monro was Britain's Sinatra.
Although Monro had been heard on the radio since 1953 and was from a different generation to The Beatles, their paths dovetailed despite different approaches to music: a dissimilarity which ought to have cancelled out any connections between them. However, the infrastructure helping them both achieve success was strikingly similar.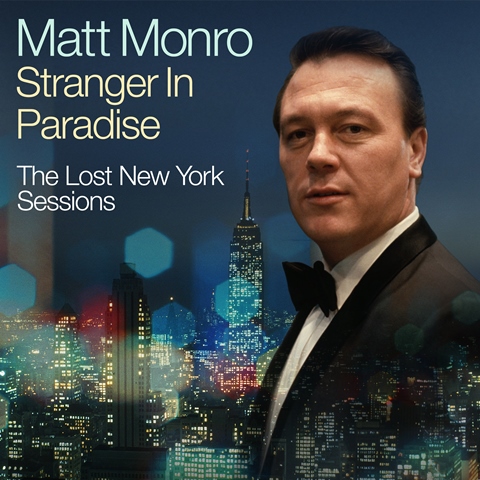 Less happily, another parallel arrived when both had the experience of recording an album and then finding out what was issued was not what they wanted. When Let It Be was released in May 1970, Paul McCartney was appalled to discover that producer Phil Spector had smothered "The Long and Winding Road" in glutinous orchestration. So much so, McCartney cited this in court as an attempt to ruin his personal reputation. In November 1966, Monro taped an album in New York with a small combo which was meant to be released as it was recorded. Instead, the masters were taken to Los Angeles where brass and strings were added. Monro was unimpressed with the result.
The errant Matt Monro album was titled Invitation To Broadway (pictured below left). Its 11 tracks had, unsurprisingly, first been heard in Broadway musicals: Monro was playing a Broadway season while the album was recorded. In keeping with its genesis, the album's subsequent British history was not particularly happy either. After its US release, it was retitled The Impossible Dream in the UK and issued on the budget label Music For Pleasure. In his home country, Invitation To Broadway was less than a footnote.
Now, what was recorded in New York before the instrumentation was added in LA is issued. Stranger In Paradise - The Lost New York Sessions includes the 11 Invitation To Broadway tracks along with "Beautiful World", "The Sweetest Sounds", "Lovers Caravan" and "What Makes it Happen", none of which made it onto Invitation To Broadway. There are also alternate takes of "The Apple Tree", "The Lady Smiles", "Lover's Caravan" and "What Makes it Happen". The band – the player's identities are unknown – consists of a bassist, drummer, pianist and two guitarists, doubling on acoustic and electric guitars.
While there was logic in giving Monro a big sound – it's what Sinatra had, and what Monro had on the George Martin-produced "From Russia With Love" – there is nothing wrong with what's heard on Stranger In Paradise. This is top-notch stuff. Further musical framing of his voice was not required. It's impossible not to wonder what approach Martin would have taken.
The opening version of "The Impossible Dream" (from Man of La Mancha) is indeed Sinatra-esque but the sparse instrumentation gives Monro's golden voice wings. He dominates without distracting from the song itself. Power and relaxation are united. Best of all is "If She Walked Into ny Life" (Mame). The released version has swooning, midnight-type strings which too-thickly lay on a mood of reflection. It's been made into very easy listening. This previously unheard original version is again about the voice and song, and is all the better for it. The same applies to "Look For Small Pleasures" (Ben Franklin in Paris). It's become more possible than ever to hear what Scott Walker liked about Monro's voice.
If what was released as Invitation To Broadway had come out as originally intended, Monro's profile probably would not have changed. But a case could have been made for him playing small venues, with a small combo and a small audience. An intimacy would have been posited.
Stranger In Paradise - The Lost New York Sessions is issued on CD. It's accompanied by a second disc, a Monro best-of, suggesting a lack of confidence in the main course. What's heard for the first time is more than good enough to have stood on its own, maybe as a vinyl edition or perhaps as a different double CD set with the addition of the Invitation To Broadway album as a comparison. Nonetheless, this is a treat and a surprising one at that.
Next week: Another take on 1966 with A Slight Disturbance In My Mind – The British Proto-Psychedelic Sounds Of 1966

On 'Stranger In Paradise', it's more possible than ever to hear what Scott Walker liked about Matt Monro's voice
Share this article