Little Fires Everywhere, Amazon Prime review - in every dream home a heartache |

reviews, news & interviews
Little Fires Everywhere, Amazon Prime review - in every dream home a heartache
Little Fires Everywhere, Amazon Prime review - in every dream home a heartache
Mother and daughter duo shatter the calm of affluent Ohio
Desperate housewife: Reese Witherspoon as Elena Richardson
Reese Witherspoon has evolved into a growth industry on the new frontier of Big Television. Her production company Hello Sunshine has a heap of projects on the go with a range of networks, and following her success with Big Little Lies (for HBO), Little Fires Everywhere comes to you courtesy of Hulu (in the US) and Amazon Prime.
Varied as her plans may be, Reese the performer knows exactly who she is. It's not too difficult to trace her character in Little Fires Everywhere, Elena Richardson, back to the ferociously focused and determined Elle Woods in Legally Blonde, while Elena could be a twin sister to Madeline Mackenzie in Big Little Lies.
The eight-part series is an adaptation of Celeste Ng's 2017 bestseller (a favourite of another Witherspoon venture, Reese's Book Club), and is based in the upmarket Ohio suburb of Shaker Heights, a "planned" community of mansion-like dwellings set in carefully manicured gardens. The neighbourhood is a magnet for white over-achievers, and Elena and her family are the epitome of prosperous middle-classness (the action is set in 1997). Elena divides her time between mothering her four teenage children, oiling the wheels of local community activities and dabbling in a little reportage for local journal The Shaker Times. She runs the home like a drill sergeant with OCD, while her husband Bill is a successful lawyer who lives in his own laconic bubble. Joshua Jackson (pictured above) plays Bill a little like Darrin in Bewitched.
It seems nothing can shake Elena's suburban idyll, until the arrival in the neighbourhood of nomadic duo Mia Warren (Kerry Washington, also a co-producer on the show) and her daughter Pearl (Lexi Underwood, both pictured below). Elena first spots the pair parked up in their decrepit Chevette and alerts the friendly neighbourhood policeman. The implication is she doesn't want indigent black people disfiguring her neighbourhood. However, next thing you know Elena is letting them rent a spare house left to her by her parents at a staggeringly low rate. Elena may be bossy and judgemental, but she's also kind and generous, up to the point where that morphs into an irresistible urge to take control. When she hire Mia as her housekeeper, she's blithely tone-deaf to the implicit overtones of class and race.
But the relationship with Mia and her daughter develops in unforeseen ways, and rips and stretches the fabric of the Richardsons' lives with both destructive and creative consequences. Mia, a gifted artist whose hoped-for career path was blown to bits when she accepted a sorely-needed cash offer to become a surrogate mother, is an agent of chaos who becomes a kind of surrogate mother for Elena's angry and confused daughter Izzy (Megan Stott). Mia's seemingly romantic bohemian existence, as well as her instinctive hostility to white privilege, represent the escape from her suffocating family that Izzy's looking for. Conversely, Pearl, who's never had a home she can call her own, is irresistibly lured to the apparently stable, secure family life she sees at the Richardsons' home.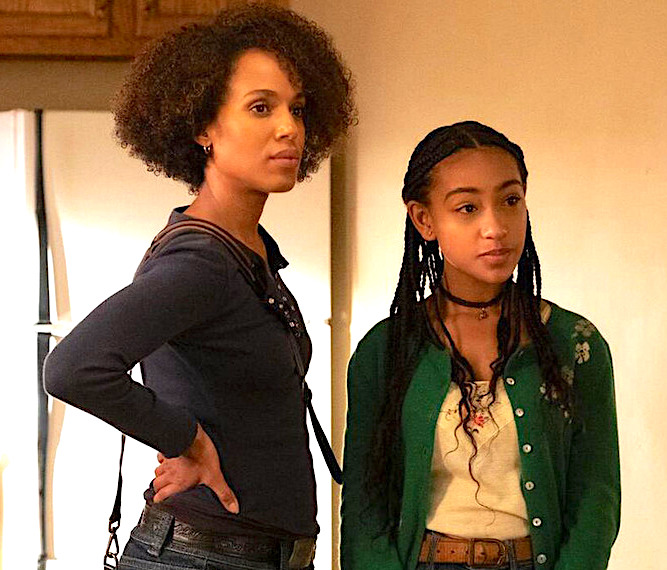 Of course it doesn't end there. Elena's own busybodying quest to investigate Mia's back story discomfitingly catapults her back to her own road not taken, when she split up decades earlier with boyfriend Jamie. He's now a renowned journalist with the The New York Times, throwing Elena's little-league reporting escapades into humiliating relief. In every dream-home there's a heartache, and gradually we see the desperation behind Elena's compulsion to impose her own idea of order on everything and everyone around her.
There's plenty more besides, including themes of identity and belonging, the horrors and betrayals of teenage sex, and a nature-versus-nurture battle involving an adopted child. I couldn't tell you how it compares to the book, though some readers feel short-changed by the TV version. Sometimes the social concerns feel too billboard-obvious, but on the upside, the piece exerts a soapy but tenacious grip, and there's buckets of strong acting from the ensemble, though I could wish for less of Washington's exaggerated repertoire of lip-trembles and grimaces. It's another feather in the cap of the Witherspoon brand, and a convincing slice of mainstream drama with a heart and a brain.
Little Fires Everywhere is available on Amazon Prime