Reissue CDs Weekly: Super Sonics - Martin Green Presents 40 Junkshop Britpop Greats |

reviews, news & interviews
Reissue CDs Weekly: Super Sonics - Martin Green Presents 40 Junkshop Britpop Greats
Reissue CDs Weekly: Super Sonics - Martin Green Presents 40 Junkshop Britpop Greats
Britpop filtered by a man who knows
Martin Green casts a beady eye over his take on Britpop
The gentleman pictured above is Martin Green. In 1995 he was a prime mover behind The Sound Gallery, a double-album compiling groovy British easy listening and library music from around 25 years earlier which until then had been (mostly) overlooked. It was as trailblazing a compilation as Lenny Kaye's 1972 garage-psych set Nuggets.
Now, Green is again looking back around 25 years, this time to the Nineties with Super Sonics – Martin Green Presents 40 Junkshop Britpop Greats. It's also a double: a 40-track, 2-CD collection in a smartly designed double fold-out digi-pack.
Both compilations spring from Green's involvement in Smashing, a London club night which, as he says in his liner notes to the new set, "I founded in 1991 alongside confrontational host Matthew Glamorre, rebellious promoter Adrian Webb and anarchic co-DJ Michael Murphy. Our aim was to put personality, diversity, dressing up and surprise back into clubs, as many had become corporate and predictable. None of us wanted House music all night long."
He continues: "The records we initially played were a selection of obscure charity shop finds - Soundtracks, TV themes, Moog grooves, Punk, Indie, Hi Nrg, Glam and New Wave. We were taking different aspects of 20th Century musical culture and colliding them unexpectedly together to create something new. The Britpop look developed from this fusion. Grunge was out and Glam was in. Feather boas snaked around '70s charity shop tops as jeans went skinny, fringes floppy and sportswear vintage. In July '94 after venue hopping like nightclub nomads, we discovered Eve's a glorious forgotten forest buried beneath Regent St. A year later Britpop exploded with Smashing its epicentre. Indie bands who once lounged in cult obscurity on our red velvet banquettes hit the charts and we debuted their latest tracks to enthusiastic revellers on the flashing dance floor. Blur brought down a promo of 'Girls and Boys', Oasis requested Oasis, then danced to their latest single 'Shakermaker' and Pulp cut an acetate of 'Common People' especially for the club."
The Sound Gallery assembled what helped fill Smashing's dance floor. Super Sonics is what Smashing helped give rise to, characterising its clientele. It also seeks to capture musical flavours specific to the era: the period covered is 1993 to 1998. The two collections are inextricably linked.
As Green implicitly acknowledges, Britpop has been rendered down to Blur, Oasis, Pulp. None are heard here. In this reading – one derived from contemporaneous hewing at the coalface – there was more going on than the names in lights. Super Sonics includes sort-of-Riot-Grrl types Huggy Bear, the Sonic Youth-influenced Urusei Yatsura, art-rockers Delgados and the indier-than-indie Heavenly. Pram as Britpop? Why not? Foment is hardly ever clear cut.
Less slippery are tracks like The Weekenders's "Inelegantly Wasted in Papa's Penthouse Pad In Belgravia" and Jocasta's "Change Me", where Blur is heavily in the mix. Pimlico's "Revolve" eyebrow-raisingly re-renders Teenage Fanclub's take on Big Star. The opening seconds of Showgirls's "So Small" are borrowed from The Jam's "Eton Rifles". The High Fidelity's "Sometimes The Kids Are Not Alright" uses acid house as its prime building block. As they did then, Add N To X (with "Fast Access") sound as if they ought to have been on Rough Trade c. 1981.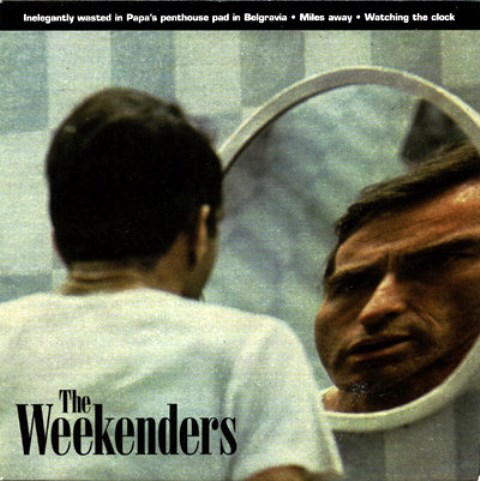 Some bands were all-but lost. Chest, Elizabeth Bunny, Sound 5 and Va6 aren't well-remembered. Although they're not here, the early Manic Street Preachers would be a snug fit. However, Menswe@R are here.
In the knowing, mix-'n-match musical bricolage world of Super Sonics, the soft-rock-influenced Velocette, set-closer Rialto (with the epic "The Underdogs"), Linoleum ("Marquis": Elastica meets Sonic Youth) and Spearmint's driving "Goldmine" are amongst the standouts.
After listening, the feeling is what's heard is new wave-influenced art rock infused with various Sixties twists. Britpop is a more succinct label. Time will decide whether Super Sonics becomes as crucial a compilation as The Sound Gallery and Nuggets. Right now, it feels that this is what it will become.
Super Sonics – Martin Green Presents 40 Junkshop Britpop Greats though is more than a fresh look at some stiches of rock's rich tapestry. It's the final release from RPM Records, the reissue label which has worked to redefine the past since 1992: when Green was integral to setting the agenda celebrated on the two CDs. While great to have the stimulating Super Sonics, it is sad that the label bringing this to the world is bowing out.
Next Week: Oneness Of Juju's African Rhythms 1970–1982
'Super Sonics' feels as if it will become as crucial a compilation as 'The Sound Gallery' and 'Nuggets'
Explore topics
Share this article