DVD/Blu-ray: Flash Gordon |

reviews, news & interviews
DVD/Blu-ray: Flash Gordon
DVD/Blu-ray: Flash Gordon
Cinematic worlds collide in a gorgeous camp classic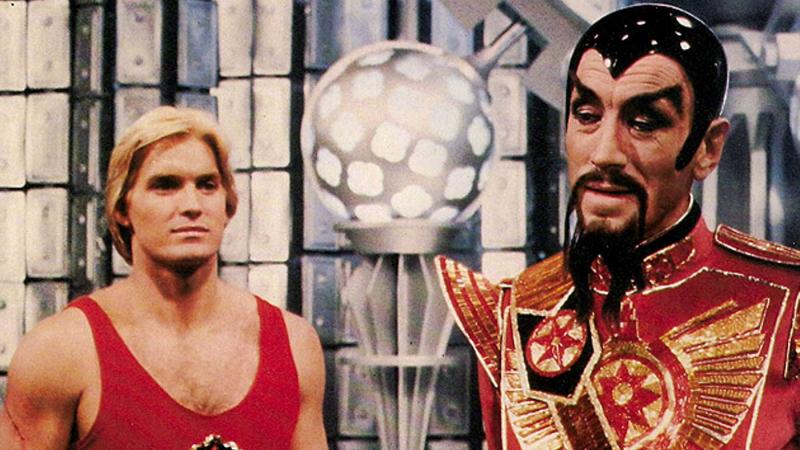 No mercy: Flash (Sam J. Jones) is tempted by Ming (Max von Sydow)
Queen, performances and production design drive this campest, funniest and sexiest of the post-Star Wars space boom.
Flash Gordon
is a film about a classic American comic-strip hero made by a cynical English
director
, Mike Hodges, and dreamy
Italian
producer, Dino De Laurentiis. As this 4K fortieth-anniversary edition makes clear, American leads Sam Jones and Melody Anderson were innocents abroad among arch British character actors and extravagantly erotic Italians, almost as much as their characters Flash and Dale Arden are on Mongo's moons.
The plot is straight from Alex Raymond's 1934 comic-strip, as Mongo's Ming the Merciless (a silkily thuggish Max von Sydow) ravages Earth with freak weather for his own amusement, and plans to fatally wrench the moon from its orbit. Flash and Dale are kidnapped by Topol's manic Dr. Zarkov on a spaceship to Mongo to avert disaster ("Get your toothbrush and whatever," he distractedly advises). There Flash is lusted after by Ming's lubricious daughter Princess Aura (Ornella Muti, pictured below with Jones) as Ming forces Dale into marriage. Escaping execution, Flash is bounced between forest moon Arboria's Prince Barin (Timothy Dalton as the stern spit of Errol Flynn in Sherwood green) and the Sky City of Hawkman Prince Vultan (Brian Blessed in a much parodied performance of skilled exuberance), before leading a final assault on Ming.
Flash Gordon only hits full force when Queen's thrilling guitar-and-synth score kicks in: Flash switching to quarterback mode to skittle Ming's goons, or an airborne assault on a rocket. This glam-rock thrust adds to the gaudy spectacle of Fellini designer Danilo Donati's sets and costumes with a unique giddiness. Compared to the sexless Star Wars – in which George Lucas decreed Carrie Fisher must tape down her breasts – it's also perverse in the style of Italian comic-strips, Roger Vadim's Barbarella and Joseph Losey's Modesty Blaise. From Flash being stripped to black leather briefs to Dale's Ming-induced sex-trance, to a rear shot of Aura in gold hand-clamps as she's whipped bloody by strutting sadist Kala (Mariangelo Melati), this is kids' s.f. on heat.
The most notable new extra is a documentary on Nic Roeg's aborted 1978 Flash Gordon, which was written and designed before De Laurentiis pulled the plug. Roeg's screenwriter Michael Allin portrays this as a waste they later found too painful to discuss, with their Flash and Dale as "Adam and Eve being chased by a jealous God across the universe". Ming holding a needle to Dale's eye to catch a tear which he turns into a miniature sun then a jewel around her neck is the sort of poetry they intended. Allin rages against Hodges' film as an "act of cowardice...a camp, kitch style...adults winking over the heads of children". It's frankly hard to imagine Roeg's fragmented visions holding a film of this sort together. Like Jodorowsky's Dune, it may exist most satisfyingly in the land of the lost.
Hodges' director's commentary makes a disillusioning and illuminating contrast. "There was no way you could make this film as anything other than tongue-in-cheek," he declares, repeatedly sounding baffled at directing it, and saying of its action scenes: "None of this is exactly my forte." His other genre films – gangster pic Get Carter, The Terminal Man's adult s.f., meta-noir Pulp and ethereal horror Black Rainbow – are obliquely angled and seedily eccentric. Flash Gordon found his cynical distance usefully colliding with De Laurentiis and Sam Jones' "child-like" belief in Flash, Brian Blessed's "blazing energy", low-angled frames and "undercurrents of sexuality" lifted from Raymond's strips, Donati "building sets purely for himself", Roeg's residue and, crucially, Queen. They were De Laurentiis's suggestion - Hodges shamefacedly admits he was using Pink Floyd; the lysergic swirl of the matte-painted black hole Zarkov's shuttlecock spaceship drops down is another relic of UFO Club light-shows, in a film of appealingly artisan, unreliable effects. Surrounded by such faits accomplis, Hodges "hardly read the script", improvising his way to a light "soufflé" far from Roeg's philosophical heaviness.
Blessed's commentary (like Hodges' taken from an earlier release) finds "pure" innocence where the director snorts, and recalls being the Vultan of the Thirties Flash Gordon serials in childhood games, making his iconic role a "dream come true". "Sorry," Hodges says, also at last disarmed by delight, "I do enjoy this film."