Mary Chapin Carpenter, One Night Lonely livestream review - down-home and perfectly paced |

reviews, news & interviews
Mary Chapin Carpenter, One Night Lonely livestream review - down-home and perfectly paced
Mary Chapin Carpenter, One Night Lonely livestream review - down-home and perfectly paced
Thanksgiving at Wolf Trap with a musical pilgrim
Wednesday, 02 December 2020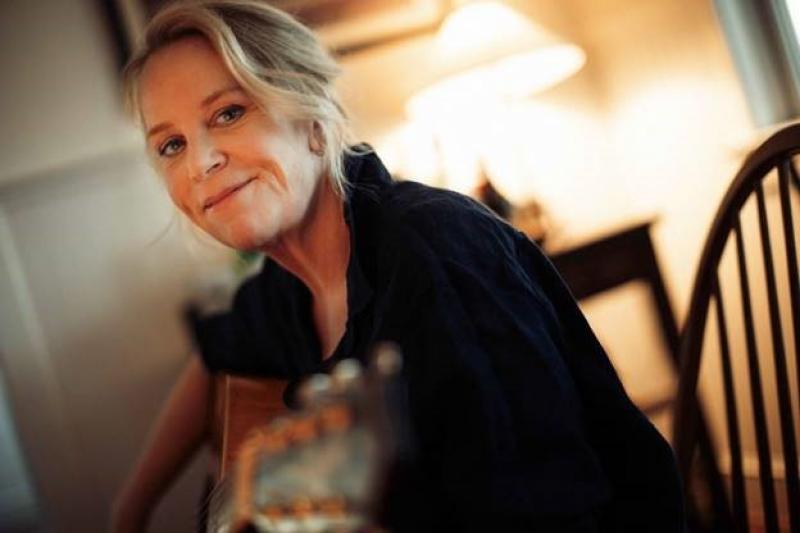 Mary Chapin Carpenter: utterly involving
Mary Chapin Carpenter's Songs from Home has been an anchor-point almost since the beginning of lockdown for many people, all of us invited into the singer's sun-dappled Virginia farmhouse, often the kitchen, where, accompanied by Angus the most golden of retrievers, she chats and sings.
Last weekend, America still celebrating Thanksgiving, she performed a
concert
. Solo in every respect, its punning title: One Night Lonely.
It was a generous performance, two hours, filmed at the Filene Center amid Wolf Trap's 117-acre Park for the Performing Arts, "a treasured place in the DC area" where Carpenter first performed 25 years ago, opening for Emmylou Harris in a PBS special. "Life came full circle in a weird way," she reflected as she introduced the concert, remembering "waking up in a tour bus in the back parking lot…. Typically, we'd try to make it the last date of a summer tour," an exciting gig with the promise of her own bed just down the road on route 267. She remembered "being a teenager and listening to Copland conduct Appalachian Spring… staring up at the stars… imagining what it must be like to stand on that stage as a performer. I never thought I'd be allowed to do that myself…. I still feel like, how did this happen? How did I get to be here? It's one of the most beautiful venues in the world and it's in my back yard."
Songs from Home was "just this idea I had to stand in front of my little iPhone camera and play a song," Carpenter continued. "It's humbling and incredibly gratifying to know you're connected with folks in a low-fi way." Now, in this "very different holiday season", she hoped to bring "a little bit of happiness".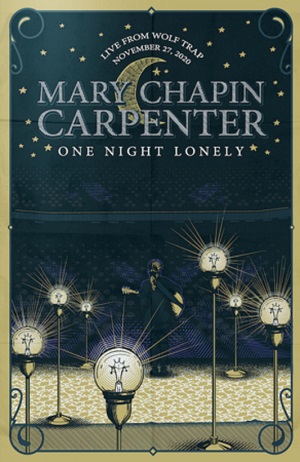 One Night Lonely – Carpenter alone on stage, a guitar tech occasionally in shot as she swapped between her Greven and Martin guitars – was beautifully shot, beginning in black and white, the singer symbolically removing her mask before launching into "The Age of Miracles", her back to the empty auditorium. Then a backdrop descended and colour gradually leached into the picture – a red-patterned rug, simple lights…
Dressed simply, her long blonde hair in a ponytail, Carpenter said nothing during the actual performance, merely smiled that trademark shy, slightly lopsided smile. Unflash, down-home, warm and intimate: in the most natural way she connects, singing to you and for you. A perfectly paced set, songs drawn from across the years, and performed unplugged – a perfect opportunity to appreciate not only her sophisticated song-writing and distinctive voice but her guitar playing, usually in one of her signature tunings. Up close and very personal.
"Ashes and Roses", "Sometimes Just the Sky" (that wonderful line about the "comfort in a late-night kitchen's radio"), "I Have a Need for Solitude", "Something Tame, Something Wild", "Houston"…. Listening to Carpenter, I'm reminded of Leonard Cohen's observation (in my first ever interview, in 1979) that "the confusion of seriousness with gloominess is an inaccurate understanding": "Grand Central Station" is a case in point – a song about 9/11, a man "working on the pile", covered in "holy dust" who nods to the Greek gods looking down as he scans notices about the missing. So quiet, so poignant, so powerful in its economy.
As time unravelled, the settings changed – a blue wash, then mauve; dissolves; a hint of dry ice; a thousand points of light. More favourites from her back catalogue: "This Shirt", "I Am a Town", the exquisite "John Doe No 24", the profound meditation that is "The Things That We Are Made Of". From this summer's opus, The Dirt and The Stars, recorded in Britain just before the lights went out, came "Farther Along and Further In", "All Broken Hearts Break Differently", "D35", a homage to an old friend and his guitar, and "Between the Dirt and the Stars", with its evocation of the happiness and innocence of youth and the power of music to transport you. She closed with "Traveller's Prayer", one of the bonus tracks on the vinyl cut.
It was a stunning performance. Thoughtful, thought-provoking, consoling, and utterly involving.
One Night Lonely will be available for purchase as a download from 4 December. CD and vinyl will follow early in the new year.