County Lines review - a scary descent into drug-dealer purgatory |

reviews, news & interviews
County Lines review - a scary descent into drug-dealer purgatory
County Lines review - a scary descent into drug-dealer purgatory
How criminal gangs lure vulnerable children into their distribution rackets
Thursday, 03 December 2020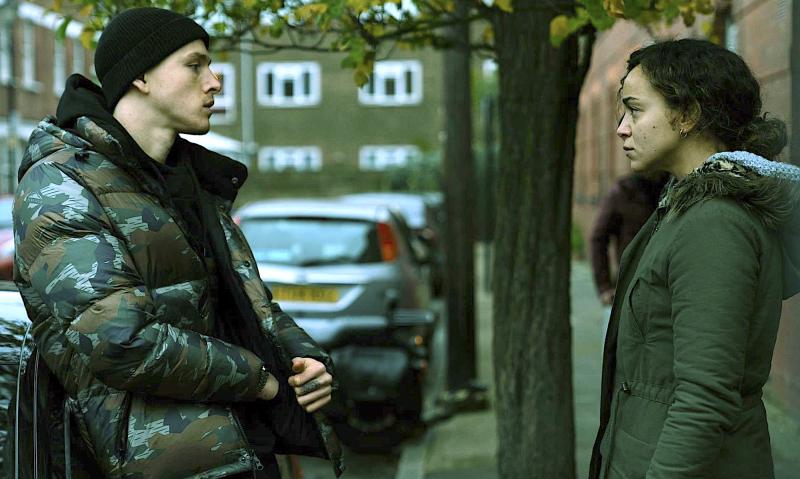 Deal or no deal: Simon (Harris Dickinson) and Toni (Ashley Madekwe)
This debut feature by writer/director Henry Blake is a shocking and remarkably assured drama about the "county lines" trade, where children are used as drug traffickers.
Using mobile phones, city-based
drug
dealers employ kids to ferry their product to rural areas or small towns, in this case Canvey Island and the Thames estuary.
Blake was inspired to make the film by his experiences as a youth worker in east London, working at a Pupil Referral Unit for problem children excluded from regular schools. He has assembled an impressive cast of young up-and-coming actors, with Conrad Khan (pictured below) shining especially brightly as 14-year-old Tyler. He lives with his single mother Toni (Ashley Madekwe) and his younger sister Aliyah (Tabitha Milne-Price), and his detached and sullen approach to his schoolwork is increasingly getting him into trouble. His mother works as a cleaner and is doing her best to keep her family together, though domestic stability is not enhanced by her bringing male companions home for the night to a flat with paper-thin walls.
Tyler's journey to the dark side begins fairly innocuously, when a bigger boy tries to steal his chips at the local halal chipshop (the location is a polyglot mixed-race area somewhere in west London). A burly young man at a nearby table rises ominously from his seat and chases the thief off the premises, and kindly offers Tyler a lift home, which he declines.
But this good samaritan, called Simon, is of course nothing of the kind. Tyler meets him again when he's parked near his home in a huge Mercedes saloon, and he takes Tyler out shopping for some new trainers. "What do you do?" Tyler asks, as they're eating burgers. "Entrepreneur," says Simon. "Someone who works for themselves. I'm the boss."
Simon sells the wide-eyed Tyler a line about the importance of self-reliance and being the man of the house, and it's not hard to understand the allure of apparently easy money to a troubled boy whose prospects look far from stellar. In short order, Tyler has been supplied with a bag of drugs, which he shoves painfully up his bottom. He takes a train ride out of town, and suddenly finds he's been transported to a new and hideous planet. He reports to the brutal Sadiq (Marcus Rutherford) at his squalid drugs den, where there are bloody needles and buzzing flies in the bathroom. When Sadiq brutally beats a pitiful junkie woman, Tyler's face vividly registers his shock as well as a glimmering of awareness of the hell he's stumbled into.
Blake meticulously leads us down the hard road which Tyler has to travel, though he takes enough pity on his viewers to leave us with a glimmer of hope that there can be a path to redemption. Grim and gruelling as the story sounds, the director has brought a delicate touch and a refined eye to his work. He confesses to an infatuation with the works of Rembrandt, and there are some moments of real cinematic beauty. When Tyler is lying comatose after being beaten up by a rival gang, the camera lingers over a scene of twilit grasses and marshland, with the rigging of small boats clinking in a chill breeze. Later, as he's recuperating, Tyler sits pensive and motionless, as specks of dust float around him in the soft blue-tinged light from the window. Harsh urban landscapes tell their own dialogue-free story. This movie should be a launch-pad for more than one career.
County Lines is released in cinemas and digitally on BFI Player and Curzon Home Cinema on 4 December.