Barnes' People, Original Theatre Company online review - intriguing quartet of monologues revived |

reviews, news & interviews
Barnes' People, Original Theatre Company online review - intriguing quartet of monologues revived
Barnes' People, Original Theatre Company online review - intriguing quartet of monologues revived
Jemma Redgrave and Adrian Scarborough excel in Peter Barnes radio solos brought to screen
Tuesday, 23 February 2021
Four's company: from left, Jon Culshaw with Billy, Matthew Kelly, Jemma Redgrave, Adrian Scarborough
The four monologues that make up Barnes' People were filmed in the grand surroundings of the Theatre Royal, Windsor, and that venue's atmospheric spaces (now deserted, of course) seem to tell a sad tale of their own, one that chimes rather appropriately with the mood of some of them.
Peter Barnes
wrote them for Radio Three in the
1980s
– the eponymous first series appeared at the beginning of that decade, its successor (
More Barnes' People
) towards its end – and they have now been lovingly developed by
Original Theatre Company
for these filmed adaptations, treated with what feels like unhurried care by their cast and directors Philip Franks and Charlotte Peters.
Their original radio incarnations – a total of 14 were broadcast in all – attracted a raft of stars that included Judi Dench and Jeremy Irons, drawn surely by the sheer quality of the writing: their screen successors clearly relish the material no less, as well as the chance to expand them in scale, while Barnes' mordant observation and exquisitely turned phrasing feel as beguiling as ever. Inevitably we approach them now through the prism of Talking Heads, the far better known example of the form that Alan Bennett was embarking on at about the same time. So how do they stand up to such comparisons?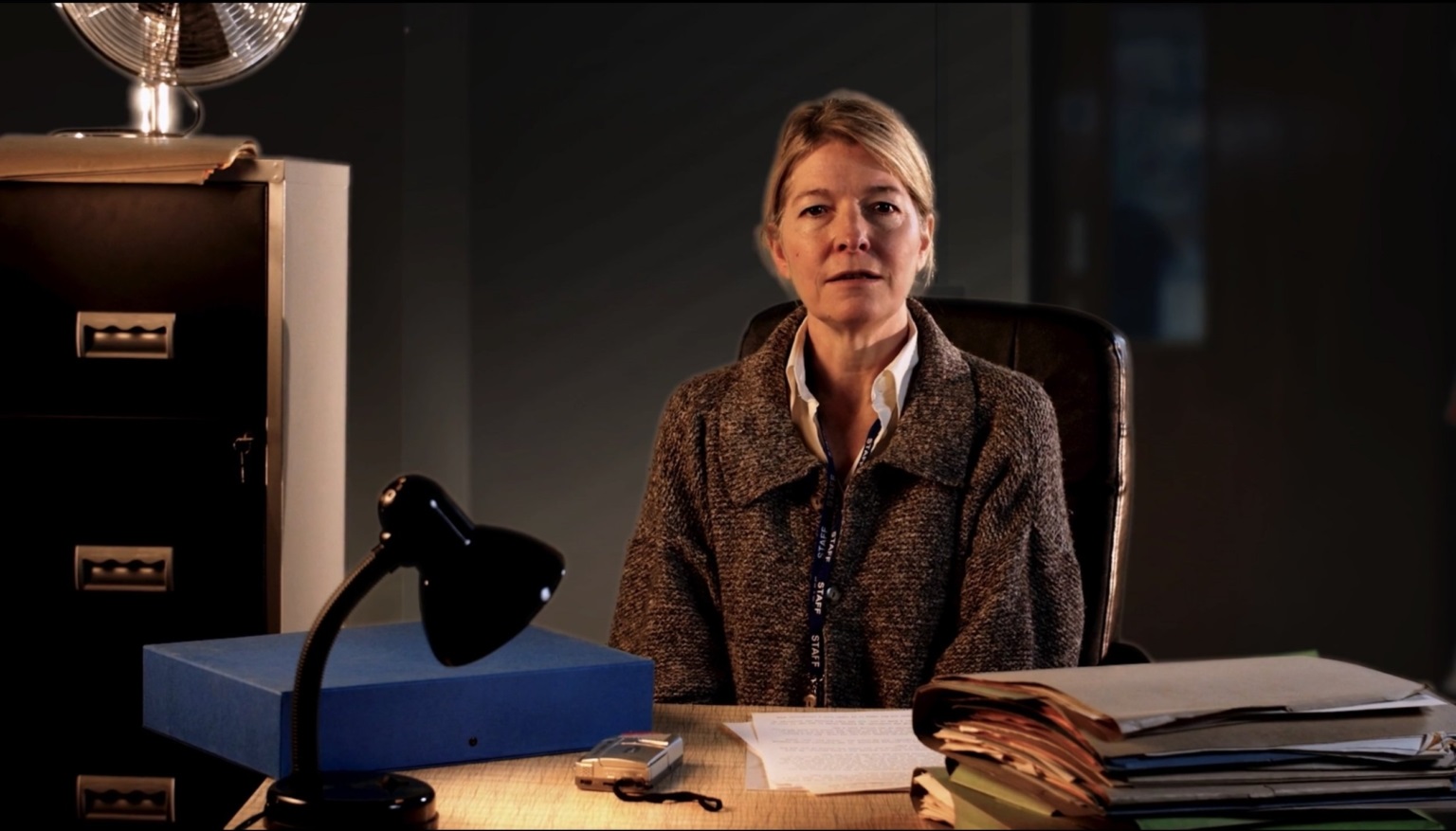 Generally favourably. The quartet on offer here divides loosely into two pairs, with two showing Barnes writing in the recognisable social context of Eighties London, and two which move in different directions. From the former, the standout is Rosa, with Jemma Redgrave (pictured above) performing the role originally voiced by Dench in 1981 as a disillusioned GP dictating reports to the local health authority about patients whom she is assigning to care homes. Despair speaks quietly here, but with real poignancy, the official flatness of her dictaphone voice never hiding the human pain behind each story.
This "grubby nightingale of the East End", once proud of her appetite for standing up to bureaucracy, is at the end of her tether ("the darkness has got it my head"). The neighbourhood of her East London practice feels "like it has been dismembered, and the dead pieces left around", while the options for the future available for its geriatric inhabitants are as depressingly limited as their expectations ("We've had our time – [we're] out of next winter, and these prices…": a whole world perfectly caught in a few words). The rest, we feel, is silence – but in Redgrave's performance, what an eloquent silence!
Rosa's way to deal with her "loss of pep" is the whisky bottle, and that's long become a remedy for Adams, in his time a doctor too, the hero of Losing Myself. The despair of this past professional, played by Matthew Kelly, is more personal rather than the result of any particular social ill, and it has brought him to a solitary vigil in a cemetery that, in a final gesture of misery, is itself shortly to be redeveloped in some property scheme symptomatic of the time. He is addressing the inhabitant of one particular plot whose gravestone records laconically "Died alone", his own solitude – "I don't say hello to many people" – speaking with special pathos in our current lockdown lives. Quietly devastating.
The sotto-voce mood of those two monologues is nicely captured by Max Pappenheim's sound design, with some oboe writing that counterpoints their expressive silences very well. There's a jauntier musical intro to Billy & Me, directed by Charlotte Peters, though Jon Culshaw's role as a ventriloquist down on his luck, evaluating the depression and past breakdowns that have seen him hospitalised, is hardly more upbeat ("natural lugubriousness" has been his usual state of mind). In all of these four monologues Barnes gives his characters a direct object of attention, and Culshaw's character is interacting here with his puppets, prime among them the rather uppity Little Billy Benton of the title. It's a trope that seems somehow over-familiar, however, and the writing feels the least original of the quartet.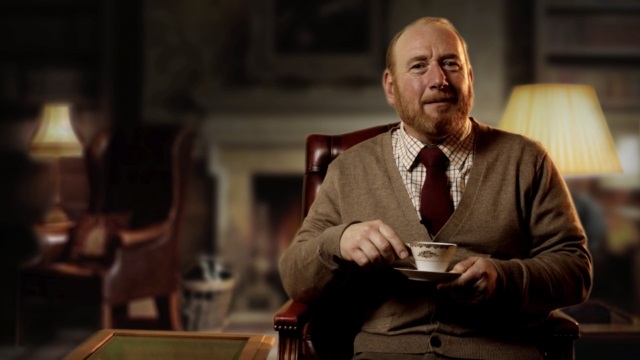 Which can't be said of True Born Englishman, at 30 minutes the longest of the four, and the only one never performed in the original radio run. Barnes's character is a Buckingham Palace footman remembering his career, an element that the BBC's then "royal liaison officer" – yes, there is such a position – clearly found undesirable ("It wasn't censored, the palace just preferred that it not be produced," the playwright's widow has remembered).
That original omission is compensated for in spades by its appearance here. It's a gem, one that feels rather different in tone from the other three: more of a self-contained monologue, it seems closer in tone to one of Bennett's Talking Heads. Adrian Scarborough (pictured above) gives a masterclass in facial expression (and Tristan Shepherd's close-up camerawork relishes every nuance) as he captures the self-satisfied pomposity of "plain Leslie Bray of Plumstead", who charts his rise through the ranks to become head footman and "keeper of the first door" (the exact responsibilities of that role are elucidated in meticulous detail). Barnes' writing wears its satire lightly but his modulations of phrasing can be devastating: to "share the joy of 25 years serving the Queen", Leslie rejoices in the Christmas gifts received by staff, "usually a small doily with the royal coat of arms". The playwright is close to the territory of his early stage hit The Ruling Class, with a rapier intonation of wit that is eminently satisfying. Jemma Redgrave shares the overall acting honours with Scarborough, but the latter's show is the highlight of this intriguing collection.