Mare of Easttown, Sky Atlantic review - Kate Winslet shines in finely-drawn Pennsylvania mystery |

reviews, news & interviews
Mare of Easttown, Sky Atlantic review - Kate Winslet shines in finely-drawn Pennsylvania mystery
Mare of Easttown, Sky Atlantic review - Kate Winslet shines in finely-drawn Pennsylvania mystery
Tangled secrets in a dirty old town
Julianne Nicholson as Lori, with Kate Winslet as Mare
Dark family dramas set in unglamorous, unprosperous communities in the north-east of the USA have become a genre unto themselves. One thinks here of the work of writers such as Kenneth Lonergan (Manchester by the Sea) and Dennis Lehane (Mystic River and Gone, Baby, Gone), and maybe Chuck Hogan and The Town for good measure.
New from HBO, Mare of Easttown (showing on Sky Atlantic) is a fine addition to this lineage, thanks to a superb and surprising lead performance from Kate Winslet and excellent work from the show's writer and creator Brad Ingelsby (who was screenwriter for Scott Cooper's Rust Belt requiem Out of the Furnace). As tradition requires, it's also bleak and downbeat, invariably shot in gloomy interiors or in dirty second-hand daylight.
Winslet plays the title character, police detective Mare Sheehan, who does her best to keep the scum off the streets of Easttown, Pennsylvania. But Easttown is a community whose roots are long and tangled, and invariably Mare finds her work is as much social work as policing. Elderly residents she's known for decades, like Betty Carroll, are apt to call Mare on her personal number rather than contacting the police department. As her new partner Detective Colin Zabel (Evan Peters) asks Mare, after learning that the local priest, Father Hastings, is her cousin, "Is there anybody here you're not related to?"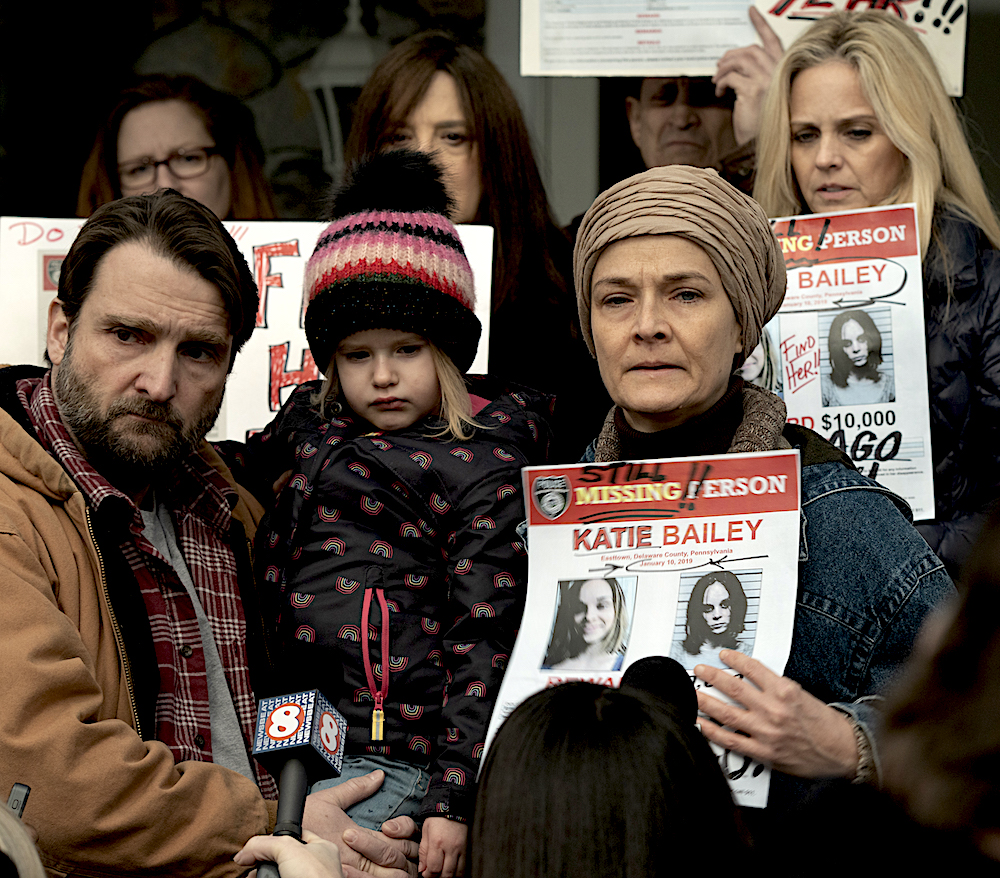 Thus, crimes tend to have a painfully personal ripple effect. As the story opens, Mare and the local cops are under fire for failing to have made any progress whatsoever in solving the disappearance of local girl Katie Bailey, who's been missing for a year and whose distraught mother keeps up the pressure by campaigning vigorously for the TV news cameras (pictured above). Worse is to follow, though, in the shape of the shooting of teenage single mother Erin McMenemin, last seen being viciously beaten up by the new girlfriend of Dylan, the father of her child. However, Mare's painstaking investigation – she's a gifted detective, even if her personal life looks like a squadron of bulldozers has driven through it – will find that the truth lies farther afield.
The claustrophobic connections and local tensions have been painstakingly drawn and intertwined by Ingelsby, and the writing is so full of sly little details that it would almost be worth studying the script on its own. A snarky little jibe about jumbo shrimp, for instance, speaks volumes about the relationship between Mare and her best friend Lori (Julianne Nicholson). The introduction of Richard Ryan (Guy Pearce), who's teaching a creative writing course at the local college, is the cue for some intensely wry writer jokes. He explains to Mare that his sole successful book, May's Landing, was turned into a TV movie in the '90s, "starring Jill Eikenberry". I can't explain why that's so funny (pictured below, Pearce and Winslet).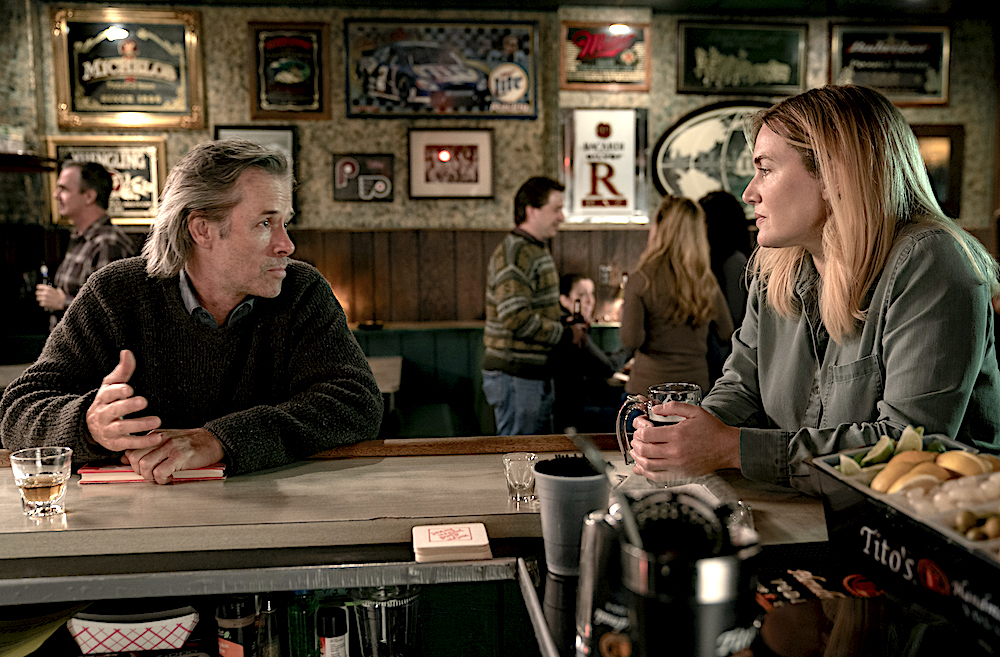 There's no shortage of darkness on the edge of town. While Erin's father has promptly taken justice into his own hands and tracked down Dylan with a gun, there's a suggestion that a local priest could be implicated in her murder. Then there's another whisper that Erin's child might not have been Dylan's after all, but was sired by Mare's ex-husband Frank (David Denman). Mare doesn't have to travel far to interrogate her ex, because he's moved into a house that backs onto hers with his new fiancee, Fay. You'd have to conclude that this is a guy with the emotional intelligence of a shipping container.
Daughter of a cop who killed himself, and mother of a son who recently did likewise, Mare is an emotional calamity, and the depiction of Ryan's tiptoeing attempts to negotiate her formidably prickly defensive layers is handled with great deftness. One of the few hopeful beacons on her horizon is her daughter Siobhan (Angourie Rice), who seems miraculously well organised and self-disciplined given everything that's been thrown at her. Winslet inhabits her role with a stunning completeness, right down to tiny inflections of dialect, like the way she says "a'rayt" like a local. Mare of Easttown might sometimes feel a bit slow, but just wait until you get to episode five.