Army of the Dead review - triumphant return to zombieland by director Zack Snyder |

reviews, news & interviews
Army of the Dead review - triumphant return to zombieland by director Zack Snyder
Army of the Dead review - triumphant return to zombieland by director Zack Snyder
Who knew battling the undead could be this much fun?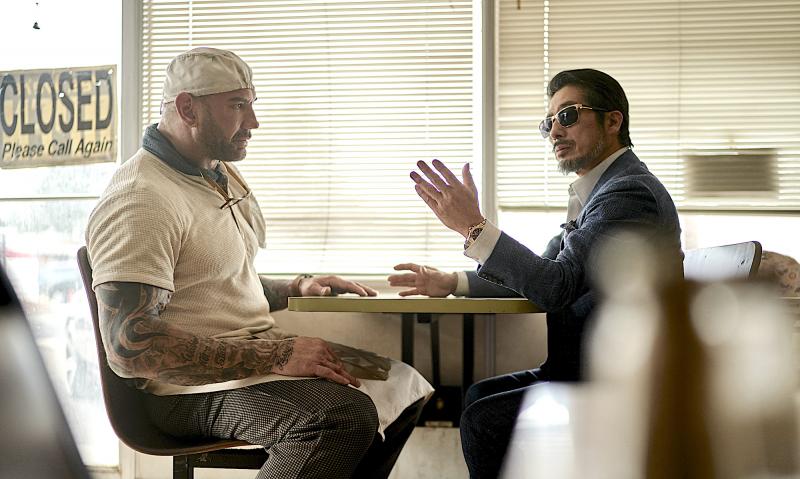 A simple in and out job: Dave Bautista as Scott Ward, Hiroyuki Sanada as Bly Tanaka
Zack Snyder's CV includes such fantastic fare as Watchmen, 300, Man of Steel and his career-launching zombie-fest Dawn of the Dead, so who better to helm a zombies-in-Vegas heist movie?
Army of the Dead
has suffered an interminable gestation, spending years in limbo with Warner Bros before being picked up by Netflix, but it's a riotous ride and was well worth waiting for. Even at two and half hours long.
It all kicks off when a US Army convoy ferrying a high-security cargo from the notorious Area 51 is involved in a road accident in Nevada. The cargo, a ferocious zombie, escapes, and infects a couple of soldiers, who carry the plague to Las Vegas. Upshot: after suffering the horrific zombie wars, the city has had to be quarantined and walled off (pictured below, flying zombie).
The military has laid plans to wipe out the zombie menace by nuking Vegas, but before it does so, casino owner Bly Tanaka hires Scott Ward (Dave Bautista), a veteran zombie-battler currently flipping burgers for a living, to take a team into Vegas to recover $200m from his subterranean casino vault. It's like Ocean's Eleven meets John Carpenter's Escape from New York.
Since Tanaka is offering him a cut of $50m, Ward has little trouble enlisting a rainbow coalition of weirdos, eccentrics and assorted specialists (eg ace helicopter pilot Marianne Peters, soldier and philosopher Vanderohe, safecracking genius Ludwig Dieter, hard-boiled Lilly aka The Coyote etc), all surprisingly sanguine about entering a devastated Vegas crawling with rabid "shamblers" or the rather more sophisticated "Alphas". Tanaka tells Ward the job will be "a simple in and out", a blatantly ludicrous assertion.
The mission duly turns out to be crammed with blood-gushing mayhem, flying body parts and various fiendish twists, but while the kill ratio is off the scale and many of the special effects utterly disgusting, it's all handled with tongue-in-cheek panache. A glimpse of Vegas before it became a wasteland of bomb-cratered ruins and incinerated corpses affords Snyder scope for a wicked parody of Liberace, a dose of Elvis's "Suspicious Minds" and a spectacularly cheesy MOR version of "Viva Las Vegas". Droll cover versions of tunes like "Bad Moon Rising" and a dreamy pop treatment of The Doors' "The End" lend a running commentary to the action, while Snyder's casting choices almost all prove to be inspired.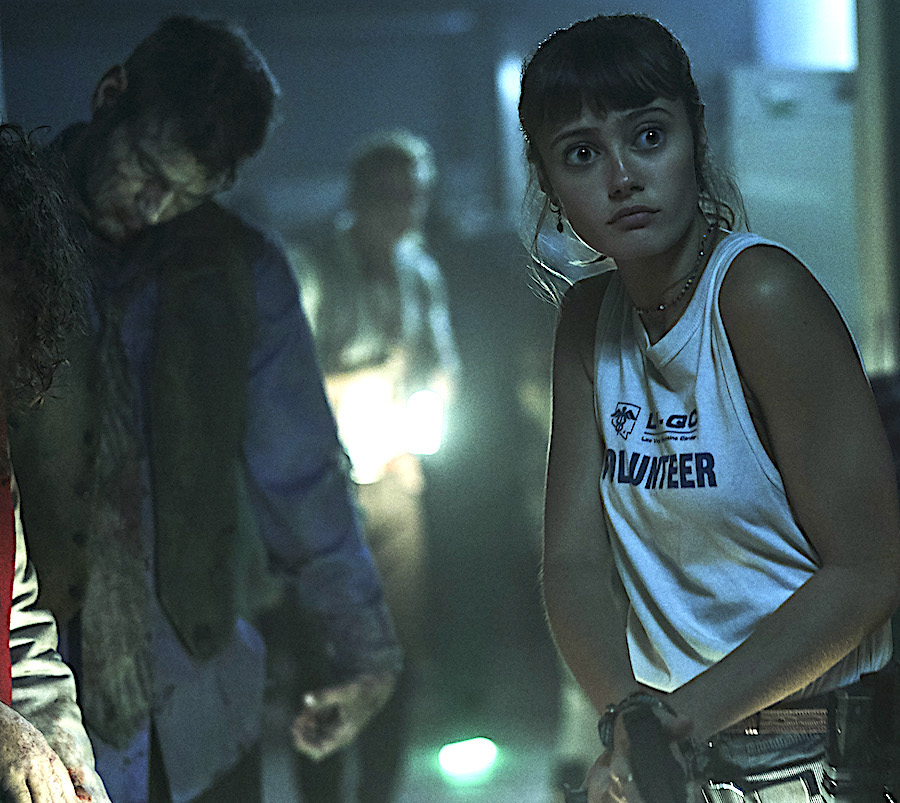 The muscly, tattooed Bautista looks like an enormous thug, but hey, he's a man who has known sorrow (he had to kill his zombified wife, for instance) and is desperate to re-establish contact with his estranged daughter Kate (Ella Purnell, pictured right with zombies). Maybe he can find love again with Maria (Ana de la Reguera), if they can get out of their mission alive. Will Peters (Tig Notaro) manage to fix a busted-up old helicopter to fly them out? Will Dieter (Matthias Schweighöfer) be able to "open what cannot be opened" and get them into the vault called the Götterdämmerung?
Among their massed adversaries are a grotesque zombie tiger called Valentine and zombieland's royal couple Zeus (Richard Cetrone) and his queen (Athena Perample), who add a tincture of gothic tragedy, even if some of their undead contortions are too Cirque du Soleil for comfort. There's a very droll scene where a captured zombie is used to trigger the vault's booby-traps.
Needless to say, Ward's dogged troupe also learn the hard way to trust nobody. Tantalisingly, the ending leaves several plot possibilities wide open, and Snyder is hard at work on assorted prequels and spin-offs. Expect much more where this came from.