The Walking Dead: Series Finale, FX |

reviews, news & interviews
The Walking Dead: Series Finale, FX
The Walking Dead: Series Finale, FX
Plucky band of survivors battle zombies, existential dread and ludicrous prosthetics
Saturday, 11 December 2010
The 'Walking Dead' cast share a joke at the Series One wrap party
Now that The Walking Dead has been nominated for a Writers Guild of America award for Best New Series, executive producer Frank Darabont and his team must be ruing the fact that series one comprised only six episodes. A 13-part second season will probably air next October, by when its halo of success may have dimmed significantly.
Having greeted the opening episode with scepticism, I heroically stuck with it, and I feel partially rewarded. The biggest surprise has been Andrew Lincoln's performance as Deputy Rick Grimes, which has allowed him to emerge as an actor reborn, as if Love Actually and This Life never happened (if only). Wearing his uniform with attitude and wielding a convincing southern accent, Lincoln has successfully imbued Grimes with something very like grace under pressure (Hemingway's definition of "guts").
He has emerged as the de facto leader of the show's lost and scared bunch of survivors, perpetually in fear of encountering shambling packs of zombies and never knowing where the next meal or teaspoonful of gasoline might come from. When his companions fall prey to panic attacks or outbursts of irrational violence, it's Grimes who can be relied upon to step in with a calming word or, when required, an admonitory gun-muzzle in the ear. Lincoln's trick has been to suggest reserves of inner strength without resorting to macho grandstanding, which he can safely leave to crossbow-wielding survivalist Daryl Dixon (Norman Reedus).
Plaudits too for Jeffrey DeMunn as Dale, the whiskery older guy whose seniority in years has given him a correspondingly calmer perspective, and Laurie Holden's Andrea, who was propelled front and centre in the last couple of episodes by the grim zombified death of her sister Amy. In last night's closer, she'd run smack into a wall of hopelessness and grief: "Everything's gone. It's over. There's nothing left." Only Dale's bold bluff-calling saved her from being obliterated as Atlanta's Centre for Disease Control went into computer-driven auto-destruction (how to train your zombie, pictured below).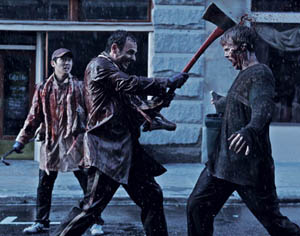 Can't say I'm overwhelmed by Sarah Wayne Callies's performance as Rick's wife Lori, though I suppose her neurotic eyeball-rolling may be excusable since she's trying to cope not only with the end of the world, but also with her infidelity with her husband's cop-buddy Shane (Jon Bernthal). She only did it because Shane had told her Rick was dead (or so she keeps saying), but the frustrated Shane tried to rape her last night, so that's another ticking plot-bomb waiting to be addressed.
The Halloween trick-or-treat quality of the zombies remains risible, a disastrous misjudgement in a series which is built around them, and the idea of a crowd of rotting corpses taking over the world is chronically idiotic. But at least Darabont's team have had the sense to use them sparingly, developing the interactions between the survivors and reserving the ghouls for sudden interventions. The surprise attack in episode four, as Rick and co relaxed round the campfire, was authentically shocking (Andrew Lincoln as Rick Grimes, pictured below).
Yet while the production is capable of projecting a chilling sense of doom and foreboding, it still feels as if it's searching for its rhythm, which made a news story about Darabont sacking all his writers (subsequently denied) seem all too plausible. Last night's opening flashback to how Rick came to be abandoned in hospital while the zombie apocalypse raged around him was vivid and intense, but throwing it in as a pre-credit sequence five episodes later smacked of editorial chaos. The rest of the piece concerned the group's hopeful arrival at Atlanta's Disease Control building, where they were greeted by solitary scientist Dr Edwin Jenner (Noah Emmerich) in a state of suicidal depression. He was able to state authoritatively that nobody knew what turns people into zombies and that there was no prospect of a cure, which turned the scenario into a lengthy dead end.
The revelation that Test Subject 19, whose brain scans and descent into zombiehood we saw on a giant computer screen, had been Jenner's wife was supposedly an emotion-wringing moment, but there's been such an avalanche of death and flesh-eating grossness that this one barely registered.
We left the survivors back on the road, to the accompaniment of Bob Dylan's "Tomorrow is a Long Time". Who knows where they're heading - Lincoln County Road or Armageddon?
Watch a clip from the series finale of The Walking Dead