Reissue CDs Weekly: Dungen - Stadsvandringar |

reviews, news & interviews
Reissue CDs Weekly: Dungen - Stadsvandringar
Reissue CDs Weekly: Dungen - Stadsvandringar
The Swedish sonic adventurer's second album resurfaces under the new title 'II'
The new version of Dungen's 'Stadsvandringar' places frontman/songwriter Gustav Estjes centre stage
Dungen's October 2005 appearance on Late Night With Conan O'Brien was incongruous. Here was a Swedish band on an independent label, singing in their native language, playing live on coast-to-coast mainstream US TV. The show's host making a great play in his intro of trying to pronounce their name compounded the sense that this was a band of outsiders which had been mistakenly invited to the banquet.
The
frazzled
song they played was "Panda", from their recent third album
Ta det lugnt
.
This wasn't their first brush with the mainstream. Three years earlier, their also-independently issued second album 2 was picked up by the Swedish Virgin subsidiary Dolores Recordings and reissued on CD – with an altered track list and the new title Stadsvandringar. Three years on, it was released in the US by the faux-indie Universal imprint Astralwerks. In contrast that same year, the US edition of Ta det lugnt arrived on Kemado Records, an independent-for-real label.
After the brushes with Virgin and Astralwerks, Dungen kept away from the corporate world. When Stadsvandringar appeared, the band were entreated to do what the label said. That wasn't their style and Ta det lugnt was as independent as it could be. What happened over 2002 to 2005 informed how Dungen subsequently approached the music biz.
Now, what was on both 2 and Stadsvandringar has returned as II with all the tracks brought together on vinyl. "Ät det som växer", previously only on the CD of Stadsvandringar, is included. This fresh version comes with a different sleeve (pictured right) to 2 and Stadsvandringar: in 2002 each had the same cover image but with altered wording (pictured below left). Frontman/songwriter Gustav Estjes is placed centre stage on the new cover, implying it's his show. There are no liner notes or annotation. For so significant an album, this is remiss. As there're now three titles, Stadsvandringar is used here for convenience.
Although Stadsvandringar is less hard-edged than Ta det lugnt, it's also about the songs and is as strong an album. The folk elements which were more to the fore on their tentative 2001 debut album – which also opened with a track titled "Stadsvandringar": not the same track as on the album of the same name – are melded with the whole more cohesively. One listen to the mind-boggling "Sol och regn", the beautiful "Natten blir dag" and the powerful "Vem vaktar lejonen" is all that's needed to be seduced.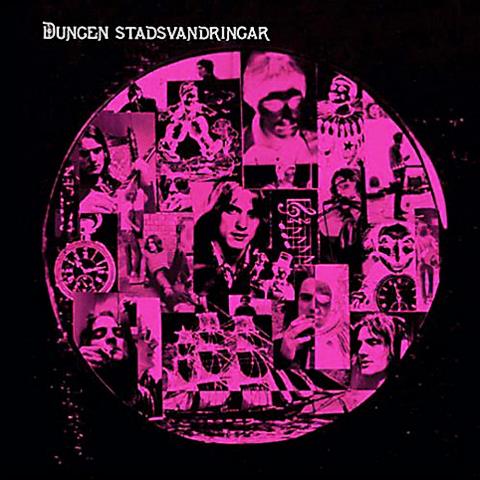 In any form, Stadsvandringar is essential. This is where Sweden's progg music (not prog rock) was recast, around 30 years after it had begun fading away. Nowadays, Dungen guitarist Reine Fiske plays with the current incarnation of original progg titans Träd, Gräs och Stenar. However Dungen's second album is titled, it was and is part of a continuum.
This aspect is further stressed by "Solen stiger upp 1 & 2", "Fest" and "Vem vaktar lejonen" – and, in due course, the whole of Ta det lugnt. Without these, the InnerSpeaker-era Tame Impala could not have existed.
Fast forward to April 2015 and Conan O'Brien had no problem pronouncing Tame Impala's name as they debuted on his show. The overt nods to Dungen were behind them, but without the inspiration it's unlikely they would have had such a platform. With the 2002 release of the album now retitled II, a door was opened. Tame Impala dived through, grabbed what Dungen had created and ran with it for a while. Dungen though continued ploughing their own idiosyncratic path.
Next week: Regimental Sgt. Zippo – Elton John tackles the psychedelic era
The 'InnerSpeaker'-era Tame Impala could not have existed without Dungen
Share this article