Ivan the Terrible, Grange Park Opera review - from tsar to Stalin in five lopsided scenes |

reviews, news & interviews
Ivan the Terrible, Grange Park Opera review - from tsar to Stalin in five lopsided scenes
Ivan the Terrible, Grange Park Opera review - from tsar to Stalin in five lopsided scenes
David Pountney's fusion of two Rimsky-Korsakov cod-history lessons leaps the centuries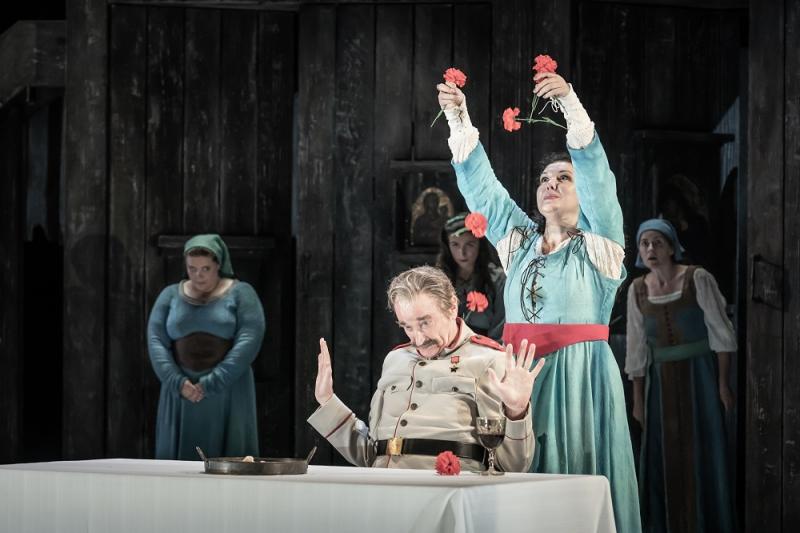 Olga, the 'Maid of Pskov' (Evalina Dobracheva), hails Ivan/Stalin (Clive Bayley)
All 15 of Rimsky-Korsakov's operas deserve to be seen and heard live at least once, though not all of them need staging.
Veteran director David Pountney's bold choice for Grange Park Opera actually gives us two, a prologue reworked as music-drama and the action of 15 years later, exclusive subject of the original and final versions of his first opera; for this
Russian
-opera trainspotter, that leaves only two more to tick off the list –
Pan Voyevoda
and
Servilia
(fine music, fusty ancient Roman plot). The dramaturgy of what's known here as
Ivan the Terrible
is peculiar, the action lopsided, but it's right to have a very long first half in order to reach the first climax – and the production's main coup (there's no getting away from this spoiler), which is that a ruler appearing in the robes of Ivan familiar from Eisenstein's film discards them and steps forward as - Stalin.
Ah, you think, so that's why we've sat through three and a half scenes of singers making stilted gestures in Olde Russian costumes. Ivan/Iosif is the only real character, though his long-lost illegitimate daughter Olga is allowed to join him in 1940s apparel (making her into Stalin's famous offspring Svetlana Alliluyeva) in a very touching final confrontation. Francis O'Connor's wooden set, rather ungainly in movement, adds to the old-fashionedness, though it does allow half of the chorus to remain socially distanced on the upper levels. And what a crucially splendid chorus it is (pictured below), 24-strong like each of the two Garsington equivalents, and like them, full of brilliant young singers who also take smaller roles with aplomb. Given the equally fine Gascoigne Orchestra under experienced conductor Mikhail Tatarnikov and the top-level principals, you need to remind yourself constantly where you are – namely in a theatre of astonishingly fine quality for its location, sparing of opulence but perfect in acoustics for both orchestra, singers and the balance between them (all that wood helps).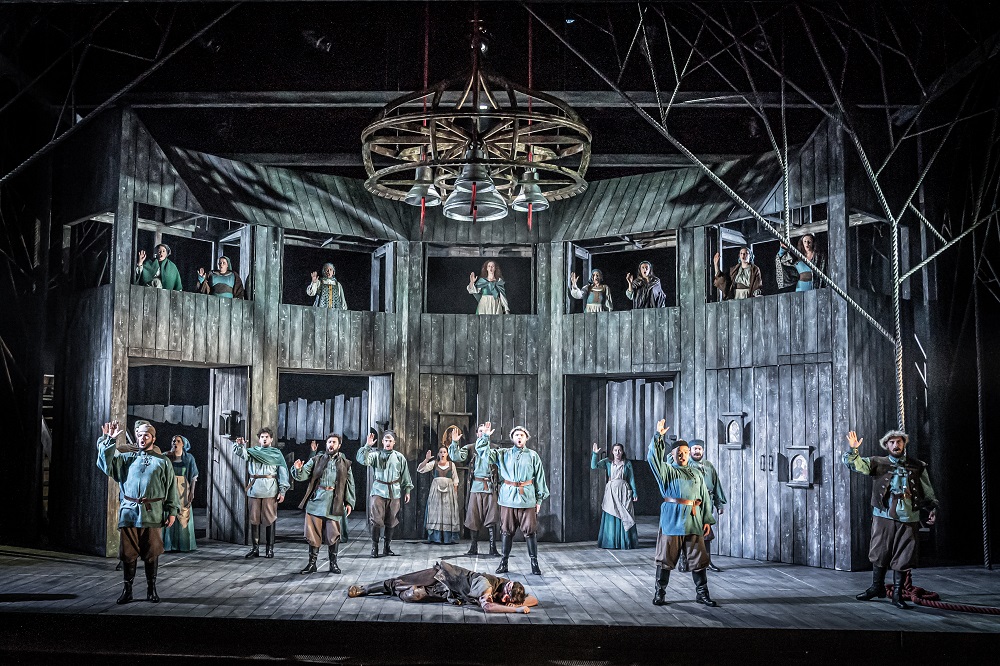 Russian soprano Evelina Dobracheva, sounding at times like Galina Vishnevskaya in her younger glory, making sounds at first plaintive-youthful and later powerful, sings both the smitten Vera Sheloga, willingly seduced by Ivan while her husband is away on campaign, and her daughter Olga, the "Maid of Pskov" who gives her name to the bigger opera (Pskovityanka). As she's identically dressed, it may take a while for some audience members to twig the time-lapse and the different character, When, incidentally, The Boyarina Vera Sheloga was presented together with The Maid of Pskov at Moscow's Bolshoy Theatre in 1900, the same soprano also sang both roles. Rimsky-Korsakov's amanuensis Vasily Yastrebtsev noted that the 'intimate' mini-opera should be performed with Rimsky-Korsakov's other miniature, Mozart and Salieri at the Maly (Small) Theatre: "in any case, it ought not to be given with such a large-scale, sweeping folk drama as The Maid of Pskov." Grange Park Opera's Theatre in the Woods is a perfect halfway house, though curiously the Prologue sounds more old-fashioned and the overture to the bigger opera, highly original even in 1873, makes a bold new impression in which Tatarnikov and his orchestra play their part. Though the facts aren't given in the programme, I'm assuming that both final versions are being used here, though the orchestral forces have had to be reduced (it doesn't sound like it).
Until Ivan's appearance – Chaliapin sang the role from the 1890s onward alongside that of Musorgsky's Boris Godunov – the male principals make little impact. The role of Tucha, Olga's beloved and leader of the Pskov insurgents against Ivan, has proper semi-heldentorish weight from Carl Tanner. David Shipley as Pskov Mayor and Olga's foster-father Tokmakov has presence but needs more support in the upper register. Adrian Thompson, still sounding bright and clear, hams it up as the token villain Matuta. But there's no denying Clive Bayley's authority when Ivan arrives in Pskov fresh from trashing Novgorod. Like most late-maturing basses, he's truly in his prime vocally now, and manages to make a more nuanced impression of Stalin than Mikhail Gelovani's many wooden impersonations in the hagiocinematic tributes to the Beloved Leader and Teacher in the 1940s and early 50s (try the end of The Fall of Berlin for a grim laugh).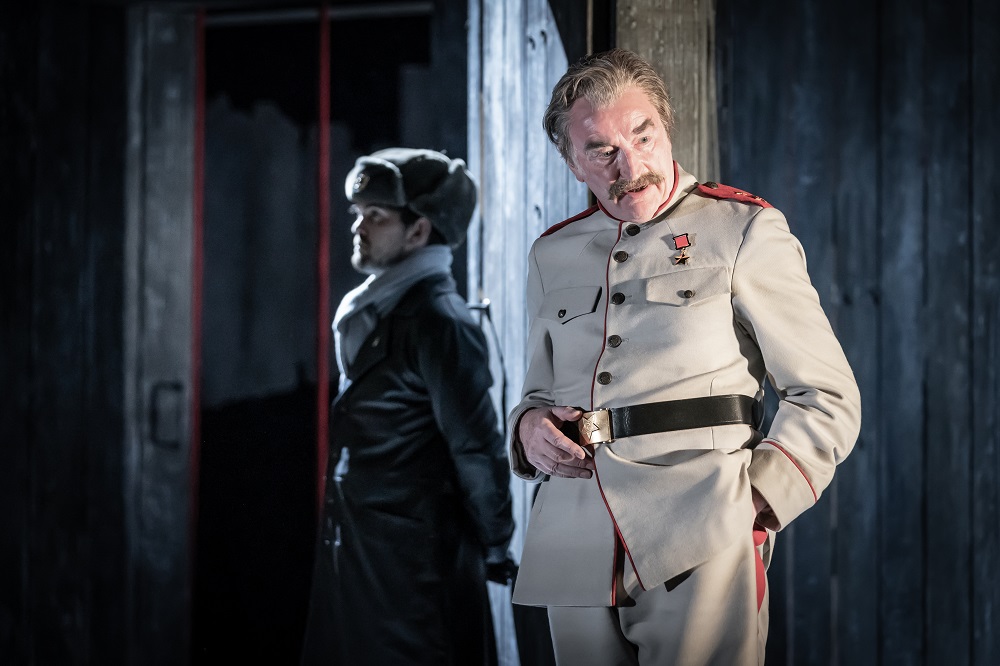 The pastiche of Eisenstein's Ivan the Terrible he's shown at the beginning of Act 3, focusing – as Eisenstein did not – on the Tsar's putative murder of his own son, depicted so unforgettably in the painting by Repin – fits the orchestra's turbulent "musical picture" but is less than convincing, provoking mirth rather than fear. The rest of the production then rises to the finest music in the opera: the lovely duet between Olga and Tucha lilts in the unusual metre of 5/4, introduced by Glinka back in the 1830s, and the final developments of the Tsar's fine leitmotiv – equal to what Musorgsky does with Boris Godunov's themes in the opera on which he was working when he and Korsakov shared an apartment in the late 1860s – is matched by the beauty of Olga's prayerful response. Pountney isn't just grafting on the Stalin strand for shock effect: the debates on whether Ivan's cruelty justfies his role as "shepherd of a single flock" raise an issue which, as Pountney points out in his programme note, continues in Russia to this day. The ambiguity also manages partly to draw attention away from the libretto's assumption that male might over delicate women is something to be taken for granted.
Even the perfunctory denouement works as a seemingly deliberate gesture on Ivan/Stalin's part, followed by a state funeral. If you're prepared for some shortcomings but plenty of musical rewards and want to catch a rarity that can't be done on the cheap, head down to West Horsley and catch this while you can; at the time of writing, there are still some tickets available.