The Snow Maiden, Opera North |

reviews, news & interviews
The Snow Maiden, Opera North
The Snow Maiden, Opera North
Rimsky-Korsakov's glorious score, or most of it, receives its fair share of magic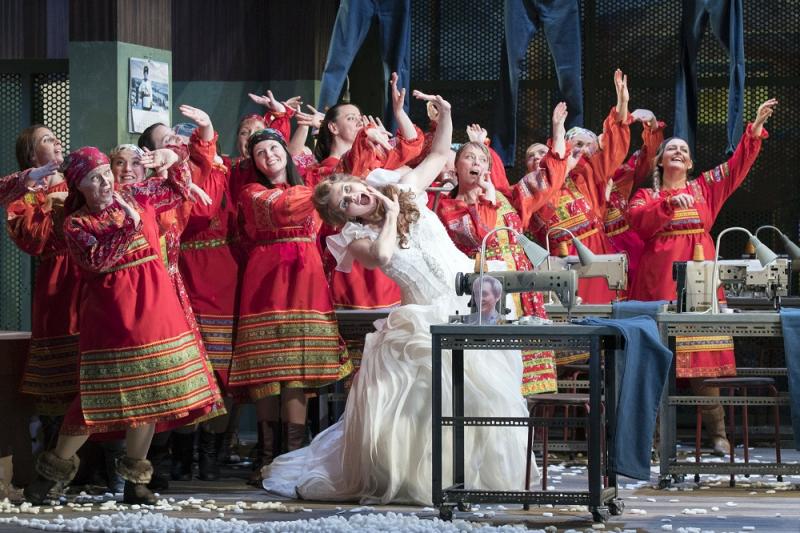 Scene-stealer: Elin Pritchard as wild girl Kupava
Late January, and the soul longs for winter's end. Which is why Rimsky-Korsakov's bittersweet fairy story about the fragile daughter of Spring and Frost whose heart will melt when she discovers true love, allowing the sun to bring back warmth to earth, is so apt. Unfortunately the time of year is also one for striking singers down, so we missed two of the principals on Saturday night.
The good news: their covers were fine enough to carry the charm of director John Fulljames's mostly magical storytelling.
It's not easy, given the plot's meanderings, even with major cuts that lop off some of Rimsy-Korsakov's best music. Two of the seven major characters don't turn up until some way into Scene Two, and a third not until Scene Three (daringly placed before the interval here in a long first half). And these are the ones who really ignite the drama, which extends a simple folk tale into a love-melee, complete with delicious musical heartache, in which A loves B who loves C who loves D.
Elin Pritchard's archetypal blowsy Russian maiden-no-more Kupava is the stand-out, a bundle of squeals and foot-stamping whose acting almost conceals what a consummate soprano she is (the phrasing of her narrative before the ruler of the mythical kingdom, served by splendid breath control, is outstanding). I'll bet she was a terrific Musetta for Opera Holland Park. Philip Rhodes as the fickle object of her affections, Mizgir – whom we have charitably to assume is bewitched the moment he claps eyes on the supernatural Snow Maiden – has similar presence, a virile baritone who fills his boots to perfection. Ivan Sharpe, replacing senior tenor Bonaventura Bottone as the benevolent Tsar Berendey, enchants in the lovely aria with cello obbligato, one of at least half a dozen gems in this often inspired score.
The magical set-up is achieved more by Giles Cadle's sets, Christina Cunningham's costumes and Will Duke's appropriately Russian-folk-fabric video projections than by the otherworldly creatures of the Prologue (scene with Yvonne Howard's Spring pictured above). Fulljames, in the best production of his I've seen, manages to have his cake and eat it, setting the whole thing in a garment factory – a Russian rural room which seems far from a sweatshop – and letting the charm take over when one of the girls daydreams her way into the role of Snow Maiden (Snegurochka, to give her her Russian name; "Snow Princess" is used in the text).
Daisy Brown, taking over from Aoife Miskelly on Saturday night, was pretty as a picture, convincingly bewildered throughout, though with her voice-type one runs into the first of the problems with non-Russian casting: the role calls for a sweet, bright soprano, but one which develops forcefulness as the virginal nature-creature discovers her humanity. Brown was hard pushed to rise to the challenges of the last act especially, but how grateful we are to her that she made the show go on so well.
More surprising, Yvonne Howard's Spring turned out – unlike the dependable bass James Cresswell as her old, cold lover – to be a little subdued. We've got too used, perhaps, to the type of fruity Russian mezzo with contralto undertones you hear in Irina Arkhipova, the peerless exponent of the role in the only good recording. Arkhipova also doubles the part of Lel, the randy shepherd boy. Timbre-wise, Heather Lowe is no match for Ekaterina Semenchuk in her chrysalis days, a superlative Lel for Gergiev in a Kirov concert performance at the Royal Opera. It's still a lovely, if soft-grained, sound, and Lowe pulls off the difficult feat of being utterly convincing as a handsome jack-the-lad (pictured below with Pritchard's Kupava). Inevitably Alasdair Middleton's "new English version", treading a fine line between folksy couplets and more than a smattering of contemporary colloquialisms, tends to make the faster patter sound like Gilbert and Sullivan (not necessarily a negative). Cameos from Joseph Shovelton, Claire Pascoe and Dean Robinson are executed with a light touch.
This is a great opera for the chorus in its multiplicity of seasonal Russian folk numbers (ENO, please take note), and Opera North's crew eventually rise to the challenge, though they're a bit subdued in their first ritual. Blame that, perhaps, on Lucy Hind's rather faint choreography – admittedly she has no dancers to work with – and on Leo McFall's conducting. Spruce and mostly reliable, he shows little feeling for what should be the more expansive lyricism in the score, and not enough pre-Stravinskyan vitality (note how much the very end of The Firebird owes to the amazing final ensemble in 11/4 time).
What a shame, too, to lose some of the quirkier music like the little oddity for Tsar Berendey's court, inspiration for Prokofiev's March in The Love for Three Oranges, and some of the later music where the Puck-like Wood Sprite leads Mizgir round and about. The final act survives more or less intact, which is just as well because it's one of the most consistently inspired in all Russian opera. Here you really do get the feeling that the company has honoured fragile Snegurochka and bigged up her reputation for other houses, with any luck, to adopt in seasons to come.
Elin Pritchard's Kupava is a bundle of squeals and foot-stamping whose acting almost conceals what a consummate soprano she is
rating
Explore topics
Share this article