Jette Parker Young Artists Summer Performance, Royal Opera review – breathtaking young talent |

reviews, news & interviews
Jette Parker Young Artists Summer Performance, Royal Opera review – breathtaking young talent
Jette Parker Young Artists Summer Performance, Royal Opera review – breathtaking young talent
Nine superb voices, with varying degrees of polish, in four operatic scenes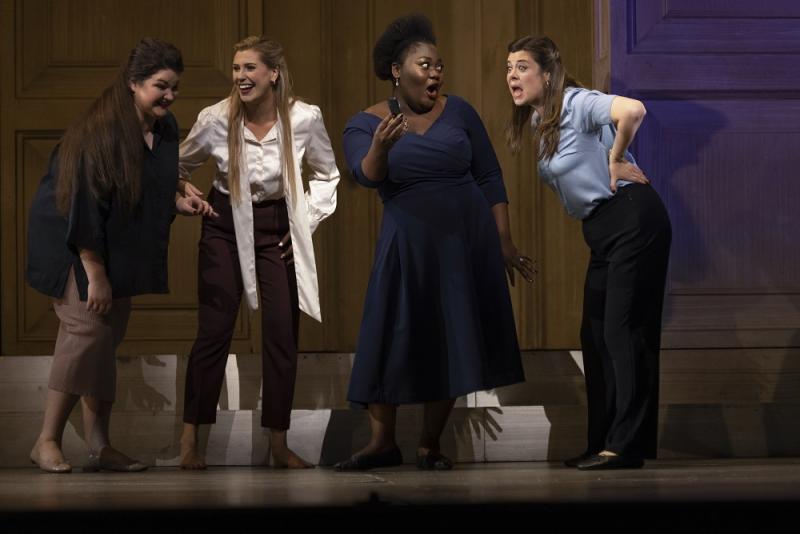 Witty young women of Windsor: Kseniia Nikolaieva, Alexandra Lowe, Masabane Cecilia Rangwanash and Stephanie Wake-Edwards in Act One Scene Two of Verdi's 'Falstaff'
Instant sell-out would have been guaranteed if the Royal Opera had advertised this as "Cardiff Singer of the World finalist Masabane and fellow Young Artists". No doubt about it, South African soprano Masabane Cecilia Rangwanasha is indeed the most polished performer, crying out star quality in every move and note.
But that's not the point. These singers have bonded through a difficult year or two, and they all have so much to offer, if also in some cases some way to go.
The Royal Opera mentoring culminated on Saturday afternoon in a showcase of operatic scenes where they got to work with supreme Verdian Mark Elder, as well as totally accomplished JPYAP trainee conductor Michael Papadopoulos and the equally impressive house musician Richard Hetherington. JPYAP producer Isabelle Kettle had the difficult task of trying to connect the four scenes on Es Devlin's elaborate house/palace set for the Royal Opera Don Giovanni; although the running up and downstairs usually proved not so well timed, there was one neat carry-over from Verdi to Donizetti (the king's relationship with Eboli more than implied in Italian Renaissance court intrigue) and the levels worked well for the climactic comedy number.
You only dare to stage any scene from Don Carlos, arguably the richest of all Verdi's operas, if you know you have the singers to do it justice. And on Sunday they did, though a weighty mezzo-contralto voice like Kseniia Nikolaieva's wasn't the right choice for Princess Eboli's Veil Song; only a singer who can manage the French-style ornamentations should be cast in the role, heavier though it gets in later scenes. Enter Rangwanasha as Queen Élisabeth, regal, riveting, every phrase beautifully coloured and shaped, all perfect signs for one of her first roles with the Staatsoper Bern, the company of which she joins this coming season.
Rangwanasha's French is amazingly good, too. It's not quite so idiomatic from Andrés Presno as this Élisabeth's stepson and love, Don Carlos, though he has all the plangency and the ring in the voice needed. And Gyula Nagy, a former JPYAP protégé joining to make up the company, is that rare species, the real Verdi baritone, but it seems that years of training haven't loosened him up physically. The biggest change I've witnessed has been in Congo-born, Ukraine-trained Blaise Malaba. His is a bass voice of huge promise, rough at the edges when he joined the programme, now up to the mark as an imposing Philip II. His further progress will be fascinating to watch (Malaba and Nagy pictured above).
Two real stage animals followed, Filipe Manu as Lucrezia Borgia's son Gennaro and Stephanie Wake-Edwards in Donizetti's trousers role of Matteo Orsini, here ostensibly Elisabeth's lady-in-waiting exiled in the previous scene (the two pictured below). Wake-Edwards should have taken precedence for the Cardiff final over the actual English choice; her choice of repertoire had been more interesting. She should be a good Eboli before long, too.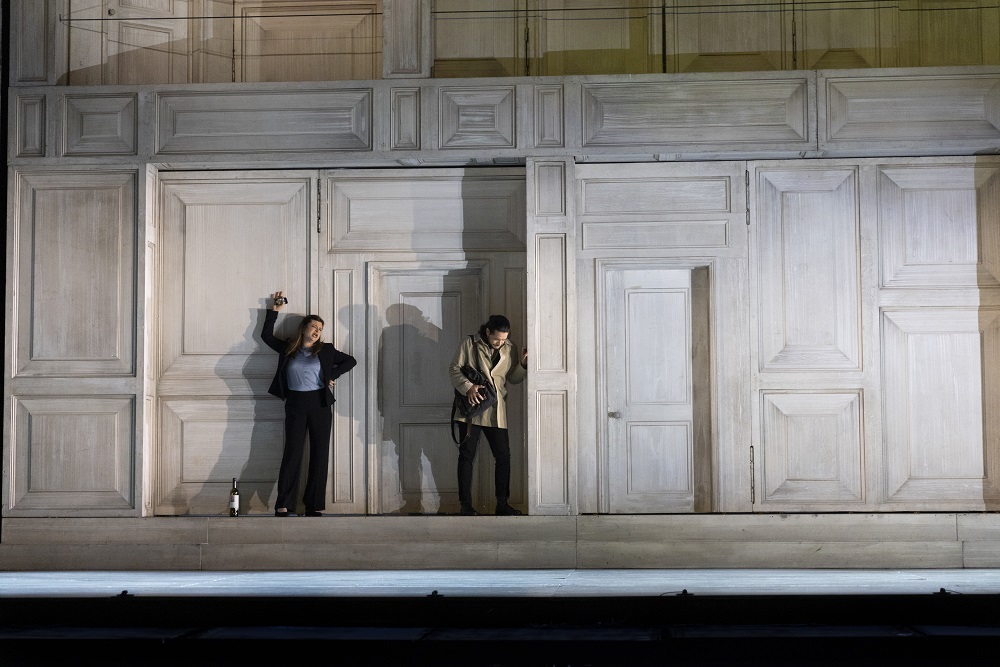 Manu has been a consistent stand-out – attractive, engagingly physical, vocally fearless, though he might like to hang on to future top notes just a little less long in future. Anyway, there was no sense of sadness here, only tentative comedy moves suggested by Kettle. The panache was the thing; both artists have it in spades, and Papadopoulos got the orchestra to support them to the hilt.
Tenderness flourished in the Balcony Scene from Romeo and Juliet as reworked – to words somewhat less poetic than Shakespeare's – by Gounod. Alexandra Lowe is a lyric soprano who should be welcomed by opera houses all over the world; if she could find a few different colours in the voice, she'd be perfect. Egor Zhuravskii, who up to this point had had less of a look-in than his fellow tenors on the programme, seemed ideally relaxed in character, and working with the orchestra as beautifully kept down by Hetherington created the most purely magical moment of the showcase as Romeo wishes the now-departed Juliet sweet dreams (Lowe and Zhuravskii pictured below).
Surely the JPYAP has been wanting to put on Act One Scene Two of Verdi's Falstaff for years, so perfectly does it test the singers as a group; although it's a bit like Hamlet without the ghost, it remains, surely, the best operatic comedy ensemble scene ever. Nobody disappointed, though the women had the edge in togetherness at a fast pace. How delicious to have Wake-Edwards' low note echoed by one lower from Nikolaieva; what frissons again from the largesse of Rangwansha's Alice Ford. I'd like a slightly fleeter pace than Elder's for the young lovers' music, but again Lowe and Manu nailed it. Laughs all round, glasses of champagne raised: we wish all these young people the very best in difficult times. You can watch the results online from 22 July.
Enter Rangwanasha as Queen Elisabeth, regal, riveting, every phrase beautifully coloured and shaped
rating
Explore topics
Share this article