Reissue CDs Weekly: Chris Barber - A Trailblazer's Legacy |

reviews, news & interviews
Reissue CDs Weekly: Chris Barber - A Trailblazer's Legacy
Reissue CDs Weekly: Chris Barber - A Trailblazer's Legacy
Fond box-set tribute to the significant British blues and jazz visionary
Chris Barber: he stayed true to his inspirations
The book included with this splendid box set dedicated to British jazz innovator Chris Barber includes a series of quotes paying tribute to his standing. Billy Bragg says "Chris Barber's influence on British popular music, be it through playing jazz, creating skiffle or promoting R&B, has been immense.
His role in inspiring the world-beating British groups of the
1960s
cannot be overestimated."
Van Morrison declares "It is very apparent to the critical observer that all roads lead to Chris, from the skiffle with Donegan period, through Big Bill Broonzy, Sonny and Brownie and the electrifying Muddy Waters and Sister Rosetta Tharpe. He is the pivotal player in the game of British blues, jazz and skiffle whose blues offshoots strongly influenced the American scene also."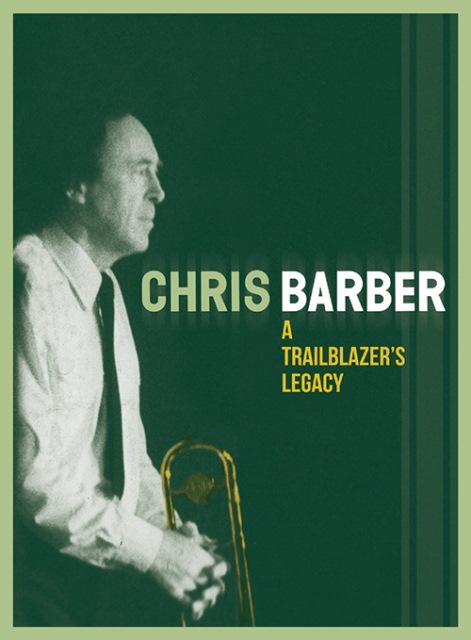 Chris Barber died in March this year. Work on A Trailblazer's Legacy was completed before his death and it was initially meant to be released alongside tie-in live dates by the Barber-approved the Big Chris Barber Band – Chris Barber retired from stage work in 2019 – but this is not how things have turned out. These four casebound CDs have become a posthumous tribute.
As the quotes above confirm, standard narratives have evolved around Barber. Lonnie Donegan was in his band and, as the text in the book puts it, there was a "band-within-a-band": the Barber Skiffle group aka the Lonnie Donegan Skiffle Group. This played live and, in July 1954, recorded "Rock Island Line". Skiffle was duly born and innumerable young, would-be musicians were inspired and, in time, the Beat Boom exploded. No skiffle, no Beatles is the refrain. Then, there is Barber's relationship with and love for blues and gospel. He brought Sister Rosetta Tharpe, Sonny Terry & Brownie McGhee and Professor Alex Bradford to the UK.
Barber is fundamental to British popular music's development and key to the step-change processes of its evolution. It is impossible to conjure what might have happened without him. In the book, Nick Lowe quips that "Without Chris Barber, the sum total of Britain's contribution to popular music would be 'Green Door' by Frankie Vaughan." He's got a point, though it's likely American rock 'n roll would have had some impact – but probably not on the dam-burst level of the enviably do-it-yourself skiffle.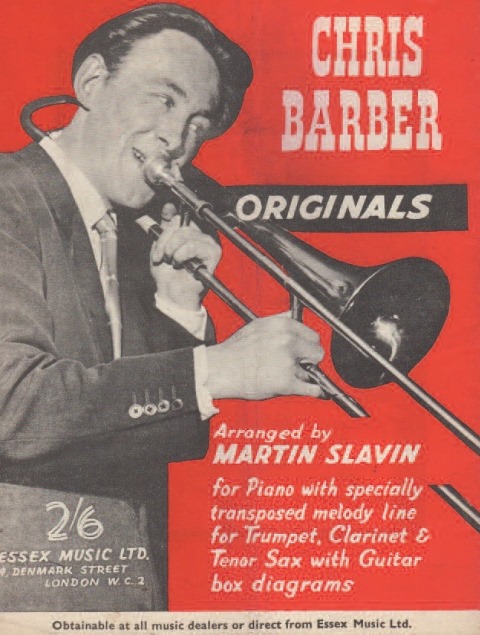 But there is more. As the book also notes, the tracklisting includes "originals by Joe Harriott jostling alongside standards by Leslie Bricusse and Anthony Newley, Irish ballads, and the jumping jive of Louis Jordan. By the 1970s, Balkan rhythms and the contemporary compositions of Joe Zawinul are added to the mix." A Trailblazer's Legacy shows that Barber never sat still as he was driven by his enthusiasms. Barber's true nature is revealed by these non-canonical aspects of his music. All four CDs are stuffed with them.
The set's earliest track was recorded on 26 October 1951. "Stomp Off Let's go" was taped by a band credited as Chris Barber's New Orleans Jazz Band. It nods back to the 1920s, and there's a Louis Armstrong touch. The British trad-jazz revival is kicking off. In the earliest tracks collected Duke Ellington and King Oliver never far, and other cuts are associated with more obscure American figures. Ken Colyer briefly passes through the band and then, in 1954, there's "Rock Island Line". After this, there's an October 1954 live recording of "Skokiaan": Louis Armstrong had recorded the South African-origin composition, and Barber's live version features Jamaica-born sax player Bertie King. Soon afterwards, while on the road to developing ska, guitarist Ernest Ranglin played with King. In A Trailblazer's Legacy's reading, the connections make it impossible to pigeonhole Barber.
This is underlined on Disc Two where "Every Time I Feel the Spirit", recorded in 1957 with Sister Rosetta Tharpe, is followed by an early 1958 version of "The Sheik of Araby". It was also in The Beatles' repertoire – there's a 1960 version of "Beautiful Dreamer": another Beatles' staple. Even though musical boundaries were constantly blurred, at his core Barber was about the bleed between blues and jazz. In 1978, Chris Barber's Jazz Band became Chris Barber's Jazz and Blues Band.
A Trailblazer's Legacy fascinates. Well put together and crisply designed, it includes masses of impressive photos and illustrations of ephemera, and has illuminating disc-by-disc essays. The full story is told from the perspective of the music. There is also an eye-opening overview of his motor-racing career, which paralleled his musical adventures.
Obviously, A Trailblazer's Legacy is a form of history lesson. It's great fun too. The overriding impression is that Chris Barber followed his nose. Helping create skiffle and, as a consequence, the Beat Boom was incidental. So, to a degree, was his active role in providing platforms for American musicians. What really mattered was staying true to his inspirations. By doing this, everything else fell into place.
Next week: Merry-Go-Round at the Carousel – previously unheard June 1968 live recordings of Tim Buckley in San Francisco

Chris Barber is fundamental to British popular music's development and key to the step-change processes of its evolution
Share this article