The White Lotus, Sky Atlantic review - dark side of a tropical paradise |

reviews, news & interviews
The White Lotus, Sky Atlantic review - dark side of a tropical paradise
The White Lotus, Sky Atlantic review - dark side of a tropical paradise
Hawaiian hotel haunted by the ghost of Basil Fawlty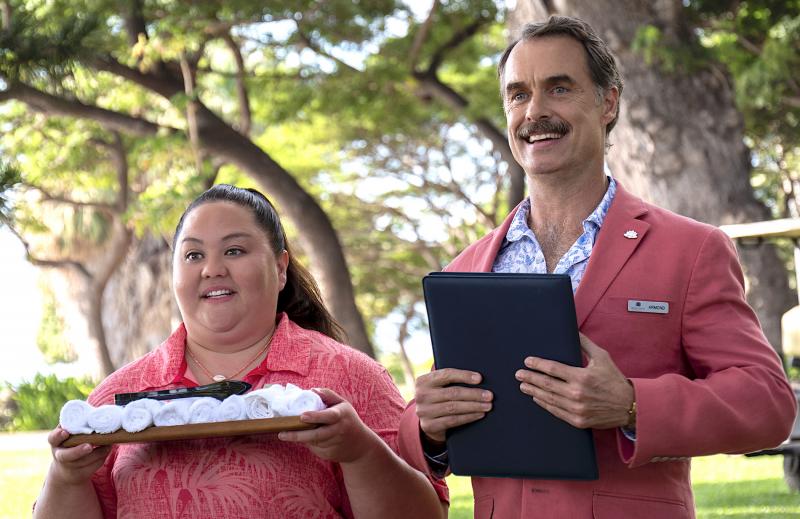 Murray Bartlett as Armond, with Jolene Purdy as Lani
As we saw recently in M Night Shyamalan's Old, a visit to a holiday resort in a tropical location can have ghastly consequences.
In
Mike White
's expertly-wrought six-parter
The White Lotus
(
Sky Atlantic
), the title refers to a pricey but tacky beach hotel in Hawaii, where a group of characters find that what was supposed to be a vacation ends up more like an exhaustive psychological examination.
Happily, White is able to put his characters through the wringer with wit and panache, and everything that befalls them is a way of prising them open a little more to explore what makes them tick. For instance there's the Mossbacher family, where matriarch Nicole (a superb Connie Britton) is a dynamic self-made tech entrepreneur, determined to keep the family holiday ticking over smoothly even while she has to make time for international Zoom conferences from their hotel suite. Her husband Mark (Steve Zahn), on the other hand, is suffering a masculinity crisis in the shadow of Nicole's display of turbo-multitasking. His terror that he has testicular cancer may be a manifestation of it, but it's the revelation that his father died not from cancer, as he'd always believed, but from AIDS that really cuts him loose from his moorings.
White deftly uses the controlled environment of the resort as a laboratory of interactions, permitting him broad scope to probe all kinds of poignant or topical issues. Jennifer Coolidge delivers a delicious performance as Tanya McQuoid, a woman stranded in advancing middle age, crushed by the recent death of her mother and tangled up in knots of alcoholic self-doubt. Yet inside she still has a whole lotta love to give, as she discovers in contrasting ways when she meets sensitive hotel therapist Belinda (Natasha Rothwell) and vacationing Greg (Jon Gries), bald and grey but still athletic. To Tanya's disbelief, Greg really does want to have sex with her.
There's some zesty generation-gap satire, too. The Mossbachers have their daughter Olivia (Sydney Sweeney) and her friend Paula (Brittany O'Grady) on holiday with them (both pictured above), and family dinners are marred by Olivia's contemptuous dismissal of her parents' values and her accusations of racism, homophobia and other knee-jerk -isms which she trots out as if she understands what she's talking about. Meanwhile, mixed-race Paula disapprovingly says very little, but is plotting a reckless assault on white privilege and capitalist exploitation. The only snag is, the Hawaiian boy Kai (Kekoa Kekumano) whom she thinks she's helping is doomed to be the fall-guy for her half-baked plan. An ironic harvest indeed.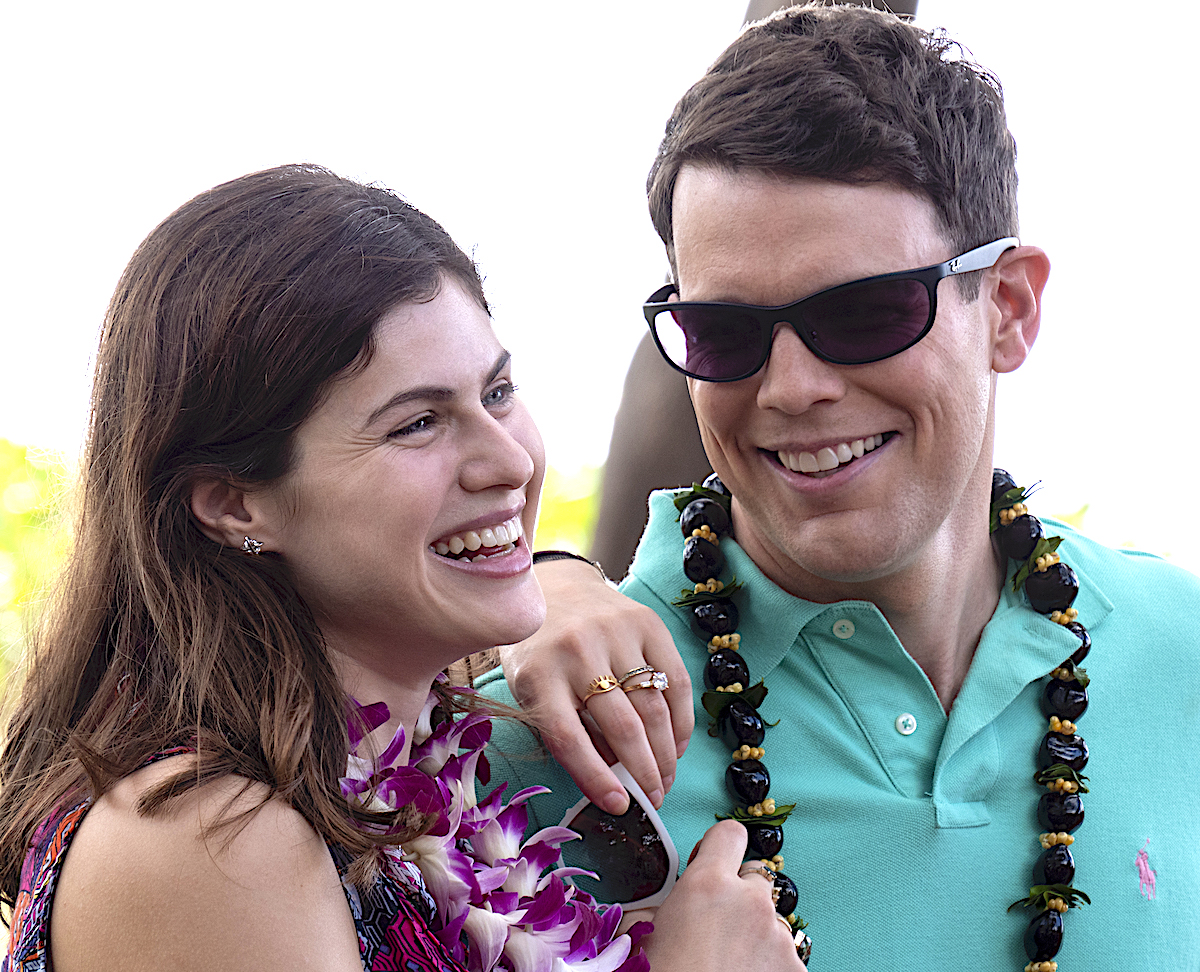 Holding all these spinning plates in the air with a kind of malevolent centrifugal force is Armond, the hotel manager. Played by a moustachioed Murray Bartlett, he not only resembles John Cleese physically, but is also driven by the kind of manic desperation that gave Basil Fawlty his tragi-comic cutting edge. Maybe White drew some inspiration from Fawlty Towers, that misshapen jewel of the English Riviera. Anyhow, Armond is a recovering alcoholic permanently on the brink of his next booze-pills-and-sex binge, struggling and often failing to maintain the corporate facade of oleaginous servility. His running guerrilla war with Shane (Jake Lacy), the rich, spoiled heir of his father's business now honeymooning with wife Rachel (Alexandra Daddario) – who's only just beginning to grasp the predicament she's signed herself up to – runs through the series like a burning fuse, detonating with impeccable timing in the final act (pictured above, Shane and Rachel).
In short, The White Lotus is a treat, as challenging and hilarious as it's unexpected. Its aura is enhanced by sometimes gorgeous, sometimes ominous imagery of sunsets, landscapes and slowly-rolling ocean breakers, while Cristobal Tapia de Veer's music, abstract and intensely rhythmic, warns you to keep your wits about you.
The controlled environment of the resort becomes a laboratory of interactions
rating
Explore topics
Share this article