First Person: director Frederic Wake-Walker on Glyndebourne's new 'Fidelio' |

reviews, news & interviews
First Person: director Frederic Wake-Walker on Glyndebourne's new 'Fidelio'
First Person: director Frederic Wake-Walker on Glyndebourne's new 'Fidelio'
Tracing the problems of staging Beethoven's only opera over five years
Wednesday, 06 October 2021
Frederic Wake Walker in rehearsal with tenor Adam Smith (Florestan)
Dear Diary, I've just had a meeting with Glyndebourne about directing a new production of Fidelio. I realise it's one of the hardest operas in the repertoire to direct but I'm so swept up in Beethoven's vision, the power of the music and the character of Leonore that I said yes…
(Beethoven himself said: "Was schwer ist, ist auch schön" ["What is difficult is also beautiful"])
2017
Dear Diary, I've decided to cut all the spoken dialogue for Fidelio. It's so clunky and there are so many holes in the backstory. But I don't know yet what to replace it with!
The only prison I've been to is the one on Robben Island where Nelson Mandela was incarcerated. I've started reading his letters – some of the things he says could almost be translations of the text from Fidelio, they relate so directly.: "Physical suffering is nothing compared to the trampling down of those tender bonds of affection that form the basis of the institution of marriage and the family that unite man and wife."
I've also been reading Beethoven's letters – I can hear more and more in the music of Fidelio Beethoven's ever-growing sense of disconnection and desperation over the decline of his hearing and his yearning for a lover, a soulmate. These feelings are expressed in his two most well-known letters, the one known as the Heiligenstadt Testament and the other referring to "The Immortal Beloved".[Pictured below: Wake-Walker directing Dorothea Herbert (Leonore) and Callum Thorpe (Rocco)]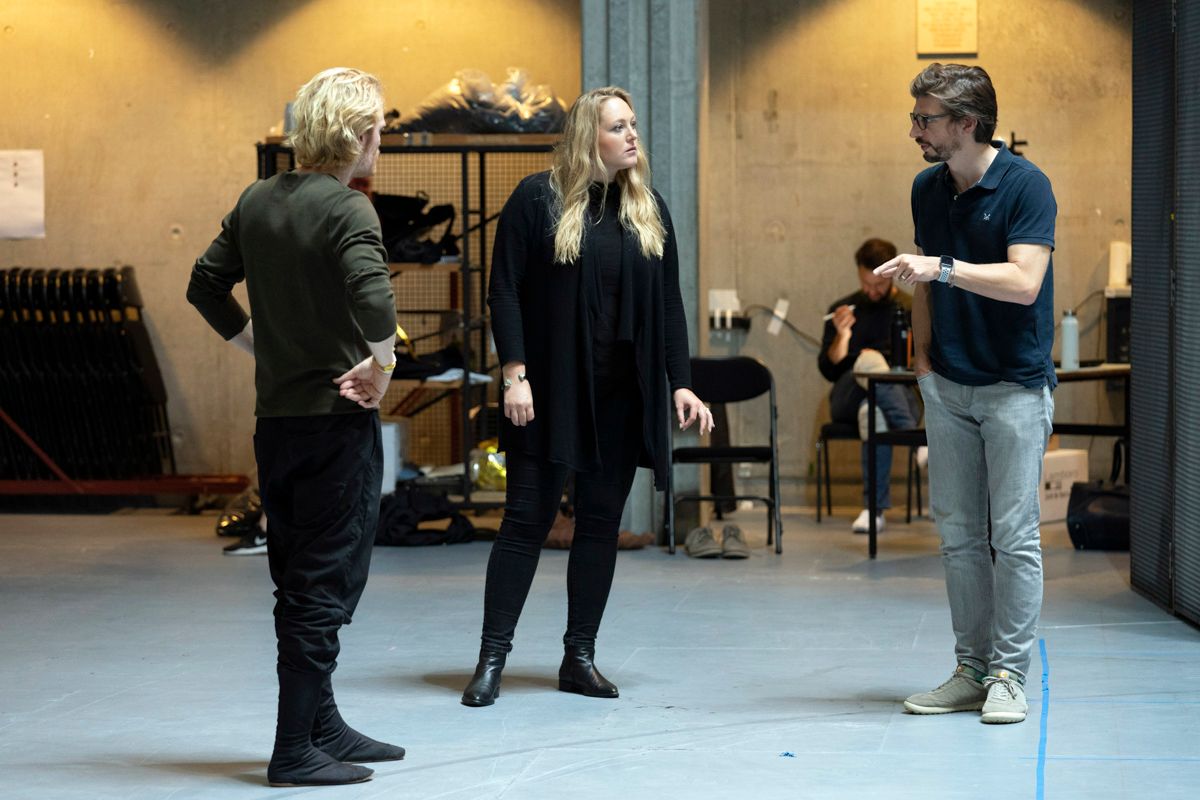 2018
Dear Diary, we've created a character! Estella will piece various fragments of information together to guide the audience through the opera. The structure of the piece is already so fractured, I feel we should make a virtue of that, rather than trying to tie it all neatly together. There's an organisation called Forensic Architecture who created architectural drawings of the infamous prison Saydnaya in Syria using only accounts from former inmates and acoustic modelling of the sounds they heard inside (https://forensic-architecture.org/investigation/saydnaya). Estella is a sort of detective too. But instead of using the high-tech techniques of Forensic Architecture, she's a primary school teacher who is waking up from a life of compliance with the system and beginning to see a different world. At first, she had many various documents; accounts, maps, reports, receipts, diaries but now we've decided to focus it down to just one thing; a letter from Leonore to Florestan before Leonore goes into the prison to save her husband. Zoe Palmer is writing a poem that will sit as the centrepiece to the letter.
2019
Dear Diary, every time I think I've squared something, it ends up turning into another circle… There are so many dichotomies in this piece, so many unfinished lines. Beethoven, it seems, is not interested in scenario, he's interested in expressing the deeply held inner emotions of the characters and then expanding that into huge universal statements. He warps time and opens up space for thought that suspends all reality. How to represent this on stage?
Anna Jones has come up with the most brilliant reference for the set – a panopticon. Not only are these types of prison deeply sinister, they also take on the quality of an enormous observing eye. The senses of sight and sound are coming to the surface in various ways throughout the production. We've just done a workshop with video artist Jacqueline Sobiszewski and selected exactly the right metal mesh to be the material for the cage of our set. It takes projected light beautifully but will also act as a gauze to allow the audience to see the singers through it. We're trying to create an environment that disconnects the audience from the stage and then re-connects them through the medium of live video. The cameras will allow us to get up close to the singers and offer the audience alternative perspectives on the action.
Daniel Chua in his book Beethoven and Freedom says about Fidelio: "In almost every expression of grace in the opera where liberty is either anticipated or fulfilled, the music decelerates in order for the content of freedom to catch up with its impact. The actual act of freedom cannot be immediately known. It can only be an echo."
Perhaps we're creating an echo of Fidelio. The video images doubling reality and Estella's journey a contemporary parallel to the timeless journey of Leonore herself…
We've filled out Leonore's backstory now. She's a founder member of an organisation called Prometheus who, together with Florestan and Fernando, are fighting against Pizarro's to steal back, as it were, the flame of knowledge from his corrupt and oppressive regime. Nelson Mandela could have written the mission statement:
The anchor of all my dreams is the collective wisdom of mankind as a whole. I am influenced more than ever before by the conviction that social equality is the only basis of human happiness… It is around these issues that my thoughts revolve. They are centred on humans, the ideas for which they strive; on the new world that is emerging; the new generation that declares total war against all forms of cruelty, against any social order that upholds economic privilege for a minority and that condemns the mass of population to poverty and disease, illiteracy and the host of evils that accompany a stratified society.
The production is now coming into focus and the date for the premiere is appearing over the horizon. At this moment, I always try to go back to my initial thought about the piece, to check if the kernel that I started with is still there at the centre of the production. Fidelio, for me, is ultimately about hope. Leonore embodies that hope and Beethoven describes it, manifests it in his music. Rebecca Solnit could be a modern-day Leonore through the language she uses in her book Hope in the Darkness, a modern manifestation of Leonore's aria "Komm, Hoffnung". But this type of hope springs not desperation or delusion. It is rather a vision for change:
Cause-and-effect assumes history marches forward, but history is not an army. It is a crab scuttling sideways, a drip of soft water wearing away stone, an earthquake breaking centuries of tension. Sometimes one person inspires a movement, or her words do decades later, sometimes a few passionate people change the world; sometimes they start a mass movement and millions do; sometimes those millions are stirred by the same outrage or the same ideal, and change comes upon us like a change of weather. All that these transformations have in common is that they begin in the imagination, in hope.
But hope is not about what we expect. It is an embrace of the essential unknowability of the world, of the breaks with the present, the surprises.
2020
Dear Diary, the Glyndebourne Festival has been cancelled due to COVID-19. I've put Fidelio in the drawer and will sit and wait and hope.
2021
Dear Diary, I haven't looked at Fidelio for nearly a year but it looks like we might be able to make it happen this autumn. Coming back to it after such a hiatus is both strange and fruitful. We've made a few tweaks to the design and the text but fundamentally the production still works in this radically altered world. In fact, what with events in Afghanistan and Belarus and, of course, the lockdown itself, Fidelio seems to be more pertinent than ever…
At the first rehearsal, I read a letter from Nelson Mandela to an eager cast and crew. The excitement and sensitivity of feeling in the room is palpable. We've nearly got to the end. Finally, we can start!
It was as if we two thought we could arrest
the forward march of time
Or as though time itself stretched
Back through and around us both
Was there ever anything other than this?
we are newly cast –
we are two as one
following the last star of hope
we sing our heart's deep song
and in the quiet closed eye of our silent mind
we catch a glimpse of something
infinite
(The new spoken text in the production was conceived by Frederic Wake-Walker and written in collaboration with Gertrude Thoma and Peter Cant. Leonore's poem was specially written for this production by Zoe Palmer)
Beethoven warps time and opens up space for thought that suspends all reality. How to represent this on stage?
Explore topics
Share this article