Romeo and Juliet, Birmingham Royal Ballet & Royal Ballet review - a storming start to the season |

reviews, news & interviews
Romeo and Juliet, Birmingham Royal Ballet & Royal Ballet review - a storming start to the season
Romeo and Juliet, Birmingham Royal Ballet & Royal Ballet review - a storming start to the season
Half a century on MacMillan's R&J is still the business
Wednesday, 13 October 2021
All masked up: César Morales as Romeo and Mimoko Hirata as Juliet in Birmingham Royal Ballet's unique 1992 production of Kenneth MacMillan's ballet
Two households, both alike in dignity … and both launching their respective seasons with a production of Kenneth MacMillan's Romeo and Juliet.
For neither the
Royal Ballet
nor its midlands sibling
Birmingham Royal Ballet
is
this a surprising choice, given that it's well over a year since either company was able to rally its forces in a full-blown three-act story ballet complete with full orchestra. Because there's nothing q
uite like
R&J
for pulling a company together, with its teeming streetlife of squabbling servants, harlots and henchmen, its colourful elite and its stellar solo choreography, not to mention a plot you can hum and a musical score that turns your innards to jelly.
A box office hit since its premiere in 1965, the production is a cornerstone of the Royal Ballet's repertory, regularly re-visited at Covent Garden and danced by an ever-growing number of companies from Stockholm to New York. But Birmingham has its own unique version, personally tailored for BRB in 1992 by MacMillan. With new sets and costumes, it premiered at the Birmingham Hippodrome only months before the choreographer's death. Watching this at a matinee there the other day felt, as a colleague put it, like meeting the non-identical twin of an old friend. The two versions share much of their DNA but there are differences, some subtle, others more defining.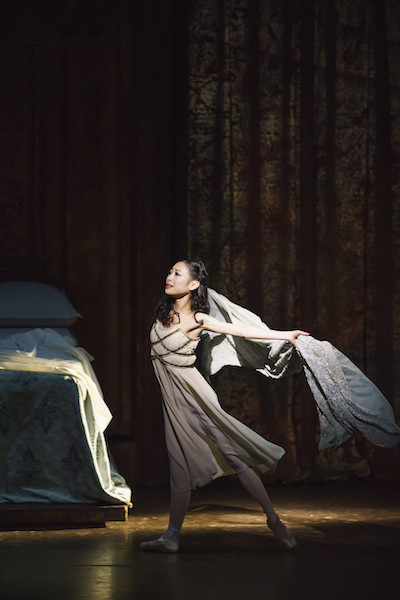 Birmingham's designs by the late Paul Andrews, built for touring, are much less grand than the palatial spaces of Nicholas Georgiadis's vision for the original, whose effect of dwarfing the supposed-teenage protagonists was deliberate. Both designs are strong on pillars and flights of steps (Juliet has to descend from that balcony somehow), but in the later version Juliet's bed (pictured right) is less like a mortuary slab and her prié-dieu more prominent, overlaying her reactions with a religious impulse. In BRB's Mandolin dance the acrobats, dressed head-to-toe in shag-pile onesies, resemble Labradoodles off the leash after a too-long spell in kennels, which delivers a welcome shot of frivolity before the stormclouds gather. In a much grislier final scene, the Capulet mausoleum already contains two loosley wrapped corpses – the one with the feet poking out you assume to be that of cousin Tybalt.
This is a production stuffed with relishable details and that includes the principals' acting. These are characters and choreography that Birmingham's director, Carlos Acosta, knows inside out (his own performances at the Royal Ballet with Tamara Rojo set the bar high) and it's clear that he has had a hand in coaching here. Chilean-born Romeo César Morales (pictured top) is more lightly built than Acosta but has a similar softly padded grace, inhabiting the stage with a simplicity that is very affecting.
As Juliet, tiny Momoko Hirata (pictured top and above right) is so perfect as the rosebud girl-child of the early scenes that it's hard to believe she will be able to summon the strength – either physical or mental – to become the driver of the story. But those sparrow limbs are steely, and Hirata's acting inexorably draws us in to share her terrible dilemma. I have never felt more dread in those moments before she takes the potion – suspicion, despair, abject terror, this Juliet runs the gamut and takes you with her into the dark.
Other outstanding performances in the cast I saw included Tzu-Chao Chou's hyperactive Mercutio, with Haoliang Feng's Benvolio a goofily doting sidekick. Meanwhile Rory Mackay stripped Tybalt of any shred of nobility by making him an out-and-out murderous thug, permanently tanked. There was no ambiguity around the thrust that did for poor Mercutio – it was lethally intended, with no remorse.
The Royal Ballet Sinfonia, conducted by Philip Ellis, steered Prokofiev's score (some would say the greatest ever written for ballet) with a steady hand, his slower tempi adding 10 minutes or more to the Royal Ballet's timing. How interesting that choreographers – often intransigent on other things – rarely stipulate the running time. The recent film of Romeo and Juliet featuring dancers from the Royal Ballet and shot on location by the BalletBoyz (available on DVD and highly recommended) edits the score by a third, and you'd be hard pressed to say what's missing.
The Royal Ballet may have missed a trick in not duplicating the cast of that cinematic enterprise, a popular watch on BBC TV's culture strand over lockdown. Instead the opening night featured the same Juliet, Nurse and Tybalt, but switched the excellent Romeo, William Bracewell, to a later cast with a different girl. Instead, Francesca Hayward was paired with newly promoted Mexican-born principal Cesar Corrales (not to be confused with BRB's César Morales, I do hope you're keeping up), perhaps because they have an off-stage relationship. This is a risky gameplan, for obvious reasons, but on this occasion it paid dividends in terms of their easy intimacy. These star-crossed lovers actually shared a laugh – genuinely spontaneous it seemed – in a particularly joyous balcony scene. Technically, though, Corrales seemed to struggle with lifting his Juliet (both pictured below), despite Hayward's being among the Royal's smaller girls. This didn't however prevent her giving an astounding performance – a headstrong, impulsive Juliet from the start – very much in the mould of the great Tamara Rojo.
The sheer scale of this production gives it clout. With more than 50 dancers on stage for the street fights, excitement is guaranteed, the Royal's men having honed their swordsmanship with rhythmic precision to chime with the score. Marcelino Sambé is a fabulous Mercutio who makes laddishness seem charming, and Matthew Ball – despite some uncertain facial hair that partially detached as he lay dying – gave an interesting take on Tybalt. The stab wound that killed Mercutio was in this case the result of a thoughtless blunder, and his dawning realisation of the likely repercussions is nicely done.
Koen Kessels, directing the Royal Opera House Orchestra, wrings every drop of gorgeousness from the score. Too bad on opening night the four mandolin players – stationed in a box – came rhythmically adrift from the main body of the orchestra for an unnerving stretch of time, additionally knocking the solo clarinet into freefall. But it's hardly the conductor's fault if players fail to watch his beat, and the run is plenty long enough to sort this out.