Music Reissues Weekly: Stan Tracey Trio - The 1959 Sessions |

reviews, news & interviews
Music Reissues Weekly: Stan Tracey Trio - The 1959 Sessions
Music Reissues Weekly: Stan Tracey Trio - The 1959 Sessions
Welcome appearance of a previously unreleased studio album by the British jazz great
Stan Tracey faces down his piano
What's now been titled The 1959 Sessions represents an unreleased studio album completed by the Stan Tracey Trio on 5 and 8 June 1959 at Decca's London studio at Broadhurst Gardens. If issued then, it would have been the swift follow-up to the trio's debut album Little Klunk, recorded at the same studio on 22 and 26 May 1959.
Little Klunk was made by Tracey (piano, vibes), Kenny Napper (bass) and Phil Seaman (drums). This release features those three on four tracks – Tracey originals – and Tracey and Napper plus Tony Crombie rather than Seaman on drums for the remaining four tracks: which are cover versions. The master tape was found by Tracey's son Clark (he drums and leads his own quartet), who's behind this release. The reason for the tape being shelved is unknown.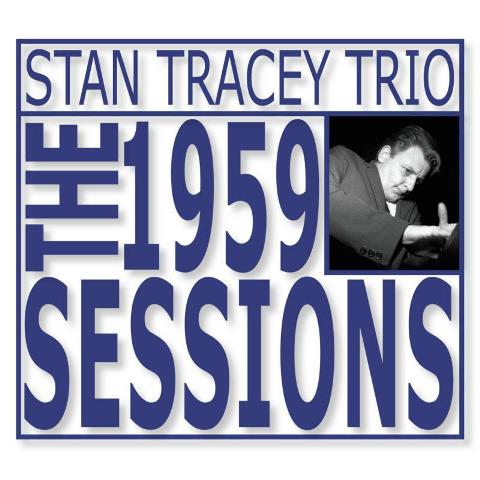 Tracey is caught – as he was on Little Klunk – while still a member of the Ted Heath Orchestra: his bread and butter gig. By the end of 1959, he had begun his seven-year tenure as the resident pianist at Ronnie Scott's. Before this in 1958, while with Heath, he had made Showcase, his debut album as a band leader. His recording debut as a band member had come in 1951.
While the reason for the non-appearance of the eight tracks on The 1959 Sessions is undetermined, they slot into what was already known to be a cluttered career path. Since switching from accordion to piano in 1944 and turning professional around 1948, Tracey had passed through a series of bands – the Roy Fox Band, Victor Feldman's, the Malcolm Mitchell Orchestra, Ivor & Basil Kirchin's group – and had been to New York while playing for the Cunard Line. In 1957, he had toured the US with Ronnie Scott's band. Then, job security with Ted Heath beckoned.
With Showcase, Tracey hadn't fully claimed his own identity. Its 12 cuts were covers of showtunes and standards. There were Duke Ellington and Thelonious Monk influences, but recording these compositions meant he wasn't cutting loose. Little Klunk though was all original: eight tracks written by Tracey, played with Seaman and Napper.
With its half covers, half originals formula The 1959 Sessions can be seen as a partial retrenchment. Or perhaps, as it was recorded so soon after Little Clunk, Tracey only had the 12 originals which were spread between the two albums? By the end of the year, when he was settled in at Ronnie Scott's, he'd find himself accompanying musicians booked for runs at the club, so there'd be less space for his own material. Under his own name in 1965, he'd make an indelible mark with the album of his suite inspired by Dylan Thomas's Under Milk Wood. (Pictured left, the Stan Tracey Trio in 1959. From left: Stan Tracey, Tony Crombie, Kenny Napper)
The cover versions on The 1959 Sessions are "Sometimes I'm Happy," "Just You, Just me," "Moonlight in Vermont" and "Jumpin' With Symphony Sid." The latter is a form of mission statement as it was written by Lester Young and first recorded by him in 1947. It ties-in Tracey with American post-war jazz. Similarly, Vincent Youmans's "Sometimes I'm Happy" would've been recently familiar as The Oscar Peterson Trio recorded a version in 1954. "Just You, Just Me" was first heard in a late Twenties musical but Lester Young and Thelonious Monk recorded versions in 1954. "Moonlight in Vermont" had first been issued in the mid 1940s, but was seeping into the jazz repertoire around 1953 and 1954. So the cover versions aren't quite the standards they seem to be as they delineate a different picture to those recorded for Showcase.
Tracey's own compositions are "Little Girl Sadly," "Mood 13," "Pitter Patter Panic" and "Street of Themes." In his accompanying essay, Alyn Shipton notes that "Street of Themes" is a "re-working of Victor Young's 16-bar 'Street of Dreams' from 1932." The highlight of the originals is album closer "Pitter Patter Panic," which drives and drives, and then drives some more.
Overall, whatever the sources of what was recorded, The 1959 Sessions is remarkably cohesive and an album as such. Modernist, BeBop-ish, clean, precise. Tracey's playing isn't about flurries but instead about clumps of slightly arpeggiated chords. His seemingly spontaneous runs are similarly percussive. Of the two drummers, Crombie is slightly busier but, again, there's a shared drive. Whether soloing or pumping along, Napper's bass is also about this forward motion.
What if these eight tracks had been issued on album in 1959? Beyond it being an album unlikely to have a sold to a level which would have meant there no need to take the regular job at Ronnie Scott's, who knows? When the sessions took place Tracey was already embedded in British jazz as an American-informed stylist and journeyman, so it's also unlikely his path would have suddenly become more linear had this hit the shops.
In the end, The 1959 Sessions still feels anomalous as it raises so many unanswerable questions. Nonetheless, it's very welcome – as a reminder of Stan Tracey's compelling musical personality and as a fascinating new piece in the jig-saw depicting his notable career. Also, it's a great listen.
Next week: The Electric Prunes – Then Came The Dawn – Complete Recordings 1966–1969
If this album had hit the shops in 1959 it's unlikely Stan Tracey's path would have suddenly become more linear
Explore topics
Share this article