The Miserly Knight / Mavra, Scottish Opera review - a bold double act in the heart of Scotland |

reviews, news & interviews
The Miserly Knight / Mavra, Scottish Opera review - a bold double act in the heart of Scotland
The Miserly Knight / Mavra, Scottish Opera review - a bold double act in the heart of Scotland
Rare Rachmaninov and Stravinsky one-act operas play for one night only, in Perth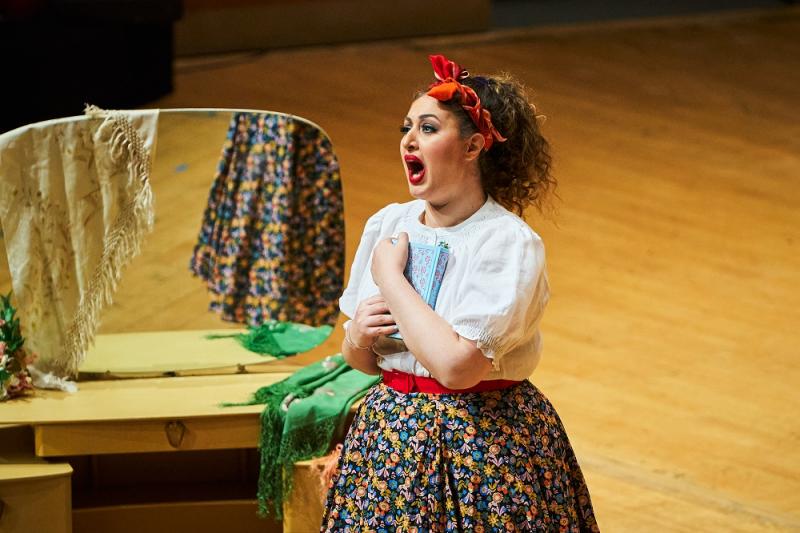 Anush Hovhannisyan as Parasha, soprano lead in Stravinsky's 'Mavra'
To stage a double bill of unusual 20th century Russian operas would be brave at the best of times. To do so in the Fair City of Perth amply demonstrates Scottish Opera's laudable commitment to extend its influence beyond the Edinburgh-Glasgow cultural axis.
Perth is blessed with a fine old theatre and a superb modern wood-panelled concert hall, but it's a good 90 minutes from Scottish Opera's base in Glasgow and more often than not simply bypassed by holidaymakers heading for the heather and snowclad peaks of the Highlands.
Rachmaninov's The Miserly Knight and Stravinsky's Mavra are an unlikely pair. Even if they are both based on Pushkin, they are unlikely to become as entrenched a coupling as Cav and Pag, but each stands up well on its own merits. The Rachmaninov is by far the longer, at about an hour, and came first, after the audience stood for a heart-rending rendition of Ukraine's yearning National Anthem.
It was immediately striking that Scottish Opera had decided to bring a full-sized symphony orchestra to Perth. I have heard smaller ensembles in this hall but never an orchestra – the sound was quite simply magnificent, with an opulent bass and crystalline woodwind, beautifully directed by Stuart Stratford. Rachmaninov's score is characteristically voluptuous but dark and brooding, the sombre textures reinforced by an all male cast.
Five singers were spaced out across the front of the concert platform with a bare minimum of props – a helmet, a hat, a ducal sash, and some neat little treasure chests. At a question and answer session before the opera, the director Laura Attridge explained how she considered The Miserly Knight could be better realised in a semi-staged concert performance than with a full stage set. The heart of the opera lies in the second scene, an extended soliloquy for the eponymous Knight, magnificently sung by Roland Wood (a late replacement so still singing on copy). The Knight is imprisoned by his wealth, tormented by its provenance, and in despair that it will be frittered away by his spendthrift son, but the drama is all embedded in the words and the oppressive score, and it is difficult to see how this could have been bettered with even the most lavish set.
The outer scenes depend on a fine supporting cast: Alexey Dolgov as the sprightly son Albert (pictured above), John Molloy as his servant Ivan, Alastair Elliott in a near-comic character role as the money lender Solomon, and Alexey Gusev as the fair-minded Duke who tries to mediate between father and son. Stage directions were sufficient to convey a sense of movement but spare enough not to be distracting. This is a deeply disturbing tale that explores, but never quite resolves, the moral issues surrounding wealth and inheritance. For all its magnificent orchestration it is too gloomy a piece to become popular, yet I cannot imagine a better performance than that which we witnessed last Friday. What a shame Scottish Opera cannot parcel it up for consumption elsewhere.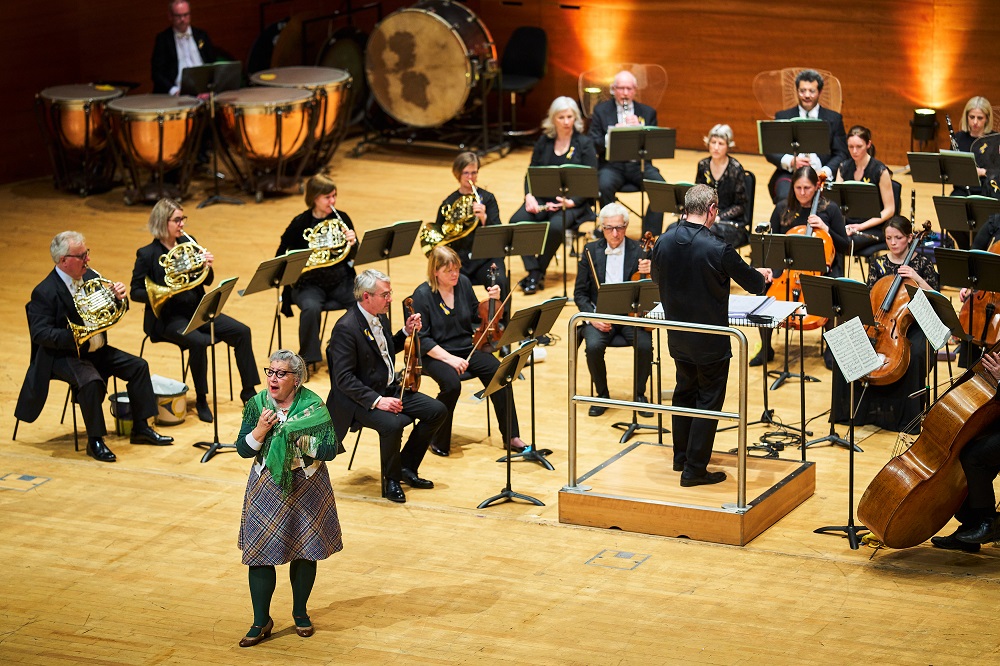 Stravinsky's Mavra, 100 years old this May, is about as different as you could imagine: chalk and cheese indeed. This very short (25 minutes) one act comic opera has a much smaller orchestra and a cast of four singers, only one of whom (Dolgov) performs in both operas. He plays Vassili, clandestine lover to Parasha, sung by the irrepressible Armenian Anush Hovhannisyan, the cast completed by a bossy mother (Sarah Pring, pictured above with Stratford and the orchestra) and a nosey neighbour (Lea Shaw). Vassili dresses up as a newly hired maid Mavra so he can be together with Parasha -- and you can guess the rest of the slender plot which tumbles joyfully along until the mother finds out the duplicity and faints. Curtain.
Musically Mavra sits firmly in Stravinsky's neoclassical output. The lovers' duet is faintly reminiscent of The Rake's Progress (composed 30 years later), with chirpy woodwind over a solid oompah rhythm in the bass, but the overall feel is more pugnacious than the dreamlike serenity of the early scenes between Tom Rakewell and Anne Trulove. All further comparison should end there, of course, as against The Rake's bleak humour, Mavra is quite simply a riot of slapstick comedy that saw the lead couple having enormous fun with the barest minimum of props (a broom, some lipstick, a dressing table) and the entire cast and orchestra contributing to a joyous mood at the end of the evening. And don't we need that now.
For all its magnificent orchestration, 'The Miserly Knight' is too gloomy a piece to become popular, yet I cannot imagine a better performance
rating
Explore topics
Share this article