Teenage Fanclub, Union Chapel review - pushing forward with gusto |

reviews, news & interviews
Teenage Fanclub, Union Chapel review - pushing forward with gusto
Teenage Fanclub, Union Chapel review - pushing forward with gusto
Line-up changes haven't diminished the vitality of Norman Blake, Raymond McGinley and co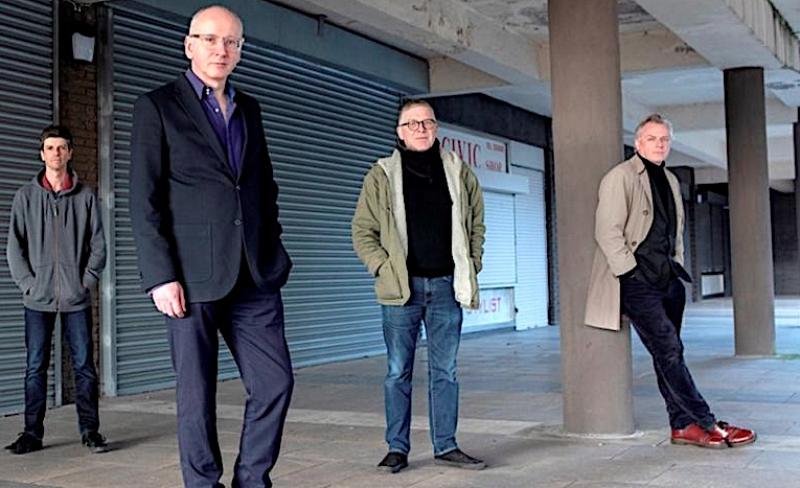 Four-fifths of Teenage Fanclub as seen at the Union Chapel. From left to right: Euros Childs, Raymond McGinley, Norman Blake and Francis Macdonald
Teenage Fanclub open their set with "Home", the first single from their last album Endless Arcade. It's followed by the title track, "Endless Arcade". The first was written by Norman Blake, the second by Raymond McGinley – the album's sole songwriters.
Earlier, a Teenage Fanclub album would also have featured songs by another founder, Gerard Love. He left the band towards the end of 2018 leaving Blake and McGinley as the sole original members. April 2021's terrific Endless Arcade became their first album without Love. A few weeks ago, continuity was confirmed when the "I Left a Light on" single was issued – it was composed by Blake while Endless Arcade was being completed, and recently recorded. Despite not being written into their set list the lovely, yearning song was performed at the Union Chapel.
It's obvious Teenage Fanclub are pushing on. Beginning with a one-two punch from Endless Arcade said "here we are, now". "I Left a Light on" further stressed this.
While bringing an opportunity to see the Love-free Teenage Fanclub the dates also feature former Gorgy's Zygotic Mynci mainstay Euros Childs, who joined in early 2019 on keyboards and vocals. Bassist Stephen Black (who records as Sweet Baboo and is from Wales like Childs – they have collaborated) has recently come on board too. Drummer Francis Macdonald is an older hand.
Though more familiar songs "Alcoholiday" and set closer "The Concept" are played by a line-up different to that which originally recorded them, there was no sense that any parts were missing. It all cohered and was plainly Teenage Fanclub. The encore finished with a ripping run through of their 1990 debut single "Everything Flows", with the band supplemented on guitar and vocals by Anne Lise Frøkedal of the fine Norwegian folk/harmony pop/indie hybrid support band Frøkedal & Familien.
But despite the changes and nods back, what had unassumedly strolled onto the stage was quickly revealed as dynamic and insistent. Within seconds of the band's arrival, "Home" was torn into with no fuss. From here on in, the energy was tangible. Forward motion and momentum were integral. Norman Blake barely stopped smiling, often looking as if he was surprised by the beautiful noise being made. "Did we just do that" his grin seemed to say. At about 8 minutes in when he and Raymond McGinley began soloing on "About You", Blake lit up so brilliantly he outshone the stage lights.
Drummer Francis Macdonald shared the enthusiasm – even though he wasn't contributing backing vocals to "Start Again" he sang along off-mike anyway. The sense of the band loving what they do also came through on songs where Euros Childs neither played or sang – he was thrilled to be there behind his keyboards. With his Rickenbacker Stephen Black's eyes were often closed but what a player, sometimes McCartney-esque c. "Paperback Writer" and "Rain", at other times more straightforwardly propulsive. Fantastic drums and bass playing.
Ultimately, it's about the songs. Blake's self-effacing comments – he's the only band member to speak – are funny (he was worried his trousers might slip down and wasn't sure if his new £65 reverb peddle would cut it) but the musical gems keep coming, one after another. It doesn't matter if they're brand new, from Endless Arcade, Grand Prix or Bandwagonesque, each one hits home. Long-lived bands can have the problem of becoming a tribute to themselves. Not this one. Onwards is the message.
Norman Blake often looked as if he was surprised by the beautiful noise being made
rating
Share this article