Staatskapelle Berlin, Barenboim, Royal Festival Hall |

reviews, news & interviews
Staatskapelle Berlin, Barenboim, Royal Festival Hall
Staatskapelle Berlin, Barenboim, Royal Festival Hall
The great conductor-pianist fills the hall with Beethoven and Schoenberg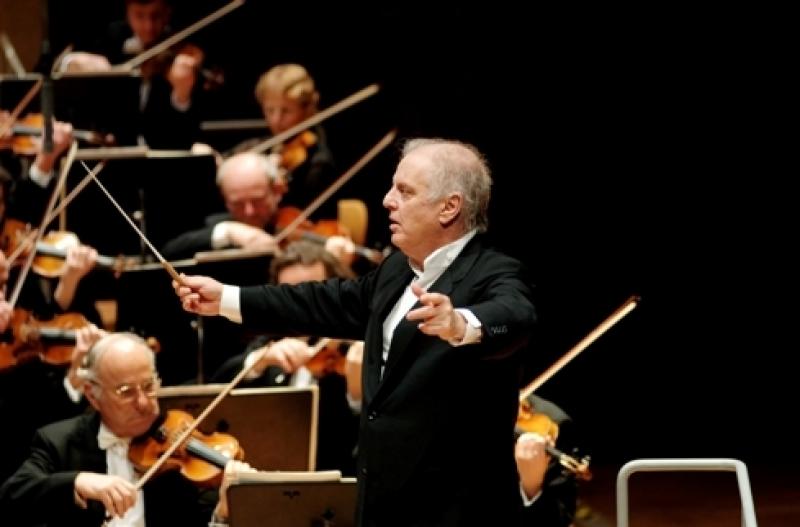 Barenboim: Schoenberg with a baton, Beethoven from the keyboard
Anyone who can sell out four concerts of Beethoven and Schoenberg, even if it's only half-scary Schoenberg, surely looms large in the public imagination. Daniel Barenboim is a great humanitarian figure, and has been a thought-provoking interpreter of the classical and romantic piano repertoire for nearly 60 years, so it's not surprising that half of London wants to hear him in th
e Beethoven concertos. As a conductor, his natural element is earth; less so air, wind and fire. All four are vital to make a protean late-romantic orchestral monsterpiece like Schoenberg's
Pelleas und Melisande
captivate on every level.
Later in the series, all will be revealed by illustration before a performance of the Variations for orchestra, the ultimate test of whether an audience can go with the bewildering democracy of twelve tones that dominated, some would say plagued, Schoenberg's later years. His Austro-German Pelleas is more approachable purely as music, but it has to carry in the concert-hall the entire weight of Maeterlinck's dream-play which Fauré and Sibelius illustrated more easily in incidental music and Debussy, most miraculously of all, in a pioneering opera. Schoenberg's tone-poem is really an opera for orchestra, in need of supertitles; having the Southbank's characteristically lean, unappealing and sometimes factually approximate programme to hand was clearly not enough for my baffled neighbours. I thought I knew the work fairly well, but was still taken aback when, having seemed to make a final retreat into the forest of woodwind tendrils where the legend began, Schoenberg cranked up his whole developmental apparatus one more time.
That suggests I wasn't quite in thrall to Barenboim's story-telling. He's certainly a master of texture and mystery, making sure the plaintive cor anglais and the spooky muted brass loomed through thicker orchestration, and exquisite when Schoenberg withdraws to the magic of solo strings and wind. But the teasing of love's growing pains - unconsummated, annotator please note - which gives the young Pelleas and Melisande their special quality never quite reached hyper-sensual level in the hands of the cultured Staatskapelle strings. Still, there was no doubt that for all his debt to Strauss and Wagner, Schoenberg was already capable of giving liberal-minded listeners a subcutaneous thrill all his own in the early 1900s.
These would be rather worthy, dull concerts if Schoenberg and Beethoven were merely, as Barenboim none too eloquently says in an introductory article,"veritable structural pillars in the historical development of music". Some of us don't go to concerts any more just for a history lesson. But there's fortunately more to Beethoven's First Piano Concerto than just an increased grandeur of form. Personally, I'd give all five for any one of Mozart's mature masterpieces in the form. But that's just a matter of taste; and Barenboim, once he'd managed to establish his pianistic touch, certainly blended Mozartian elegance and refinement with the modified shock of Beethoven's sudden accents and outbursts. These were apparent both in the orchestral introduction - with a nice sotto voce surprise right at the start - and in his slightly more expansive solo commentary.
The Berlin woodwind, led by a delightfully vocal first oboist, convinced us that Beethoven's little choruses were almost as personable as Mozart's, and even a persistent hacking-cougher in the otherwise knowing audience couldn't wreck the introspective haven Barenboim wrought in the slow movement. A semi-standing ovation at the end of the concert may have been more for all that Barenboim has been and done in the last half-century than for a truly electrifying evening, but it was also a pledge of faith in the bigger events yet to come. There didn't seem to be too many takers, and few young 'uns, for the live screening of the concert outside the auditorium in the Clore Ballroom, but that's an extra much to be applauded.
Share this article