La bohème, Glyndebourne Tour review - Death and the Parisienne doing the rounds |

reviews, news & interviews
La bohème, Glyndebourne Tour review - Death and the Parisienne doing the rounds
La bohème, Glyndebourne Tour review - Death and the Parisienne doing the rounds
First-rate ensemble, thoughtful production and assured conducting in fresh Puccini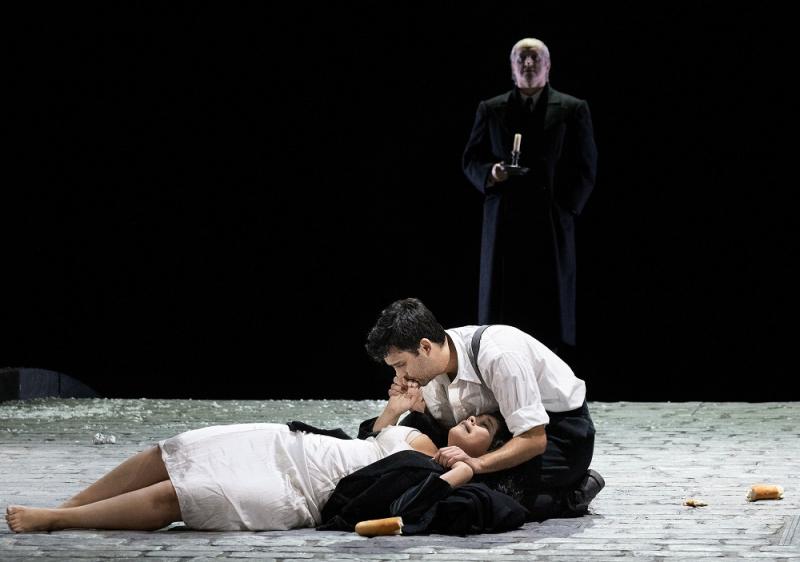 Rodolfo (Bekhzod Davronov) cradles Mimi (Gabriella Reyes) while Death (Peter Van Hulle) awaits
The sopranos are Ethiopian-Italian and Hispanic-American, the tenor Uzbek, the baritones South African (no EU principals, but it seems you can't have everything). This is opera at its best: the cream of international singers coming together to make a unified work of art under a director with a vision and a conductor who gives it all total security as well as freedom. It may be the tour, but it's vintage Glyndebourne.
Floris Visser's concentrated take on Puccini's note-perfect La bohème, revived here by Simon Iorio, premiered in the main festival earlier this year; Miranda Heggie reviewed it for theartsdesk. The tour's Marcello, Luthando Qave, was the Schaunard then; three other singers in the latest incarnation sang their roles later in the run, but this is the first time we've been able to celebrate their arrival in print. There's no weak link. Gabriella Reyes has the most reacting to do beyond the usual boundaries: Death (here Peter Van Hulle, who gets two lines to sing as a Parpignol with ominous red balloons in the Café Momus scene) is ever present for her, which replaces some of the coughing with tragic fixity and removes any potential for over-sentimentalising. Reyes' soprano is perfect for the role: warm and lyric, flawless in the phrases which go over the top, with just enough extra backbone in the desperation of Act 3.
It's crucial that the Bohemians should be convincingly young, too. Bekhzod Davronov (pictured above on the right with Qave and William Thomas) looks and sounds sweet as Rodolfo – a light tenor with a real ring to the top notes. Both he and Reyes cope well with Rory Macdonald's slightly too-slow tempi for the arias and love music in a performance that's always very well conducted with subtle-sensuous orchestral sounds, the liveliness absolutely together and rewardinfg Visser's scrupulousness in reflecting Puccini's brio-on-a-plate.
That feels fresh too; after so many here-we-go-agains in youthful horseplay over too many productions, this is one that really makes you smile, sometimes laugh out loud. In that Qave and the strutting Schaunard of Luvoyo Mbundu are excellent, but the revelation is William Thomas's Colline; having seen and heard him in concert alone up to this point, it's good to note that fine acting goes hand in glove with a remarkable bass voice.
Mariam Battistelli as Musetta (pictured above) deserves the limelight Visser gives her in the Act 2 waltz-song that turns into a thrilling ensemble, all deliciously choreographed. Sometimes Visser slightly overdoes the presence of the Grim Reaper in a first half that's usually all moonshine and sparkle to contrast with the grim realities of the third and fourth acts, but like all great directors he follows through on his main idea and consistent setting– inspired, he tells us in the programme, by seeing a Parisian cobbled street behind a gate which suddenly dipped down.
The black space into which characters disappear in Dieuweke Van Reij's simple but effective set cues the ultimate departure, but it works throughout, and if the colour-palette is mostly blacks, greys and whites, that offsets the colour in Marcello's very literal Red Sea canvas, Death/Parpignol's balloons and the splendid coup of the springtime flowers which tell us time will soon be up for Mimi. Visitors to Glyndebourne, Milton Keynes, Canterbury, Norwich and Liverpool will have an experience of the highest order; the main tour operas may be established classics, but both this and (from the look of the cast on paper) Le nozze di Figaro will offer the freshest and best in production and singers.