Halloween Ends review - the final cut |

reviews, news & interviews
Halloween Ends review - the final cut
Halloween Ends review - the final cut
Dull detours distract from Michael Myers' visceral last stand
Monster or man?: Michael Myers (James Jude Courtney) comes home
Four years after Michael Myers' bloody Halloween return, Laurie Strode (Curtis) is healed enough to be bashing out a trite survivors' memoir, and bonding with granddaughter Allyson (Andi Mabichak, filmed with Green's customary lustrous devotion to youthful female beauty). A spectacular pre-credits sequence meanwhile introduces Corey (Rohan Campbell, pictured below with Mabichak), whose typically catastrophic spell as a Haddonfield babysitter leaves him a bullied town pariah. Until, that is, he's sent tumbling towards the storm drain where Michael now subsists in a cavernous lair. Much reduced by previous battles, he infects Corey with his violent evil, but becomes a hulking pawn of the younger man, who wrestles his mask away to become Haddonfield's new monster. This recalls Robert Bloch's novel Psycho II (1982), which had his creation Norman Bates killed by a younger, stronger man, then impersonated. Frightening for his robotic relentlessness, Michael is fatally fading here.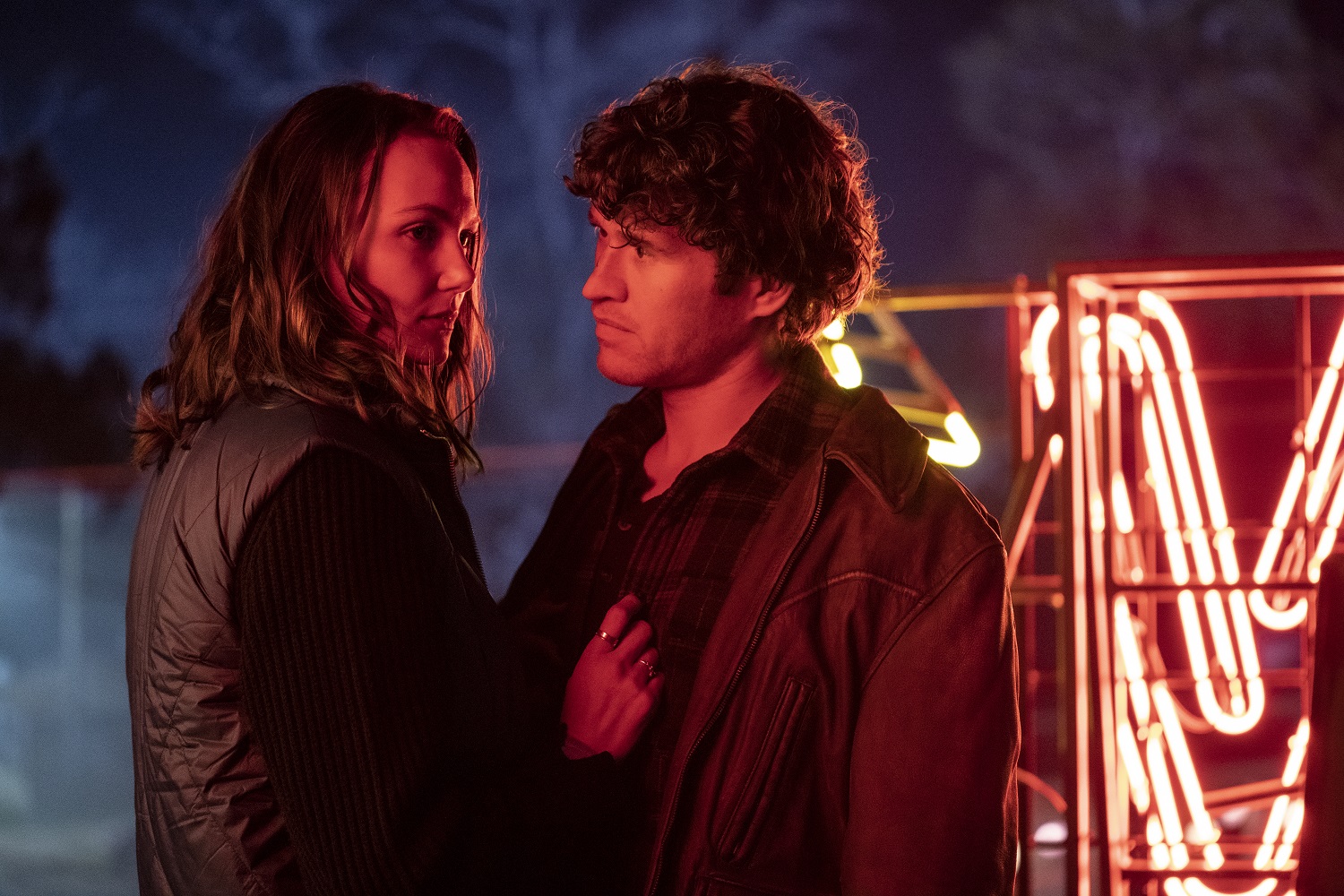 Halloween (1978) stood out from its cash-ins for Carpenter's perfectly sleek direction, icily dispassionate, Jaws-level score, and conclusion that Michael is no mere maniac, but "the Bogeyman". Later, now non-canon sequels built up a supernatural, cult-like mythology. Green maintains constructive ambiguity around his Michael, realistically and pitiably glimpsed as a balding, sixtysomething serial killer; or is he the Shape, Haddonfield's purely evil Id, barely flinching at bullets and blades?
John Carpenter's Halloween also moved like a shark. Green's first and last films dawdle towards the carnage which consumes middle chapter Halloween Kills. Halloween Ends is especially tension-free. Corey's killer nerd nods to Keith Gordon's character in Carpenter's Christine (1983) but, with his comically bleak home life and sparkless outsiders' affair with Allyson, dully distracts from the Laurie v Michael main event. Gordon and his three co-writers make even Curtis's mature, ferocious Laurie schematically subservient to trauma themes, in a trilogy whose attempted depth rarely convinces.
Green does tangibly evoke his favoured small-town milieu, blown apart by Michael's hurricane. Michael Simmonds maintains the visually beautiful MO of Green's usual DP, Tim Orr; in Halloween Kills especially, which starts in 1978, he harked back to the rich pre-digital palette of the series' founding decade. Halloween Kills was also bracingly chaotic and vicious, building up likeable characters to be brutally dispatched, while exploring mob violence. It undermined its own premise as Michael was beaten seemingly to death by a mob who no longer feared him, only for their rage to revive him into still greater mayhem. Halloween Ends is another tonal minefield, studded with jokey kills by its James Dean-like antihero, and stitched together with Frankenstein crudity.
Halloween has been a finally disappointing phase for fans of Green, whose preceding films – such as the raw Nic Cage thriller Joe (2013) and low-key Pacino showcase Manglehorn (2014) – were typically diverse and finely wrought. Halloween Ends deviates furthest from franchise diktats, to incoherent effect. Only Laurie and Michael's close-quarters last duel is viscerally grand, achieving ritual closure. Until, a final shot hints, the next time.