Music Reissues Weekly: The Senders - All Killer No Filler |

reviews, news & interviews
Music Reissues Weekly: The Senders - All Killer No Filler
Music Reissues Weekly: The Senders - All Killer No Filler
A gap in the story of punk-era New York is plugged
The Senders, c. 1990s. Philippe Marcade, second from left
The New York Dolls, The Ramones, Suicide, Television, Blondie, The Dictators, The Heartbreakers, The Shirts, Richard Hell and the Voidoids. From 1974 onwards, New York buzzed with bands. There were also Tuff Darts, The Fast, Pure Hell, Von Lmo and others who didn't quite grab the brass ring. Out of towners like The Dead Boys, Pere Ubu, Devo and The Real Kids jostled for attention too.
Despite the crowded market, The Senders were central to this mix. Formed in 1976 by ex-pat Frenchman Philippe Marcade, who had arrived in New York in 1974, they issued one single in 1978, a seven-track 12-inch EP in 1981 and albums in 1983, 1989 (a live set recorded at CBGB's in 1988) and 2000. The 1983 album, Retour A L'envoyeur, was produced by pivotal early French punk propagator Marc Zermati. Marcade helped Blondie with the translation into French of the lyrics of "Denis". Less happily, it was he who suggested in late 1976 that Nancy Spungen go to London. Marcade was a New York scene mover.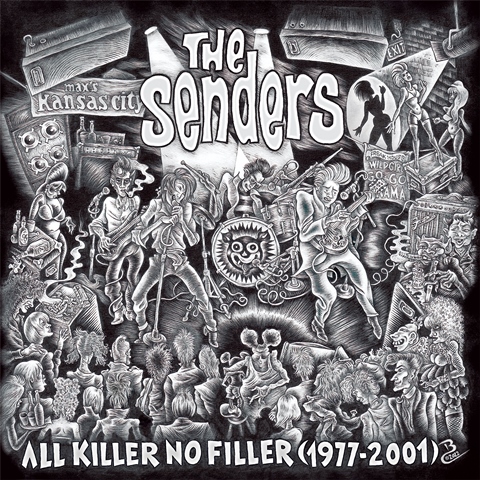 There were specific ties with the New York Dolls / Heartbreakers axis. Following the Heartbreakers split, Johnny Thunders and his French protégé-come-sidekick Henri Paul Tortosa were in The Senders in 1978. The same year, late-period Dolls drummer Tony Machine was also a Sender. Ty Styx, the drummer in a reformed Heartbreakers, was another Sender during the Thunders period. Richie Lure, brother of Heartbreakers guitarist Walter, was a further Sender, around 1989 to 1991.
All Killer No Filler (1977-2001) is a double CD dedicated to this outfit – a band with frequent line-up changes which dealt in a punk-inflected, high-octane rock with a marked blues edge. A New York Dolls version of The Blasters gets close to nailing it.
But despite the class of much of what's heard here, The Senders made few waves. Beyond what's noted above, there are more hints they could have. The flip side of their 1978 single "The Living End" / "No More Foolin'" was recorded at the same studio as The Ramones first album, but impact was limited as it was issued on a one-off label rather than a New York-aware imprint like Sire or Red Star. The Seven Song Super Single from 1981 was released on Max's Kansas City Records, a label funded by the venue. Max's booker Peter Crowley put the band on regularly and was a prime supporter. A clue to explain the lack of momentum and traction might be the association with Thunders. He was not the most reliable chap, and those in his orbit could have been tarred by his reputation.
Nonetheless, most of the 31 tracks collected on All Killer No Filler make the case. There's a need to tread carefully as there are some low-ish fi live cuts (contrary to the title's "no filler"), but compilation opener "Devil Shootin' Dice" hits hard. From 1983, it's akin to what the great Rouen band The Dogs traded in – Teenage Head-period Flamin' Groovies filtered through a contemporary punk sensibility. The next tracks are both sides of the 1978 single. "The Living End" has a "96 Tears" feel and is a little like Thunders's "Dead or Alive". "No More Foolin'" is rocking blues-rock with (again) the Flamin' Groovies feel – this time, the Grease EP. Hereon in, similarly inclined tracks induce a head scratch – why wasn't this band better known outside its circle? As bands like The Blasters, The Fleshtones and Jason & the Scorchers came up, The Senders ought to have fit in snugly. But there it is. (pictured left, Philippe Marcade on stage, early on in The Senders's lifespan)
Getting a handle on the band and prime mover Philippe Marcade's story is made needlessly difficult by All Killer No Filler. The tracks are not sequenced chronologically, and live and studio recordings are mixed randomly. Keeping the studio material on Disc One and the live stuff to Disc Two with chronological sequencing on each would have made for a more coherent listen. Two separate, short pieces of text are included which, while hyper-ventilatingly enthusiastic, don't tell a tale which needs telling. An explanation of when the band was active would have been useful: from the annotation, it seems The Senders were a going concern from 1976 to 1983, then 1988 to 1994 and finally over 1997 to 2001. What happened during the missing years? On Disc Two, a live recording of a 1978 show with the Thunders / Henri Paul / Ty Styx band is essential, even though it's an audience recording in bootlegger's B+ quality. Get this though. It plugs a gap in the story of punk-era New York.
Next week: Post-punk Liverpudlians Modern Eon are reissued for the first time – their Fiction Tales album gains bonus tracks

Despite the class of much of what's heard here, The Senders made few waves
Share this article