Sinfonia of London, Wilson; Kolesnikov/Tsoy; Bozzini Quartet; Phantasm, Aldeburgh Festival review - new sounds for old |

reviews, news & interviews
Sinfonia of London, Wilson; Kolesnikov/Tsoy; Bozzini Quartet; Phantasm, Aldeburgh Festival review - new sounds for old
Sinfonia of London, Wilson; Kolesnikov/Tsoy; Bozzini Quartet; Phantasm, Aldeburgh Festival review - new sounds for old
Masterpieces made over, reimagined and reborn beside the Suffolk sea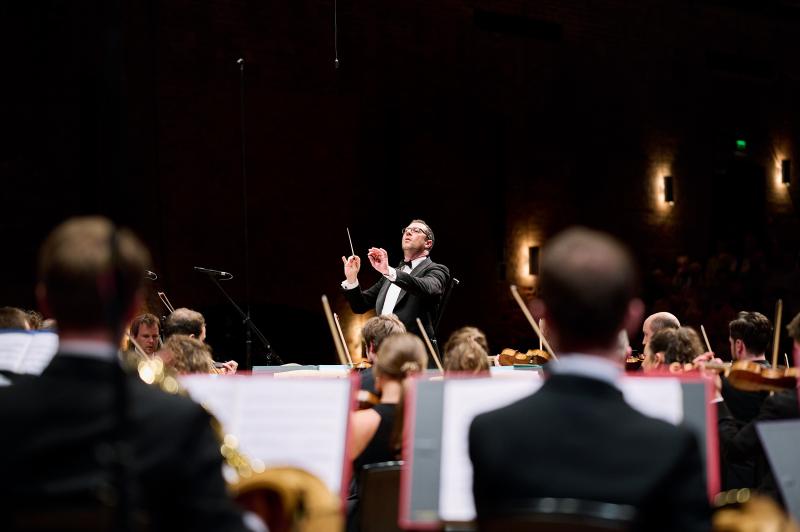 Frisky warhorses: John Wilson and the Sinfonia of London
You don't expect to visit the Britten-Pears shrine in Suffolk and come back raving about Edward Elgar. Yes, Elgar. On Sunday evening, John Wilson and his Sinfonia of London brought the composer's Second Symphony to Snape Maltings: that marshland temple to every anti-Elgarian current in post-war British music.
With transformative daring and dash, they made it sound like a work that even the Aldeburgh Festival's founder-saint himself might have appreciated. (Benjamin Britten once confessed himself "absolutely incapable of enjoying Elgar for more than two minutes".) Indeed, the middle weekend of this year's festival – which the Sinfonia graced with two typically exhilarating performances – saw a variety of beloved works re-imagined and re-positioned. Led by Roger Wright, the ever-adventurous Aldeburgh programme continues to offer something refreshingly new every day under that (at the weekend, moody and fitful) coastal Suffolk sun.
Audiences could also relish a sustained dialogue between minimal and maximal forces, the grand gesture and the exquisite touch. Hair-trigger finesse underpinned by deep musical intelligence powered a Saturday-morning recital at Jubilee Hall by festival stalwarts Pavel Kolesnikov and Samson Tsoy (pictured below). Performed on a pair of Bechstein uprights, surrounded by the audience, their bill of "Bach on Two Pianos" alternated György Kurtág's Bach arrangements with selections from Kurtág's own Játékok – terse, playful, exploratory piano sketches which here danced in and out of the massive but tender chorales (such as Nun komm' der Heiden Heiland and O Lammes Gott, unschuldig). Two complementary conversations unfurled across a tantalising palette of keyboard shades: between Tsoy and Kolesnikov themselves, as the gaudy-shirted duo deftly swapped instruments or joined forces to play on one piano; and between Kurtág and his revered forerunner. Kurtág's ingenious miniatures never distracted from the liquid, rippling warmth and grace of the Bach arrangements. Vigilant, responsive playing from these four hands let two distinct sound-worlds recognise – and reflect – each other.
If the Játékok often strip music back to the simplest building-blocks, then Cassandra Miller's re-creations of masterpieces can return it to no more than breath, body and air. In the luminous setting of St Bartholomew's church in Orford, the Canadian Bozzini Quartet (with soprano Juliet Fraser) performed two of their fellow-countrywoman's analytic but hypnotic reductions of iconic pieces. Miller's pandemic-prompted Thanksong draws on material from Beethoven's Heiliger Dankesang movement (in the Op. 132 quartet). It becomes the source of a vocal thread to which singer and players (wearing headphones) respond with separate, but interwoven, lines. The Bozzinis (pictured below) gave us the Heiliger Dankesang first, executed with impassioned gravity, before Fraser's chant-like delivery anchored Miller's modern thanksgiving for the recovery of health after sickness. Miller taps into both John Cage-like procedures of aleatoric music and, through her contemplative, ecclesiastical, textures, a kind of Pärt-adjacent holy minimalism. The work left me intrigued, then a little baffled, but finally spellbound.
In Miller's About Bach, the order – of classic original followed by modern variation – was reversed. We heard Michael Oesterle's quartet arrangement of the Chaconne from Bach's D minor partita after Miller's radical deconstruction of that astonishing sequence. In Miller's microscopic study, a single four-crochet Bach phrase supplies the players with the components for a sort of slow jig on an endless loop that gradually winds down into silence. High above, meanwhile, a super-high, incomplete violin scale reaches, but never quite touches, the heavens – like birdsong in the Suffolk skies outside. Miller's dedication to attenuating musical repetition, rather than development, made stiff demands on the attention. Still, she did approach a spaced-out rapture that itself felt like a mantra, or a prayer.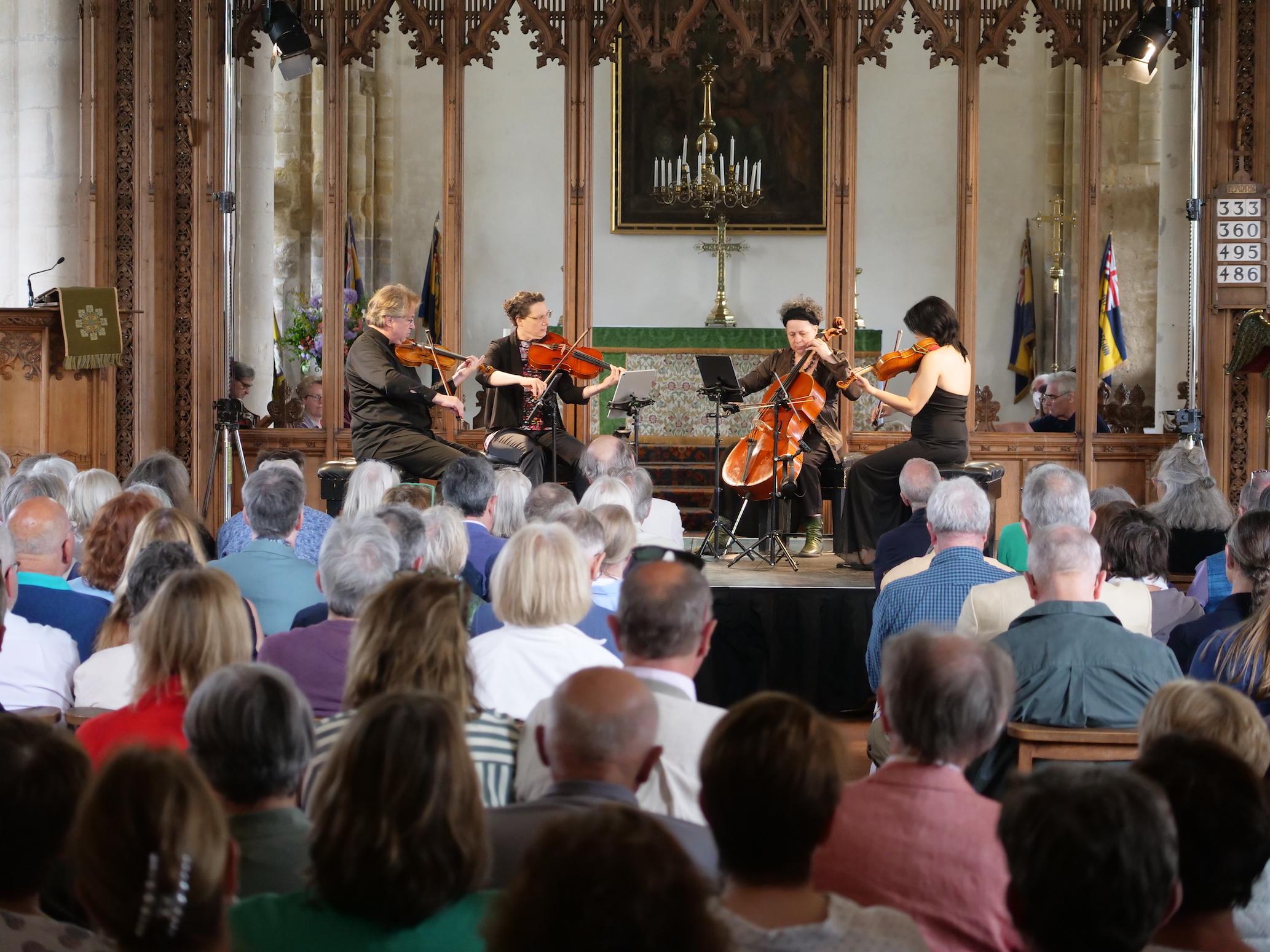 After such austerity and compression, John Wilson and the Sinfonia regaled Snape with a full-fat, double-cream spread of "Orchestral Showpieces". The showman-scholar maestro unashamedly put high-calorie treats at the heart of his menu. Aldeburgh, though, is a place to make unexpected connections. And the real surprise in this concert, which began with Dukas's The Sorcerer's Apprentice and finished with Rachmaninov's Symphonic Dances, came in the refined tastes of Sally Beamish's Four Songs from Hafez. Roderick Williams sang this quartet of Persian poems of sensual and spiritual love, translated by Jila Peacock and newly orchestrated by the composer.
Around her tranquil musical oasis, Wilson and his mighty all-stars band drove with galloping flair and focus through the droll mischief of Dukas, and the tragedy-shadowed flamboyance of Rachmaninov's swansong. The Maltings acoustic allowed the conductor to turn the bravura contrasts on his high-gloss, high-definition machine up an extra couple of notches. Strings shimmered, brass snorted and woods gurgled or sashayed – while the keening, wandering sax of the Symphonic Dances tempered lusciousness with melancholia. And Respighi's Fountains of Rome, as you might predict, did not merely flow, dance and sparkle in these hands. Especially in the closing "Villa Medici Fountain at Sunset", they positively gushed.
Yet it was the spare and clear sonorities of Beamish's Hafez, carried by the meticulous diction and eloquent phrasing of Williams's baritone, that proved the revelation here. As the poet's chosen creatures (nightingale, peacock, fish, hoopoe) meld divine with erotic passion, voice and instruments summon the riches of nature and the fragility of human lives, and loves. The music's restrained sensuality – especially in the woodwind writing – matches the bittersweet mood of Hafez's texts. Britten himself would surely have given this more than two minutes of his time. Amid Wilson's gourmandising feast of colour, the Four Songs arrived as a mid-banquet tonic: pure, limpid, but never dry.
A Sunday-afternoon show at the Snape campus's Britten Studio again saw old music and new visions intertwine. Led by Laurence Dreyfus, the viol consort Phantasm collaborated with a dance troupe (choreographed by Sommer Ulrickson) and visual artist Alexander Polzin on The Art of Being Human. On a bare stage, craggy fibre-glass sculptures split apart into islands, then reform into a kind of continental landmass. Dancers, alone or in couples and groups, enact elemental rites of birth, death, love, community, conflict, rejection and reconciliation (pictured above and below). Throughout, cream-clad viol players sit with, and move among, the dancers. What they play, with mellow beauty and togetherness, is remarkable: viol pieces written in the English Renaissance and Baroque eras, from Byrd and Dowland to William Lawes, Gibbons and finally Purcell. The dancers enact an abbreviated human history of attraction, sociability, tribalism, acceptance, persecution and peace-making. Their gestures, meetings and partings find a counterpart (and counterpoint) in the music's development – from ritualism through courtliness to the urgent, idiosyncratic selfhood of a voice such as Purcell's.
Polzin's sculpture (he explains) owes a debt to Géricault's terrifying painting The Raft of the Medusa, referenced in the final tableau – with its depiction of stricken shipwreck survivors pushed to the limits of selfishness or solidarity. The entire combined-arts spectacle haunts and moves but risks sensory overload. Its 90-odd minutes on occasion feel bloated or baffling. Yet those enchanting viols hold the work together.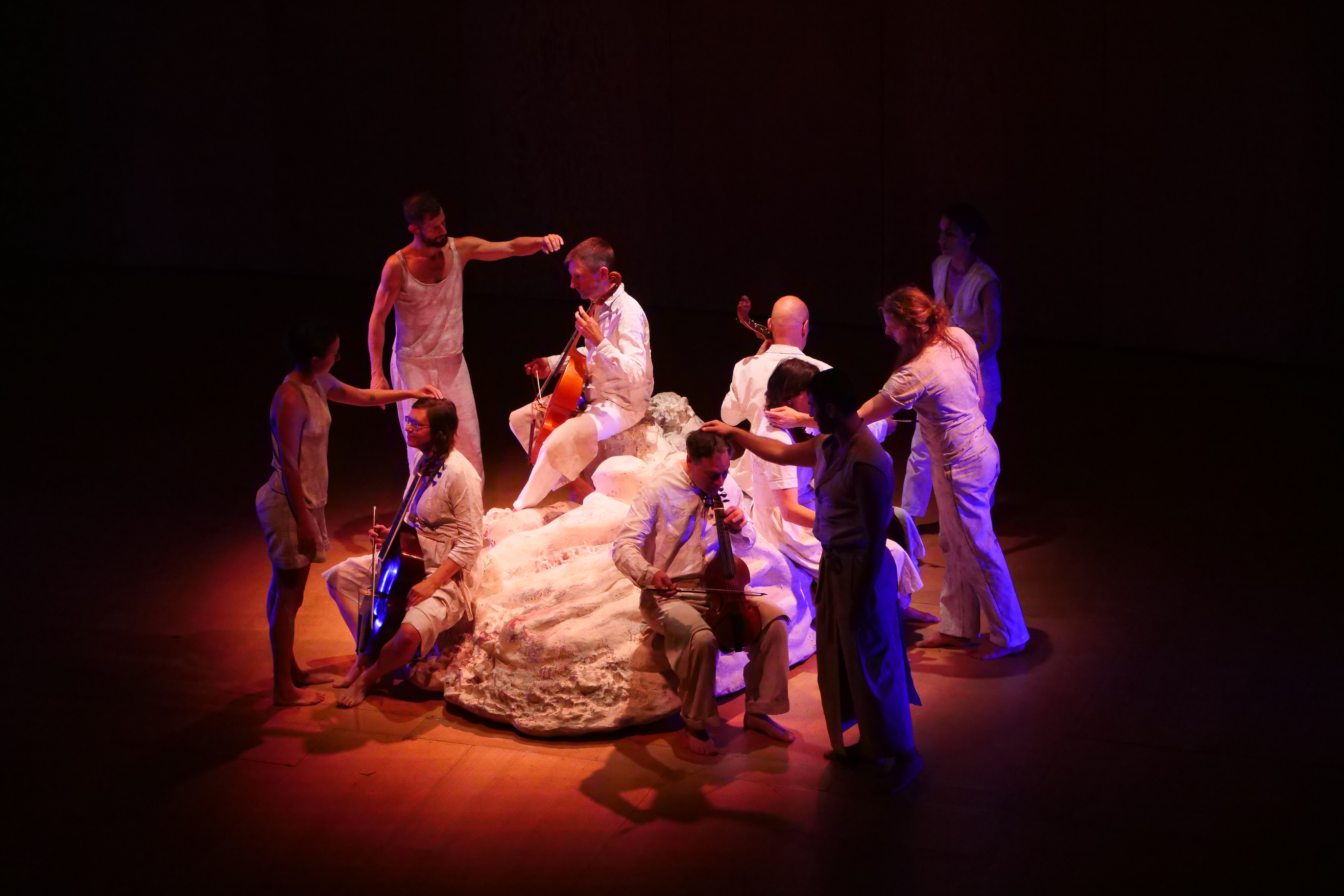 English music from another age stitched the second Sinfonia of London gig into a unified whole (pictured below). Before Elgar's Second, John Wilson unleashed the brilliant, whiplash merriment of Walton's Scapino overture, followed by the rhapsodic, dusky dreaminess of Delius's Summer Night on the River. This pairing showcased the noonday and the twilight sides of the Sinfonia's signature sound. They were witty, glittery, even brash, in Walton's debonair scurry and strut; then creamy, lavish, brooding, but never quite becalmed, amid the humid stillness of the Delius.
Indeed, Wilson can inject (or discover) pulse and bounce in the most languid passages – as his Elgar would soon prove. Before that, however, Kolesnikov and Tsoy (now in orange and purple shirts) joined the Sinfonia for a Britten curiosity: his 1941 Scottish Ballad, a two-keyboard-plus-orchestra fantasia written in his Californian exile for a pianistic couple. It enlists traditional tunes, but don't expect Max Bruch: from the opening hymn-like dirge to the closing reel, Britten cleverly skirts the edge of parody. Pianists and conductor infused verve and vim aplenty into a score that keeps overt folksiness at a sophisticated arm's length. Yet when, in his final swirls and leaps, Britten lets go of his modernist irony for a spell, a proper ceilidh mood eventually takes hold. Wilson and the pianists caught it splendidly.
And so to Elgar, where the Sinfonia somehow managed to refurbish the old warhorse as a frisky carnival colt decked out in fancy, even gaudy, trappings. The opening allegro had momentum, even effervescence: has it ever sounded so Strauss-like? Emphatic yet agile brass cut through swooning strings, but above all the pace and snap of Wilson's direction meant that nobilmente Elgar never threatened to subside into club-room pomposity. The Larghetto, though, was something else: overwhelming in its great elegiac theme, but anxious and unsettling too. If the first movement invoked Strauss, then here an ecstatic Mahlerian love-death song felt not too far away.
The scherzo, with its outsize jollification crashing into an infernal dance, sounded suitably overblown and perhaps vulgar – but better a vulgar Elgar than a dull old codger. Prefaced by brisk, busy horns, the finale added glow, sheen and lustre to the glamorous weight of the Sinfonia's strings. Wilson got these expansive musical paragraphs to unroll with a consummate sense of where they were headed – and why we should care. He makes Elgar exciting, spooky, sensual; and not at all grandiose. And a mesmerising fade at the close added a farewell dab of magic to the whole, cliché-banishing show. Would Britten have enjoyed this for the full hour, not just two minutes? Let's hope that he would.