WOMAD Festival 2023 review - the party for the whole World spreads good vibes and almost escapes Soggy July |

reviews, news & interviews
WOMAD Festival 2023 review - the party for the whole World spreads good vibes and almost escapes Soggy July
WOMAD Festival 2023 review - the party for the whole World spreads good vibes and almost escapes Soggy July
Music lovers of all ages enjoy lashings of great music and culture from around the globe
Wednesday, 02 August 2023
The Comet is Coming: heading out of our orbit
theartsdesk team arrived at the WOMAD site with a degree of trepidation this year. Coming at the end of one of the wettest Julys in recent memory and the day after a serious deluge, was it going to be another Womud?
Fortunately, Thursday was a day with enough sunshine and wind to dry the ground reasonably well and apart from the odd mud puddle, things weren't too bad. However, once we'd consumed a welcome beer and started snacking on the fantastic food that was on offer, everything felt even better.
At last year's festival, there had been a discussion session that had involved Peter Gabriel and other movers and shakers of this world-famous event to discuss how things had changed over the years. It was here that theartsdesk's Peter Culshaw had pointed out that while the performers were from a wide range of countries and cultures, the audience was most definitely dominated by the white urban middle-class and middle-aged, with bohemian leanings.
Needless to say, this went down like the proverbial fart at a vicar's tea party. However, in 2023, it was noticeable that there had been something of a sea change in the composition of the audience and, while this festival's traditional audience was still very much in the majority, the crowd was significantly more racially diverse than in previous years and certainly felt like more of a real reflection of the people of these isles. Maybe theartsdesk had been one of the catalysts for this change for the better. Just maybe.
Thursday – Guy Oddy
Day One of WOMAD 2023 began, as it always does, with an on-stage showcase involving kids from the local schools in Malmesbury. This year's performance involved a collaboration with Jamo Jamo Arts and their laidback West African grooves, singing and dancing spread an infectious enthusiasm ready for a long weekend of sounds both known and, as yet unencountered from different cultures far and wide. First up among these acts was Native Tongues' hip-hoppers, the Jungle Brothers (pictured below). Hitting the stage in a seriously humid d&b Soundscape tent with a BSL interpreter, who did a fine job keeping up with Mike Gee and Afrika Baby Bam's old school lyrical flow, these veterans put on a fine show indeed – leaving you wondering if WOMAD had put on the best of the weekend first. Hands went up in the air and from side to side to the likes of "Jungle Brother" and "On the Run" with DJ Sammy B laying down some tasty beats, as party people of all ages got with it on the dancefloor, determined to hit the ground running.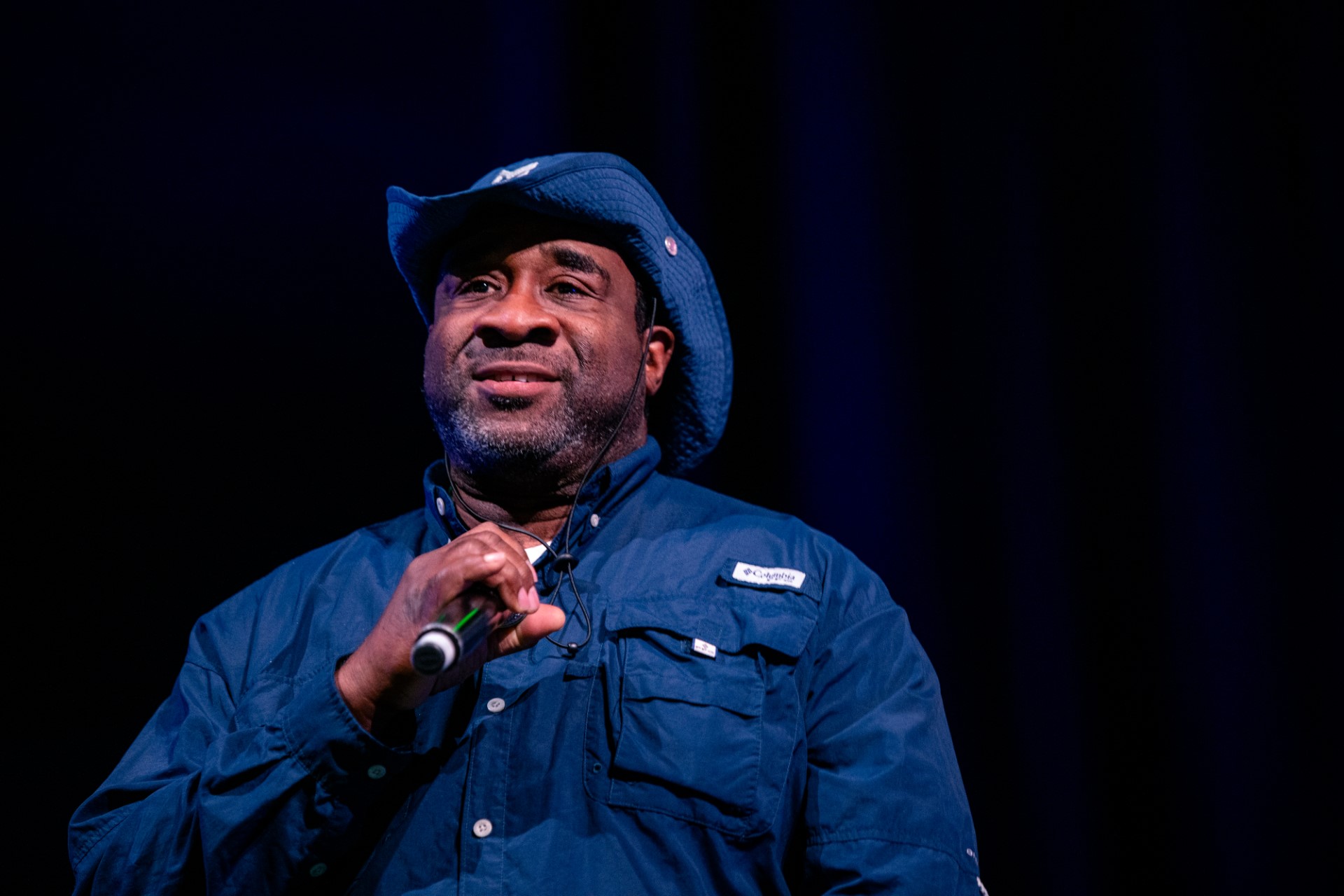 At this point, however, the tempo slowed down considerably, as South Yorkshire folk veteran Kate Rusby strode onto the main stage with her band for something significantly more ethereal and relaxed. Taking in gentle rootsy tunes like "We Will Sing", "Jenny" and "If I Had a Boat", as well as covers such as the Bangles' "Manic Monday" and Bob Marley's "Three Little Birds", she had plenty shuffling their feet to her traditional English sound, right up until her take on "Wild Mountain Thyme". It may have been a set that would have been more suited to a sunny mid-afternoon, but it gently eased those present into a long weekend of fine tunes, food, drink and a mind-boggling range of other activities – giving those present the opportunity to steel themselves for Friday's fun and entertainment, which was to be served up by the likes of the Amrat Hussain Brothers Trio's set of raga, qawwali and Sufi devotional music, the Riot Jazz Brass Band's energetic, hard-blowing performance that even included some crowd surfing from trombonist Richard Foote and the motorik madness of Snapped Ankles.
Friday – Peter Culshaw
There's a WOMAD venerable and loved institution called Taste the World – one of the artists cooks some food from where they come from and sings a couple of songs. It struck me that when people ask why I write about "world music" so much, often in a slightly puzzled way – it would be like a food or restaurant critic saying they never write about, say, Indian, or Thai, or Chinese or Turkish food or restaurants – which would frankly be crazy. Is music any different? So, the question is – why are you only writing about a narrow spectrum of the world's music?
Taste The World is also a good phrase for the process of WOMADing – there are hundreds of acts from 40 countries, so you can get a severe taste of FOMO, but it is more than fine to check out bands briefly or en route to see something else and figure out if you want to see them in more depth another time. Case in point: having seen about ten minutes of the Balimaya Project, I will definitely be happy to schlepp across town to catch a whole set – they are a curious but terrific combination of West African Mandinka music and instruments with streetwise London jazz. What was impressive is the dynamic mix of improvisation and structure, a mix that is always harder than you might think to pull off effectively.
Spotted at Taste the World, I caught the beginning of Cuban singer-cellist Ana Carla Maza, who was hugely energetic, original and with a great stage presence. More than happy to catch a set when in Barcelona, where she now lives. The reason I cut her short was to see the Ukrainian Dakh Daughters who started late and style themselves "freak cabaret". This was stiffening the sinews and resolve against the brutal Russian invasion – "Stop the War" turned into the less post-hippy "Arm Ukraine", a timely cold wind from reality. I saw and interviewed them in 2014 at the time of the Maidan Revolution when their debut gig was in the Square, surrounded by massed ranks of police and military in the freezing cold wearing fur coats.
An early song they did at WOMAD was called "Rose of Donbas" written before Putin invaded the East – a technique of theirs is often to borrow words from wherever, in this case a Shakespeare sonnet "roses have thorns, silver fountains mud". One strong song was about exiles and refugees while others were just surreal. The translated surtitles on screen ended up using archaic phrases like Zounds! and Gadzooks! The titles and the slick and beautiful visuals were two-edged, with images of refugees in a train which brought home the war, but they also had an alienating effect compared to other times I have seen them without such intense graphics, where the personalities of the band came through and their music connected on a more visceral, emotional level. Fierce stuff, totally convincing that the battle going on was for the soul of Europe – populism sliding into autocracy versus freedom. And we in Western Europe, said their visionary manager and cultural catalyst Vlad Troitsky after the set, have forgotten the real meaning of freedom.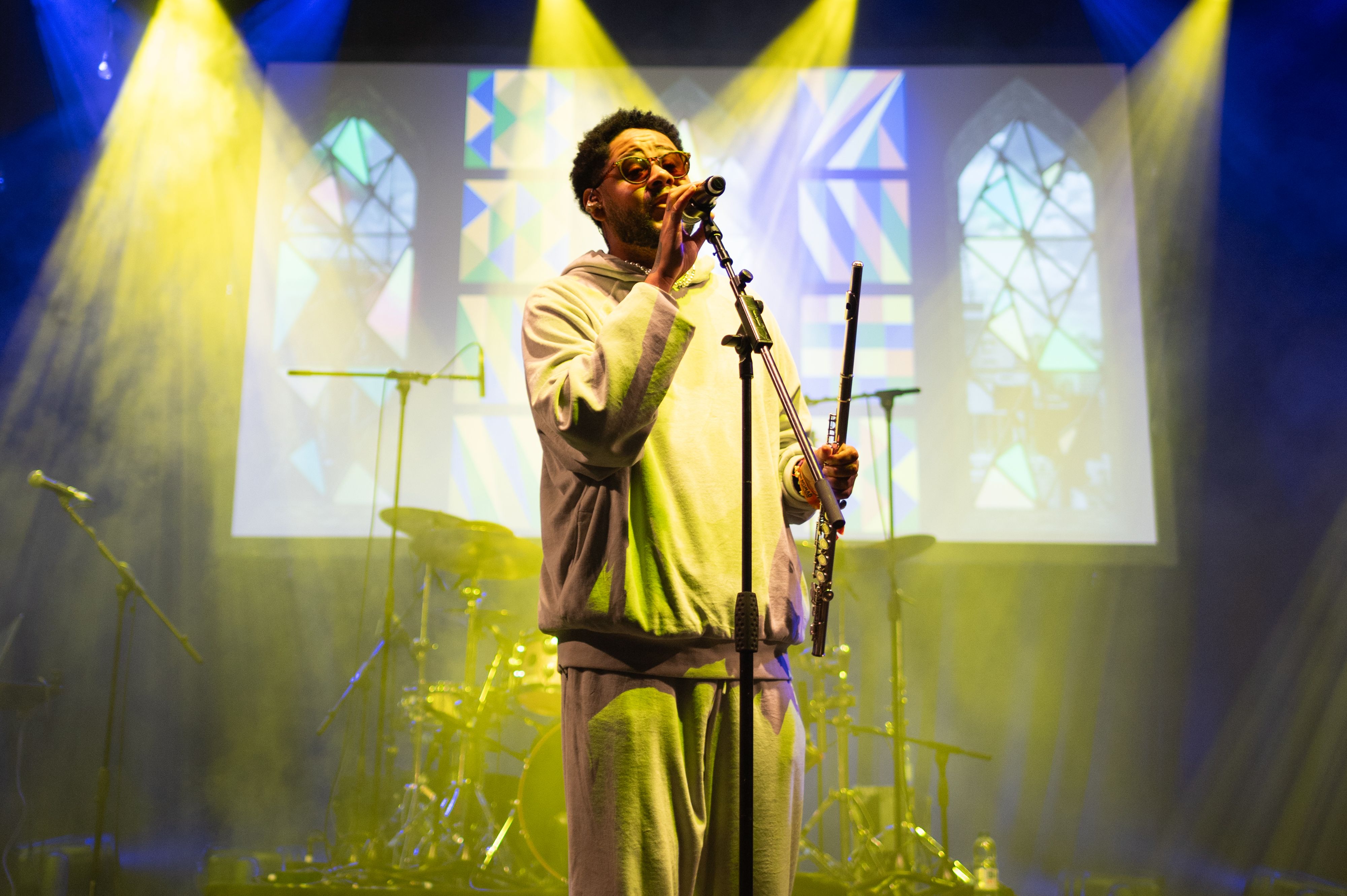 The most pre-WOMAD hyped act was Brazilian star Emicida (pictured right). Those that caught him at a rammed Jazz Café in London with a 95% Brazilian audience who knew all the words raved unreservedly. Here it was a little harder work, at least to begin with, and the sound wasn't so great at the Siam Tent, with heart attack level bass in the front. Those that know his lyrics well say they are brilliant, playful and often political but rapping needs translation more than say the angelic singing of a Caetano Veloso. But he is modernising Brazilian pop, drawing on all those rich traditions of samba, MPB, forró, and tropicalia and throwing in rap and a dose of rock. He is one of the most confident front men you are likely to see, owning the stage. A highlight was the guest appearance of Majur, a much loved six-foot five trans influencer and singer (maybe not so loved by Bolsanaro supporters, but you can't please everyone).
Saturday – Guy Oddy
Saturday began on the Main Stage with the irrepressible Dele Sosimi and his Afrobeat Orchestra leading everyone into the day with laidback and happy vibes in the afternoon sunshine. The former keyboard player for both Fela and Femi Kuti's bands played a life affirming set of gentle but hip-swinging grooves that got plenty on their feet with big beaming smiles while soaking up the sun. As Sosimi's set came to its conclusion, we wandered off to shade of the Siam Tent to recharge our batteries and to see the Orchestra Qawwali play a lush, cinematic collaboration of Indian and Western classical sounds in a similar vein to Enigma's cross-cultural ambient soundscapes. Suitably refreshed, it was then time for Afro-Portuguese diva, Pongo's up tempo, high energy Kuduro grooves which had her audience going bonkers to the rump shaking club-centred sounds from last year's Sakidila album.
The early evening, however, was seriously one for those with a taste for Middle Eastern pop. Jewish-Persian singer, Liraz and her Israeli band had plenty on their feet for her glittery but soulful and atmospheric feminist anthems in support of her sisters in Iran, which were sung in Farsi with wailing vocals over the pulsating music of tunes like "Azizam" from her recent Roya album. This was followed by a couple of Palestinian acts who were unfortunately programmed to play at the same time in different parts of the site. 47Soul brought the sound of fierce Palestinian dance music to the Main Stage and included fiery hip-hop and traditional dabke music that had plenty in the audience waving their kaffiyehs in the air in appreciation. Meanwhile, over on the wooded Ecotricity Stage, Reem Kelani was laying down a considerably more high-brow vibe that was jazzy and meditative but with the same political message in support of our Palestinian cousins. It was quite a tonic, as we slumped in the shade with a beer and readied ourselves for the night.
Saturday's Main Stage headliners were the Cinematic Orchestra, who like Kate Rusby on Thursday, might have been better suited to a mid-afternoon slot. So instead, we made for the d&b Soundscape tent to see one of the last performances by Shabaka Hutchings' the Comet is Coming before they are due to knock things on the head at the tail end of the summer. The band's fizzy psychedelic prog rock space jazz totally hit the right spot and had young and old rapt as Hutchings wailed away on his gravity-defying saxophone and Betamax's beat dropped in and out of the funk-enhanced cosmic groove. It will be a shame to see them go.
Sunday – Peter Culshaw
Sunday finally brought some real rain and mud – but the show must go on, of course. But it took a special type of artist to raise the spirits. Among them was Puuluup, a quirky Estonian "neo-Zombie post-folk" band, a duo both playing talharpa, a four striped lyre, with loops, with a wonderfully droll between song patter. Who knew cross-country ski-ing was so inherently hilarious? If there was a prize for the patter of the weekend, they would win the Gold. Kate Rusby would be second, though she does go on a bit.
Lia de Itamaricá managed to bring some north-eastern Brazilian sunny vibes as people were sliding about on the mud. Almost 80, she had a real authority delivering her groovy acoustic set of ciranda, a style somewhere between samba and cumbia. A Brazilian friend overheard her being told she would have to leave after four minutes otherwise she would overrun and be switched off. "Try switching yourself on" she came back with. (Other artists were switched off for over-running, notably the superb Orchestra Qawwali, another big highlight.)
By now retreating to the tea-tent, it was clear that Horace Andy and Malkit Singh were raising spirits with their fierce dub and bhagra sets. Soul II Soul were, fortunately for them inside at the Siam tent, and were remarkable in that they kept have going the spirit of when they were hottest thing on the planet 30 years ago.
Another character and headliner who also should be applauded for sheer tenacity in keeping going was Femi Kuti (pictured above), who is now three years older than his father when he died. Fela has become even more of a legend as the years go by, with scores of Afro-beat bands across the planet in his wake, including Dele Sossimi's band at Womad, who actually were more obviously a post-Fela band than Femi. Femi is a hugely affable character and warm family man (not sure you would call Fela nice, exactly) and while Fela would presumably by now have been cancelled for his perceived misogyny and anti-gay stance (he did enjoy winding up Western liberals, it must be said), Femi gets with the programme and sings songs about oppression and corruption but in a shorter, leaner way than his father. Fela would quite often release hour-long grooves. Femi's son Máde is already making waves and the dynasty looks set to continue.
Was it the fact that somehow I had a few drops of mushroom tincture or that the sun finally emerged or sitting in the lovely evening setting of the Ecotricity Stage besides lovely trees, lit different pretty colours that I found Soumik Datta's performance so sublime and the culmination of the weekend? Don't think so, but it all helped. I did an early interview with him a decade or so ago, he was already excellent but has since become a major artist. Not just a virtuoso on his chosen interment, the sarod, he has a terrific melodic sense (the one thing they say they can't teach you in music school). His tabla and dholak player Guardian Singh Rayatt was superb and he was flanked by keyboardist Rosabella Gregory on the right, who came up with some really original lines and the terrific violinist Preetha Narayanan on the left. Gregory being looser, and smiley, Nayayanan giving off a more nervous, ascetic energy – the two women were a fascinating counterpoint, which added up to a great, happening band. Datta is known for collaborating with all sorts and his last album is full of them. But his band really gelled and he should really record a version of this set – it could be a classic.
Taste The World is also a good phrase for the process of WOMADing - there are hundreds of acts from 40 countries, so you can get a severe taste of FOMO
rating
Explore topics
Share this article