'A massive party full of treats and surprises': Annabel Arden on six mini masterpieces at Opera North |

reviews, news & interviews
'A massive party full of treats and surprises': Annabel Arden on six mini masterpieces at Opera North
'A massive party full of treats and surprises': Annabel Arden on six mini masterpieces at Opera North
The director of two operas in the Little Greats festival waxes lyrical
Thursday, 14 September 2017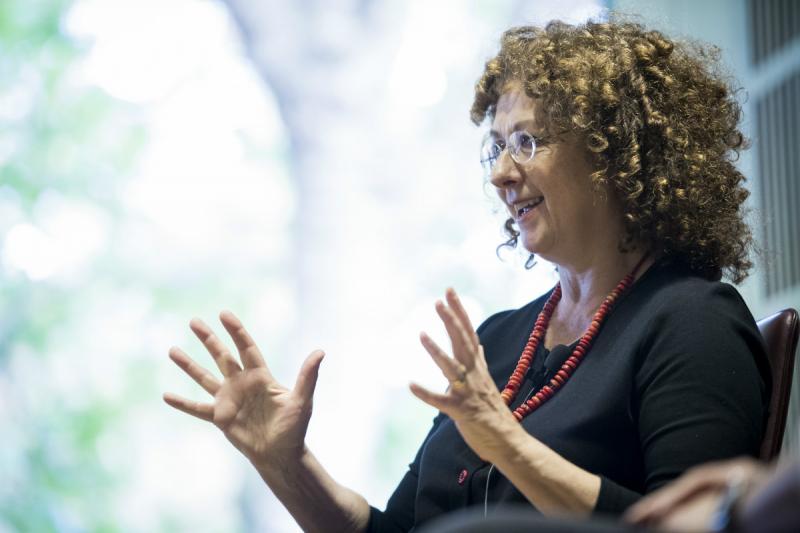 Annabel Arden in conversation at Newnham College
The first day of rehearsals for The Little Greats was thrilling and terrifying in equal measure: the casts of six shows, the whole chorus, all the creative teams and management milling around and talking nineteen to the dozen in the big, reverberant Linacre Studio at Opera North. Old friends, new colleagues – it was like a mixture of freshers' week and a first night party. The noise was stupendous.
As I write, I'm in Leeds directing two out of the six short operas making up Opera North's varied and exciting new season. Opera does not come in only two flavours, comic or tragic. As in any good ice cream parlour, the flavours are almost infinite in their variety, and The Little Greats are being paired up in different combinations throughout the season.
There are classic Italian melodramas, Cavalleria rusticana and Pagliacci, freshly interpreted with a contemporary twist; Trouble in Tahiti by Leonard Bernstein (pictured below in rehearsal by Richard Moran), which is great music theatre and looks just like Mad Men; Trial by Jury, hilarious English wit from Gilbert and Sullivan; and the two which I'm directing: Ravel's delicious fantasy for families, L'enfant et les sortilèges, and Destiny (Osud), a rarely performed Janáček opera which is insane modernism shot through with tragedy and ravishing folk music.
Each opera in the festival is about an hour long, and there are tickets for newcomers to opera for just £10. You can try one out, leave at the interval, and still have time (and money) to go for a drink or something to eat! Or come back after the interval or another night to see another of the short works. It's a brilliant idea and a determined reaching out to new audiences with some really thought-provoking and varied works, and of course much to interest veteran opera lovers too.
On that first morning, the directors had to do the model presentations, where we introduce the cast to the concept and designs for each production… and we all swore we would only take five minutes each. But such was the quality of attention in the room from that huge crowd that we all felt able to take as much time as we needed to tell each story. Everyone wanted to understand, everyone was invested in all six of the pieces across the season, even if they aren't appearing in that opera. And so it has continued, with the most extraordinary sense of collaboration across teams and departments.
Sometimes this is very funny, with objects of scenery and props (Grandfather Clock, Chandelier) being shunted from one show to another leaving odd holes in the walls, so that the props team acquire a certain mischievous aspect… although we all know it is part of the plan. It feels like a game of musical chairs, or indeed rehearsal rooms, as the indefatigable planning department seeks to accommodate all six shows fairly. A visit to the costume department is mind-boggling and really makes you understand the extraordinary complexity of performers appearing in different combinations of double bills through an entire touring season.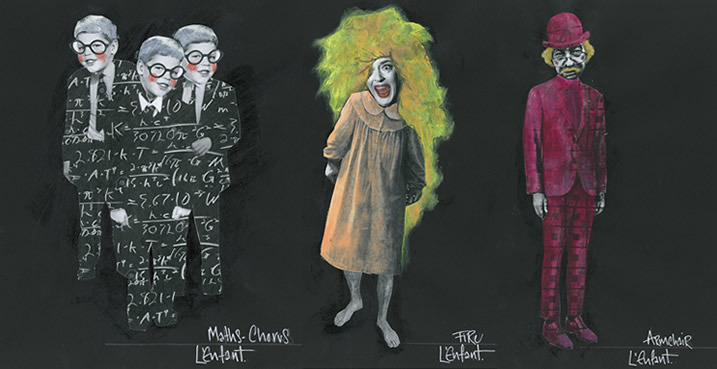 I have worked with Opera North since 1993, and it has always had a great company feeling, but never more so than now. Of course the chorus is the heart and soul, as they are in five of the six shows, and in fact take all the roles in Trial by Jury too. Trial is directed by John Savournin who also sings in L'enfant et les sortileges (costume designs by Hannah Clark pictured above). In fact, no one in the season is doing only one thing, which is a great equaliser – we are all discovering and juggling and experimenting afresh. I have never felt as connected to so many people at once in an opera company, in a completely practical and engaged manner. The work is so all-consuming and fun that the burden of individual success or failure seems lifted. It really is our collective work which counts.
We are sometimes splitting sessions so that the performers have to go straight from one composer to another. In a recent rehearsal for the Shepherds in L'enfant, chorus members came straight from Cavalleria - they had been rehearsing a church scene which is a huge sing - breathless, slightly glazed eyes and flushed faces. It took only a few minutes, though, for them to find the cool subtlety of Ravel's music and slip into the completely different character of the piece, both vocally and dramatically. They are absolutely fantastic.
The last time I was involved in a comparable company enterprise was with Theatre de Complicite in 1988, when we took over the Almeida Theatre for three months. We were a fledgling company, only five years old, and it was a huge challenge to play every week for three months. What would we do? We decided to revive every show we had ever done (pretty much), and to create another five (at least) new pieces, one of which was our first classic text (The Visit by Dürrenmatt - pictured below by Red Saunders).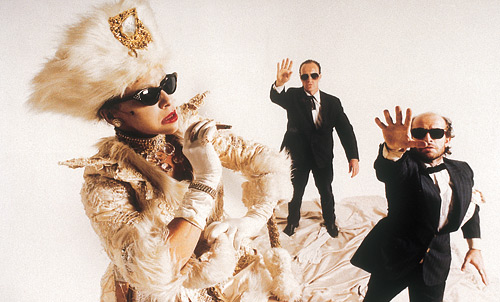 We also put on work by friends and associates and curated an installation in the foyer made by Rae Smith, our designer, which celebrated each of the shows. Each show was represented by a door (retrieved from skips in Islington) onto which Rae grafted extraordinary collections of images and objects. I remember one had a row of test tubes containing different amounts of questionable looking liquid and a graph to show the various amounts of sweat produced by actors at different stages of rehearsal… It was a delicious take on the whole crazy scheme.
Here at Opera North almost thirty years later I also feel that we are preparing a massive party full of treats and surprises for the audience. It's almost like Christmas, with everyone wrapping presents secretly in different rooms, and yet there are so many connections between the productions. Charlie Edwards has designed all six operas using only seven walls. The walls somehow remind me of Rae's doors, each one is adapted and tricked to be specific to each show, and yet, they are just seven "rehearsal flats" in essence: raw, immediate, embodying a sense of improvisation and yet evoking the world of each piece.
Matthew Eberhardt, who is assisting me on L'enfant, is also directing Trouble in Tahiti and has spent a good few weeks seeing the singers he will direct in Bernstein working their way through the fantasy world of Ravel with me and movement director Theo Clinkard. It is an unusual and creative opportunity for a young director to observe and make contact with his cast. It strips away a great many barriers which are usually experienced on "Day One".
All the directors – myself, Charlie Edwards (directing Pagliacci - Peter Auty pictured above in rehearsal - as well as designing the season), Matthew Eberhardt, Karolina Sofulak and John Savournin – and our versatile costume designers Hannah Clark and Gabrielle Dalton, are determined to put the performers at the heart of the work. Our hope is that the audience will really sense the energy which is often so fresh in a rehearsal room, but which can get progressively masked by the artifices of the proscenium. And I hope new audiences will see that opera is not necessarily about ostentatious display.
On the first day of rehearsal, after telling all the six stories, we all collected to take an enormous group photograph for which the photographer went up on a talloscope – an aerial shot. This forms the front cloth to every show. I wish someone had filmed the process. Revealing, hilarious, even touching. It is the right opening image for a season which focuses so much on human action, imagination and emotion. I feel privileged to be a part of it.
Charlie Edwards has designed all six operas using only seven walls
Share this article